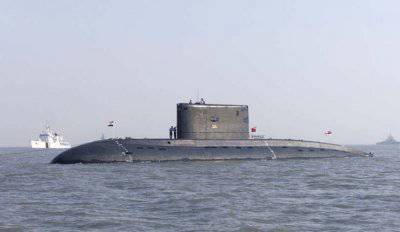 The incident with the submarine Sindurakshak of the Indian Navy as a result of which an explosion occurred on board a submarine located in the port of Mumbai, the victims of which were 18 people could be caused by one of four reasons, or a complex of reasons, a source in the Russian Federation told Thursday. shipbuilding industry.
"Among the possible causes of the most likely sabotage, leakage of hydrogen from the battery well, violation of the rules of work on equipment, technical failure of one of the systems," - he said.
"There is an assumption that in this tragic incident there was a superposition of the second and third reasons, that is, it seems that the Indians could have combined operations for loading ammunition and charging batteries, which is strictly prohibited," the expert said. "When loading ammunition, all systems are de-energized , hatches between compartments are battened down; when charging batteries, the hatches, on the contrary, open to provide ventilation. "
When batteries are charged at the quay wall, "the electrolyte boils more intensively than when they are charged from diesel engines during a hike, respectively, more intensive hydrogen evolution occurs." All these processes take place in the nose compartment. "There are hydrogen after burners, but they could not cope with the allocated volume of gas," the expert said. "All this is only an assumption, accurate conclusions can be made only on the basis of the work of the commission to investigate the causes of the incident," the expert emphasized.
According to Indian data, published on Thursday by the Times of India newspaper, there were three explosions aboard the submarine: first one small, then almost simultaneously two powerful explosions, after which a fire broke out on the boat and it sank. This indirectly confirms the expert's version, according to which hydrogen first exploded, then they could detonate ammunition.
On Thursday, it also became known that the Russian batteries on the boat were replaced by Indian batteries at the request of the customer. "In the course of the average repair and modernization of the Sindurakshak submarine, carried out at Zvezdochka, at the request of the customer, the batteries produced by St. Petersburg Electrotäga were replaced with Indian-made batteries," the agency source said.