What is the worst
weapon
in the hands of the crowd? Of course, the usual cobblestone, known for a long time as a "weapon of the proletariat", and, by the way, why? Yes, because to use the police against people with cobblestones something more effective is cruel and undemocratic, but something equivalent to it is simply impossible! And what if the crowd still needs to be dispersed ?!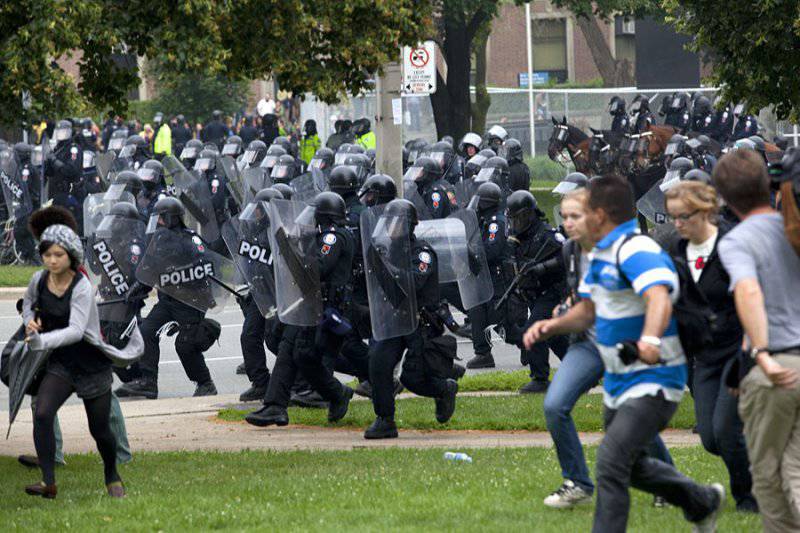 That is why, already in the middle of the 20 century, projects of special machines for the police appeared in a number of countries around the world, which could use non-lethal, but, nevertheless, quite effective weapon against the crowd. In Czechoslovakia in the years before World War II, even special police armored vehicles were created in these integers. They had an armored body and a rotating machine-gun turret, in which, besides the ZB.34 machine gun, there was also a water cannon, and in the back of the body was a tank for water supply. The project turned out to be clearly redundant, because, in general, the BA machine gun doesn't need a water cannon, and the cannon doesn't need a machine gun! Nevertheless, with the light hand of the Czechs, water cannons got a residence permit on police cars, and the power of their water cannons was increased by all means in order to make them a truly effective means of dispersing all the same demonstrators. And yes - it turned out, only the water on such "cars" in their tanks quickly ends. In addition, people who are knocked down with a water jet can then get up again and ... again start throwing bricks at the police, or even throw metal nuts with a sling from an ordinary scarf. Experiments have shown that a nut thrown in such a way, screwed from a railway track, can break a plexiglass police shield, and you don't have to say about a mask on a helmet!
Of course, there is also tear gas and plastic bullets, but again this is a weapon that may seem to someone - and primarily foreign journalists - to be redundant and they can write about all this that it would be better for them not to wrote. The ideal weapon in this case is a taser — a weapon that paralyzes active opponents of the police with an electric current; however, today, the firing range of a taser is small. The question arises, what about? And here the experience of the past may well come to our aid.
And it was so that all such projects, which envisaged the creation of non-lethal means of influence, surpassed the "electric tank" project, which was developed as early as 1935 at the Massachusetts Institute of Technology. And this project is so interesting that it should be considered in more detail. Let's start with the chassis, because it also deserves attention. The fact is that it was very original, surpassing any other cars of that time with its originality! So for driving on the highway, wheels had to be installed on it, which could be raised and lowered by the force of the motor. But for some reason, for the movement over rough terrain, the designers chose not caterpillars, but augers! That is, it was a tank-auger, which could move through the snow, as well as by water and by land, and not only back and forth, but also sideways! Why such difficulties - it is not clear, but so difficult a complex chassis simply could not fail to make an impression on weak minds!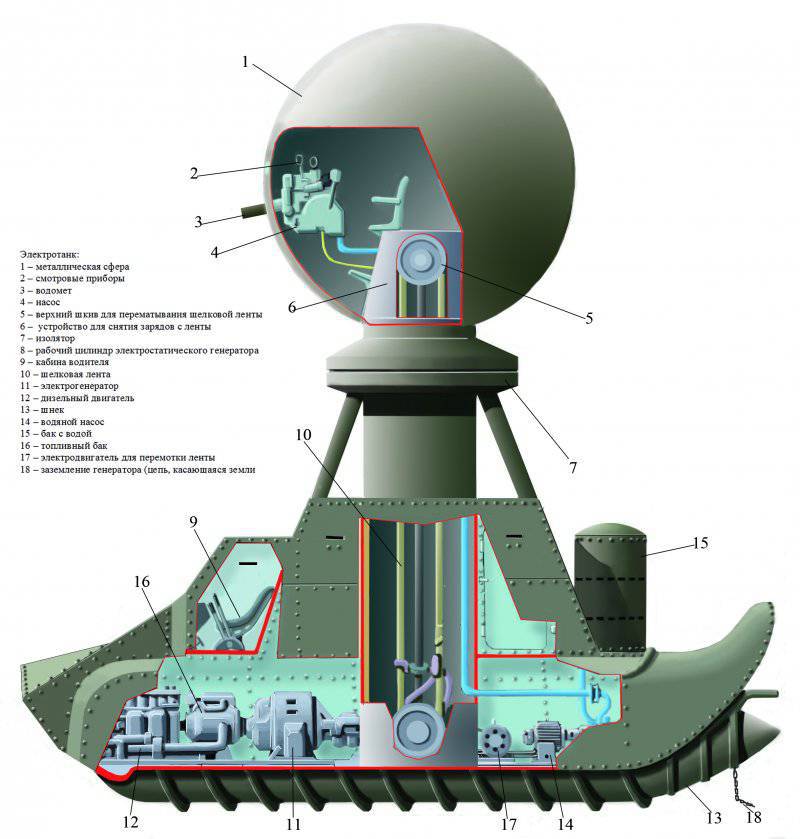 But the main thing this tank was to surprise was its armament. But it was not a cannon, and not a machine gun, but a generator of electric discharges Van de Graaff! This generator was in the form of a large metal ball on a cylindrical stand, which was mounted above the body. Moreover, inside it (and also inside the ball) between the pulleys, a silk ribbon was quickly and quickly rewound, which was rubbed on special brushes. Thus, electric charges were generated that were transferred to the outer shell of the ball, and this ball itself from the body
tank
, and what was inside him, was most carefully isolated. The operator's cabin was located inside the ball, and in total its armament consisted of a water cannon with a supply of water in a special armored tank! When the operator directed a stream of water at the enemy, then artificial lightning had to strike through it with a discharge of hundreds of millions of volts and ... literally burn down all wet and living. Other crew members controlled the diesel engine and had to drive the tank. Van de Graaff himself was able to create a generator with a capacity of seven million volts, and this, of course, is an impressive value, but the designers of the tank did not manage to increase the range of the water cannons, therefore, apparently, the Americans did not build it.
Today, the task of creating such a bulky and inconvenient in all respects "ashes of all living things" well, obviously is no longer worth it. Another thing - the fight against violators of law and order. After all, it is obvious that, combining water with electricity, it is quite possible to achieve such an effect that no illegal elements can simply counteract the police forces, which will be equipped with such "lightning generators", and not on a fantastic auger rotor, but on the most ordinary wheeled chassis ! In this case, purely on a psychological level, such a machine would look simply intimidating, not to mention the fact that an electric shock could immediately paralyze anyone who could get water. The special range of a water cannon would be completely unnecessary to such a "police tank", as well as too high a voltage. And if so, this means that such a tank would be able to shoot a lot and often, with minimal water consumption, and it is precisely such a weapon that the modern police need today, and it would have an excellent export potential!