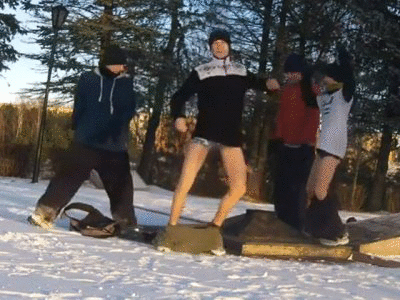 The Rzhev city court on Friday sentenced 21-year-old Nikolai Sergeyev, 19-year-old Mikhail Berlizov and 18-year-old Nikita Kazaritsky, who were accused of desecrating a memorial to Soviet soldiers in Rzhev, said the court spokesman Elena Smirnova.
All three were found guilty of committing a crime stipulated by the article of the Criminal Code of Russia "Desecration of burial grounds and gravestones by a group of persons by prior agreement", ITAR-TASS reports.
Sergeyev was sentenced to one year of imprisonment in a penal colony, Berlizova and Kazaritsky were sentenced to restriction of liberty on 1,5 each year.
As established by the court and the investigation, four young people, parkour lovers, one of whom did not reach the age of criminal responsibility at that time, used the Soviet soldiers who died during the liberation of Rzhev from the Nazi invaders to jump with elements of the acrobatics of the Obelisk plate.
At the same time, two of them committed indecent acts. All this was recorded on a video camera and placed on the Web.
The monument "Obelisk to Soviet soldiers", including the Eternal Flame and fraternal burial places, belongs to the objects of historical and cultural heritage of federal significance.
Rzhev, the city-front on the closest approaches to Moscow, was given a special role during the war years: on the Rzhev bridgehead in 150 km from the capital, Soviet troops did not allow the fascists to make the last dash to the capital and deploy forces of the Army Group Center to Stalingrad to help the group Paulus Losses of the Red Army on the Rzhev bridgehead amounted to more than a million people.