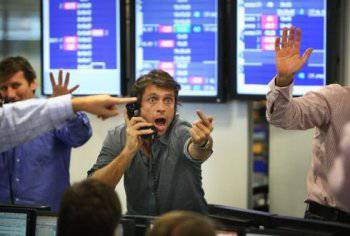 In recent years, talk of a crisis in the global economy has become a real trend. There is a crisis in the country or interstate economic relations - it's good for economic alarmists, if there is no crisis, it means that it is worth warming up information, unwinding, in the end, just thinking up, filling messages of the most varied publications with messages in the "economy hangs in the balance" style. The dollar against the ruble and other currencies went down - the crisis, the dollar jumped up - again the crisis. Oil has "grown up" - a crisis, oil "has fallen" - again a crisis. Loans are handed out to the right and left - trouble is for the economy, loans to the right and left are stopped - trouble is for the economy ...
How, then, in such a situation, behave an ordinary person who is still inclined to perceive media reports and various kinds of experts with a fair amount of trust? There is one option that Mikhail Bulgakov suggested by the words of his professor Preobrazhensky: do not read any Soviet (in all likelihood) newspapers in the mornings. But without them! Modern man is not ready to remain in the information vacuum for a long time.
Let us try, however, at the everyday level to find out whether there are crisis phenomena in the Russian economy, or maybe all the words about the problems in the economy are from the evil one, and if they do, we will think about what they are with us you are threatened.
Of course, getting into the notes of all-suppressive patriotism, I would like to say that the country's economy is stronger than ever, and that no dollar and oil and credit schemes of financial brokers threaten our brother with anything serious. However, even if the aforementioned all-suppressive patriotism is diagnosed with the usual finger blood test, economic problems cannot be seen. At the same time, on closer examination of these very problems, you can see that they are all old as the world, and the financial model built by a certain circle of people does not offer any essentially new challenges.
So, the crisis problem number one, which is announced in relation to Russia, looks like this: a serious slowdown in economic growth with a simultaneous increase in the level of inflation. In other words, we are persistently trying to drive into the brain almost at a subconscious level, that we began to work very badly, and therefore: you will receive, sign for another price increase, which it wouldn't be like if it were not for our nationwide carelessness. .. At the same time, some economic experts from the government (and there, it turns out, there are such) say that there really is a way out. If the Russians do not want or can not work, then you need to create internal competition, even more open borders for labor immigrants. I remember that not so long ago the words were heard from the depths of the same government that the country's industrial growth would save at least 12 millions of pairs of workers from entering Russia who would literally rush to raise the Russian regions, especially the Far East.
At the same time, these experts still cannot really count the number of "labor" migrants, not only in the whole country, but even in its individual cities. In the "analytical" reports, sometimes you can find data on the number of "labor" illegal immigrants, stunning in their statistical error: from 2,5 to 13 million ... Who are these accountants, and why are they sure that to improve the economy we would not be prevented from providing 12 million more jobs Guests from the sunny republics are not clear. Or the government has some unpublished program, according to which every million migrants who enter Russia will steadily increase the growth of the domestic economy by about 1% per year. If there is such a program, then for some reason it doesn't fit in with the realities, according to which corrupt officials (in uniform, including) and representatives of electronic transfer systems benefit from the influx of foreign migrants ...
Rising prices. There is such a thing. It turns out that the crisis ... But, frankly, time periods are hardly recalled (if you do not take into account hours or days), during which prices would not rise. The economic model itself, which we were "kindly provided" at the beginning of 90's, does not imply that prices are stable. Why not provide? Yes, because there are large financial players who manage to turn any rate change into their own income. And by and large, in the world there is no such financial model at all, in which the value of the goods would remain frozen. Inflationary mechanisms are already embedded in the process of economic development.
True, in our present case, a paradox is clearly observed. Hyperliberal experts (well, or in quotation marks) express the idea that economic growth in Russia will soon be replaced by either a serene zero, or even a recession, but at the same time none of them try to explain where the impressive inflation rate comes from. It would seem that stagnation in the production sphere is associated with fixing prices at a certain level, as they say, until better times. So it was during the peak periods of the crisis in the European Union and the USA, where even deflation penetrated. At the same time, the ruble exchange rate against the dollar and the euro, frankly speaking, differed little from the current 33-s and 44-s rubles for the indicated world currencies. We have no deflation and does not smell. The paradox is also in the fact that the ruble is falling (or it is being helped to fall) with very good oil prices for the domestic budget (for 16.08.13 a barrel of oil is estimated at 109,7 dollars). In other words, there is a megaparadox kaleidoscope: a decline in production, a drop in the ruble exchange rate against major world currencies, a decline in labor productivity, a drop in real incomes of the population, but this is against the backdrop of expensive oil and rising prices associated with an increase in the population's demand for goods and services. Hmmm ...
Is this possible in a transparent economy? Well, how can a person with falling incomes increase their personal demand for goods and services. Is that we are talking about a complete adventurer who decided to take everything from life, turning to banks for loans that he is not going to repay ... Adventurers in our country certainly do, but judging by the mentioned trend of price increases towards global decline in solvency in our country million 100 - no less ... It is hard to believe that the reason for the paradox of the economy is precisely this. But everything is easily explained if we take and assume that our economy is definitive speculative. In other words, there is a usual circle, excuse me, of money bags, which benefits from a rise in prices with a simultaneous decrease in personal income, which can be put on loans and, thus, actually purchased with all the giblets. You must agree that such tricks are not rolled out in every country, as they say, ... With us, it goes off with a bang.
"You approved a loan for a certain amount, come and get it", "Your credit card is waiting for you, just go to our bank", "You became a happy owner of a loan at the lowest percentage in the Universe - hurray! Hooray! Hurray! "read SMS messages that millions of Russians receive.
Only a few units are ready to hit the banks and their owners on the slope. So, recently revealed interestingly
история
in which a resident of Voronezh, Dmitry Agarkov, received a standard invitation to use a credit card from Tinkoff KS, he took and supplemented the scanned document with his own conditions — also in small print — let them read ... The conditions were simple: 0% on credit, 0% - commission on non-payment of the loan, plus the fact that the bank has no right to make changes to this agreement. He took and sent the paper with the additions to those who sent it to him. As it turned out, representatives of Tinkoff KS can only type the text in small print, but they do not visually perceive such a font - they took the agreement and waved ... They came to their senses when Agarkov, without making a single payment, also filed a lawsuit in court Bank "Tinkoff", in which 24 demanded a million rubles in moral damage. Mr. Tinkov became indignant: you see, plankton has risen up ... Threats have come to Voronezh: they say we will find you, we will arrange for you! They just didn't: they had to go to the world and simply to cancel their credit card so that they wouldn't run into the court ... It's a telling story about what to do with the speculative economy in general and those who warm it in particular.
And one more thing about inflation. Representatives of the economic and financial ministries declare that the overall inflation rate will not exceed 6% for the year. If so, then good. Head over to the store. And what we will see: bakery products from January 2013 went up by about 12%, dairy products, at least, percent on 15. The rise in fuel prices generally beats recent records. Jumps in utility prices, too. Where, sorry, your 6% per year. Economists respond to this: after all, inflation consists of analyzing the change in prices for the total mass of goods and services. For example, the bread "jumped" to 12%, and the tickets to the concert of Yury Shatunov did not add anything to the price: this is the 6% per year for you ... And you can't argue ...
Conclusion: Crisis reports are generally a profitable thing. Why? Yes, because especially impressionable people immediately rush to change currency, if they, of course, have it; they respond to bank calls to "credit", run to the store for salt, soap, and matches. Then the same experts who "predicted" the crisis will say: friends, the negative trends in the Russian economy have been temporarily bypassed. And again - in the currency exchange offices, for loans and for salt, and suddenly the mean crisis will return. So they run, and the "specialists" calculate the income from running around.
There's no time for shock work - the migrants will come, they will work for everyone ...