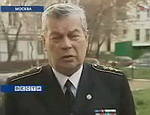 The position of the Russian Navy is critical. This was announced at a round table in Moscow by Valentin Selivanov, admiral, in 90-ies - the Chief of the Main Staff of the Navy.
"In the Naval Navy written off up to 80-85 percent of surface ships, submarines, combat aircraft. Only one surface ship and one diesel submarine are going to build. The fleets left 30-35 ships, boats and submarines. Most of them are boats. Just think: the Soviet Union built the 251 nuclear submarine. The fleet handed over 10-11 submarines a year. Now, there are only a few nuclear submarines in the Northern and Pacific Fleets, and only two in the Northern Fleet in constant readiness, one each in the Baltic and the Black Sea Fleet "
, - he said.
"Shock aviation the Navy does not exist at all, and there were four naval aircraft carrier air divisions. A total of 129 aircraft are in readiness in the fleet. This is mainly military transport aircraft for servicing command personnel and several dozen anti-submarine helicopters. The current forces do not allow planning and conducting at least one of the five operations that each fleet must carry out: neither an operation to defeat the enemy, nor search and destroy, nor disrupt enemy communications, nor defend one's own forces, nor land an operational personnel. That such a change in quality has occurred. "
- the admiral emphasized.
According to him, the NATO countries managed to overtake the Russian fleet in technical equipment.
"They have a miracle! You can not imagine! This is an atomic aircraft carrier on an electric propulsion. We have atomic on steam power. We all know what steam catapults are for taking off from the deck. And they have these electromagnetic catapults "
, - noted Selivanov.