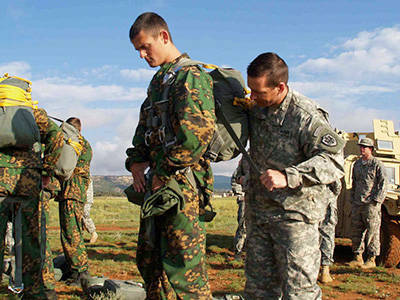 From 5 to 9 in August, a joint Russian-American conference on bilateral antiterrorist exercises was held on the basis of the 76 Guards Airborne Assault Division (Pskov).
The main objective of the conference is to clarify the preliminary deadlines and the plan for conducting a joint exercise, agreeing on the issues of material and technical support, the number of participants from each of the parties, and reconnoitring the areas where the exercises are held.
The American delegation was represented by a group of senior officers of the US Army Command in Europe, the Russian side was represented by officers of the Airborne Forces Command and the compound administration.
Within the framework of the conference, the American delegation visited Russian paratroopers in fire and airborne training, familiarized themselves with simulators and equipment of the airborne complex and airborne assault strip, and visited a military shooting range and training ground.
By prior agreement, the second bilateral anti-terrorism exercises should be held in the last decade of August in Pskov on the territory of the 104 Guards Air Assault Regiment of the 76 Guards Air Assault Division.
The first bilateral Russian-American anti-terrorism exercises were held in May last year on the territory of a military base of US forces at Fort Carson near the city of Colorado Springs (USA, pcs. Colorado). The Russian side was represented by military personnel of the 45 Special Guard Regiment of the Special Forces of the Airborne Forces.