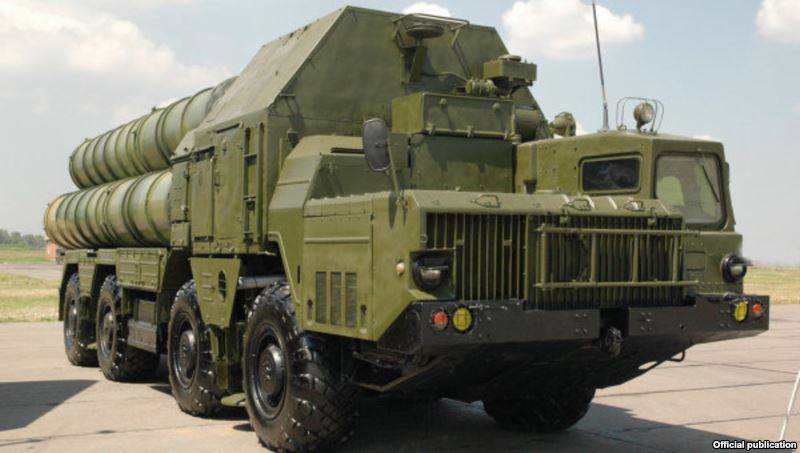 Recently, information appeared about a new Russian proposal for selling Iran the C-300 anti-aircraft complex. According to the information agency RIA-
News
Moscow suggested that Tehran refuse to consider its complaint in the International Court of Justice and in return receive a similar complex from the C-300 family, namely C-300ВМ, known as Antey-2500, or according to NATO classification SA-23 Gladiator.
In 2007, Iran ordered six units of the export version of the C-300PMU-1 (SA-20 Gargoyle, according to NATO classification) mobile multi-channel anti-aircraft missile system from Russia for the sum of 900 million dollars from Russia. This kind of complex is an improved modification of the C-300P, passing according to the NATO classification as Sa-10 Grumble. Presumably, negotiations on the subject of concluding a contract were conducted for several years and were not given publicity. In 2007, Iran fully paid Russia the entire agreed amount. Nevertheless, the Russian side increasingly delayed the delivery of the complex, until finally, after the adoption in the UN Security Council of resolution number 1929, which banned the sale
weapons
Iran, President Dmitry Medvedev signed a decree imposing an embargo on deliveries of Russian weapons to this country and, in particular, the C-300 missile system. Following this, Iran decided to appeal against such actions and said that Russia should either deliver the ordered complex, or return the amount paid for it, and also cover the penny for delay in delivery, penalty for cancellation of the contract and damage caused to the Iranian side. According to available information, Iran has demanded compensation from Russia totaling four billion dollars. Apparently, Moscow took seriously the claims of Tehran and entered into negotiations with him to persuade them to abandon their complaints and demands for compensation.
The first step for Russia was an indication of the political consequences of this conflict and the possibility of ending its support in opposing the Islamic Republic with the United States. However, this strategy did not justify itself, because so far Russia has in fact not given Iran any political or diplomatic support. This country does use its veto in the UN Security Council, not allowing the adoption of a resolution against Syria, but it refrains from such measures against Iran when it comes to imposing new sanctions. The Iranian authorities are well aware that Russia has neither the will, nor the ability, nor the goal to resist the hostile actions of the West against the Islamic Republic.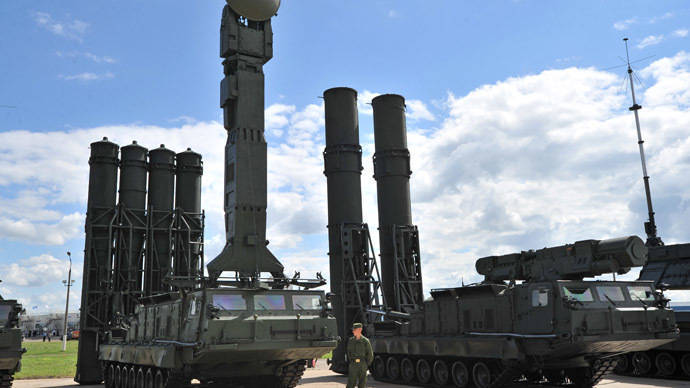 Long-range anti-aircraft missile systems C-300В and С-300ВМ (left)
The second step for Russia was the proposal to Iran to purchase alternative defense complexes from it. This country offered for sale an even greater number of Th-M1 anti-aircraft missile systems. This system, designed to launch medium-range or short-range missiles, is much less effective than the C-300, and is not capable of hitting targets at high altitude. It can only be used to defeat cruise missiles and aircraft at medium range. In addition, Iran has already received a sufficient number of similar systems in the 2006 year. Obviously, Russia also offered for sale a more improved version of this complex, that is, Tor-М2, however, it didn't really interest the Iranian side either, because of its power and this model is inferior to C-300.
The final proposal of Russia was the delivery of Iran C-300ВМ. The United States immediately protested, but they did it in a softer form, stressing that if the deal was concluded, the Russian government itself would be responsible for a possible violation of Resolution No. 1929. Probably, this position of the United States means their indirect consent to the fact that Iran took its lawsuit against Russia and did not require it to return the amount paid and other compensation. However, Iran itself was cool to accept such a proposal. Ambassador of the Islamic Republic in Russia, Mahmoud Reza Sajjad, expressed his disagreement with replacing C-300PMU-1 with C-300ВМ. Analysis of the technical characteristics of these two modifications of the C-300 complex makes it possible to understand why Russia and the United States agreed to supply C-300ВМ to Iran and why he is protesting against this replacement.
Differences between C-300PMU-1 and C-300BM
In the C-300 family of anti-aircraft missile systems, these two modifications are upgraded versions of the two original complexes. They were used as early as 1978 under the name C-300PT and were classified as SA-10 Grumble by NATO classification. Following the revolutionary development of electronic weapons technology and the emergence of anti-radar missiles in the United States, Israel and several other Western countries, such as France and the United Kingdom, Russia had to seriously modify its own air defense systems. The ineffectiveness of the Libyan anti-aircraft systems in the US confrontation in 1980, the lightning destruction of the Syrian air defense in the Bekaa Valley in Lebanon during the First Lebanese War in 1982 and, most importantly, neutralizing Iraq's air defense systems in 1991, meant one thing for Russians: only the beginning of the technical revolution may give a chance for the preservation of such complexes in future military conflicts. New for Russian air defense systems has been an increase in missile range, greater mobility and movement of ground complexes, maximum reduction in installation time, target detection and salvo, the use of missiles with a homing system, increased resistance to attacks of computer viruses, as well as the use of invisible radars and an increase in the power of existing .
According to some military experts, the C-300PMU-1 anti-aircraft missile system, known by the NATO classification as the SA-20 Gargoyle, can simultaneously track 100 objects from different directions and fire at 12 targets simultaneously. Its deployment time is only five minutes, which is a significant advantage over the American Patriot complex, which takes hours to install. According to some sources, the radar of the Russian air defense missile system is able to detect objects the size of a tennis ball at a height of one meter to 30 kilometers above ground level. The sources are silent about the exact range of tracking radars (apparently for conspiracy purposes), but the missiles of the complex of this modification are capable of striking objects at a distance of 195 kilometers. This means that their zone of operation, given the incredible speed of 1700 meters per second (five times greater than the speed of sound!), Is 120 kilometers more than that of ultra-high-speed fighter aircraft. For this reason, it will be very difficult to disable this complex with anti-radar missiles. Russia has developed this C-300 modification to repel bomber attacks, although it can also be effectively used against UAVs and cruise missiles.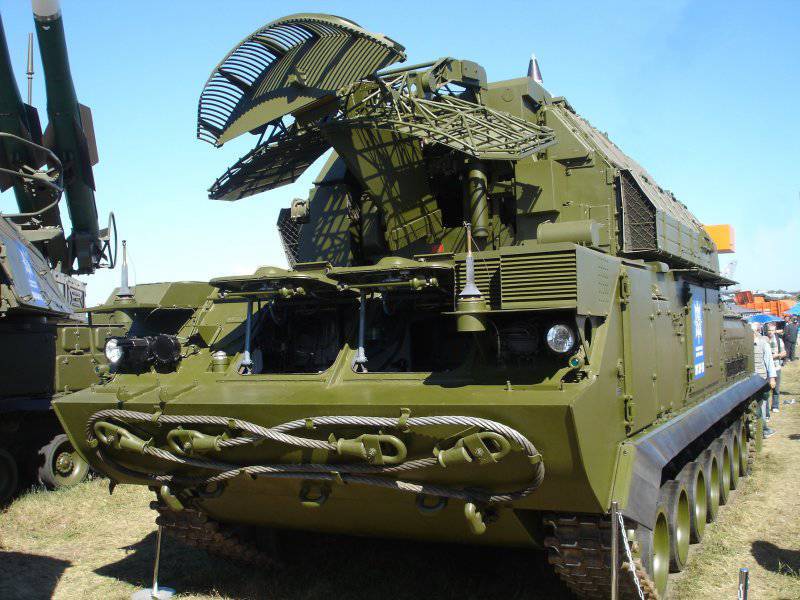 Top-M1 anti-aircraft missile system
To reflect the impact of cruise and ballistic missiles, Russia first developed a model of the same series called "Antey-300", passing according to NATO classification as the SA-12 Giant. Antey-2500 (SA-23 Gladiator) became its more advanced version. This complex, designed to reflect the attacks of cruise and ballistic missiles, although it can be used against fighters and bombers, was not designed for these purposes. Another question concerns the range of missiles fired at these complexes. "Antey-300" and "Antey-2500" are capable of launching missiles at a distance of 100 and 200, respectively, kilometers. By the way, it was the latest version of the complex that was recently sold to Venezuela. Russia itself has in its arsenal an even more advanced analogue with a range of 300 kilometers. In a word, "Antey-2500" is much inferior in power and other parameters to C-XNUMPPMU-300 and in no way can serve as its replacement.
Iran's needs and the future of the C-300 supply agreement
Taking into account Iran's defense needs, it can be concluded that by offering the C-300BM missile system (aka Antey-2500) for sale, Russia is trying to seriously deceive Iran. The Russian government is being forced to do this with the possible consequences of Iran's claim to the International Court of Justice. The United States understands perfectly well that C-300ВМ is much less dangerous than C-300PMU-1, and therefore reluctantly would agree with its delivery to Iran. The most serious threat to Iran is an air attack from heavy fighters and bombers. To reflect this danger (be it from the United States or Israel), C-300PMU-1 is best suited. As for the threat from cruise missiles, given their small warhead (from 700 to 1000 kilograms), for Iran's underground nuclear facilities they pose much less danger. In addition, according to some military sources, using a large number of systems that interfere with the operation of satellites, Iran could disrupt the control systems of these missiles. Airplanes such as the F-22, F-15 and F-16, as well as the B-1, B-2 and B-52 bombers pose the greatest danger to Iran. The C-300PMU-1 complex, of course, is not without flaw. According to some military experts, stealth planes, for example, the F-22, F-35 and B-2 can fly unnoticed through the radar network of the most advanced modifications of the C-300. However, this complex is extremely effective against airplanes, which are fixed by radars. This is especially true of Israel, which currently does not have stealth planes and is very concerned about the possibility of supplying Iran with a powerful missile system. If fighters and bombers, invisible by radars, such as the F-22, fly with an external suspension, which will be placed weapons or fuel, they will immediately be noticed and attacked. Iran's powerful C-300PMU-1 with a wide radar tracking zone and long-range missiles will also make aircraft tankers extremely dangerous flying near its airspace. Powerful ammunition designed to attack Iran's underground nuclear facilities can only be delivered by B-2 bombers. In the event that B-2 alone will fly Iran to bomb and will still be seen by the radars of the complex, Iranian fighters will be raised into the air and thus the enemy will fall into the trap. It is for this reason that obtaining the C-300PMU-1 complex is a strategic task for Iran, and the prevention of this is very significant for the United States and Israel.