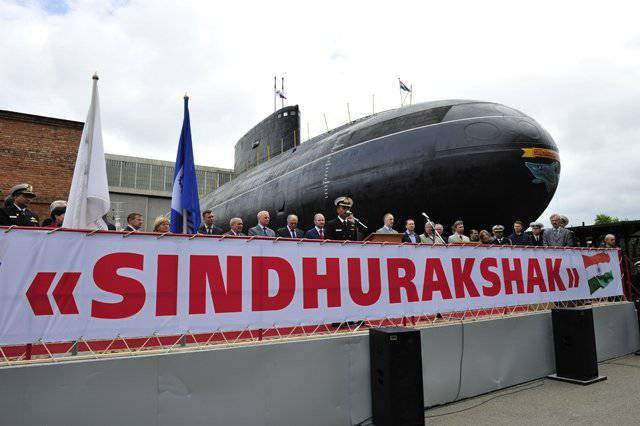 Diesel-electric submarine of Russian production, owned by the Indian Navy "Sindurakshak" ("Sea Giant"), on board which a fire broke out, sank on Wednesday in the port of registry - Mumbai, reports Times of India.
On board the submarine were 18 man of the crew, who quickly left it.
"There remains, however, the possibility that several people on the submarine were trapped. Details are being clarified, "the publication is quoted by the statement of the Ministry of Defense of the country, ITAR-TASS reports.
According to the press, after the fire that broke out on Tuesday shortly before midnight, an explosion occurred aboard the Sindurakshak. The causes of emergency are being investigated.
About three o'clock in the morning, the fire on the submarine was managed to be extinguished by the efforts of 16 fire brigade. According to media reports, the threat of flame spread to other vessels in the port of Mumbai is excluded.
A specially formed commission has already begun to investigate the causes of the explosion and the fire, the country's naval command, in turn, reported.
"At the time of emergency, there were 18 people on board. We are making efforts to ensure the safety of the crew members and to raise the sunken submarine, "the message says. As they clarified, "the submarine plunged under the water, only part of it is visible above the surface."
The submarine Sindurakshak of the 877 EKM project, an export modification of the Halibus project (according to the NATO classification - Kilo), was laid at one of the oldest shipbuilding enterprises in Russia - the Admiralty Shipyards (St. Petersburg) in 1995 for the Indian Navy.
The contract for the implementation of the average repair and modernization of the Sinurakshak in the Severodvinsk center of the ship repair Zvezdochka was signed on June 4 of the year 2010. At the beginning of this year, the submarine returned to the port of Mumbai.