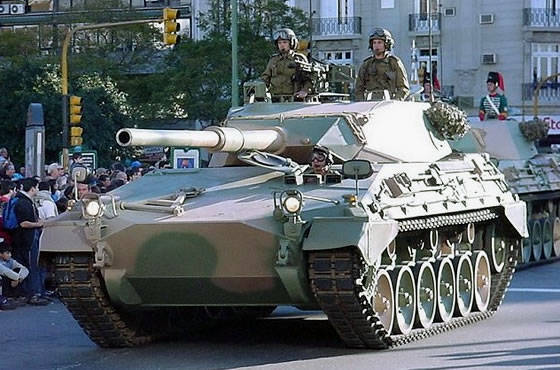 Modernization Program of Armed Forces of Argentina
tanks
TAM (Tanque Argentino Mediano) is frozen because the government has not decided to allocate funds for this project.
It is reported by "Janes Defense Weekly", citing sources in Buenos Aires.
The TAM tank was developed in 1973 by the German company Thyssen-Henschel for the Argentinean artillery on the chassis of the Marder BMP and manufactured by the Tank Argentino Median Sociedad del Estado (TAMSE - Tanque Argentino Mediano Sociedad deldo), which in 1996 was eliminated.
The first TAM tanks were transferred to the NE of Argentina in 1980. They replaced the outdated Sherman. TAM TAM combat weight of about 30 t equipped with 105-mm cannon, develops a maximum speed of 80 km / h, power reserve - 500 km.
The command of the Armed Forces of Argentina in 2010 year decided to carry out a deep modernization of the TAM tanks developed in 1973 year. As stated, the upgrade procedure must go through all 235 vehicles in service. At the first stage it was supposed to improve 108 tanks. The first batch of 20 tanks planned to adopt the 8-th armored cavalry regiment 1-th armored brigade.
The Israeli company Elbit Systems (Elbit Systems) and the Argentine Directorate of R & D and Production (Research, Development, and Production Directorate) participated in the development of the TAM 2C modernization project. The first prototype of the upgraded tank was demonstrated in April of this year.
According to sources, Janes, the reason for the suspension of the project is its high cost. According to some estimates, it amounts to 2,5-3,0 million dollars per unit, which is comparable to the price in the secondary market of the modernized 60-ton MBT "Leopard-2A4" with the 120-mm gun.
According to other sources, in the process of a thorough survey of tanks, problems were identified with the quality of steel armor plates and other signs of structural fatigue, which could lead to a complete reassessment of the program.