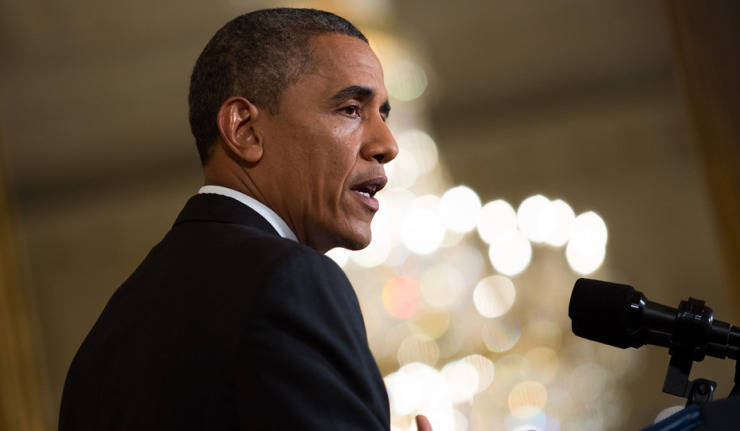 Barack Obama gave a press conference in Washington. During a speech to reporters, he spoke about relations between the United States and Russia, about the government program of spying on the population, Edward Snowden. Obama's speech to the Voice of Russia was commented by foreign analysts and experts.
The US mistake is the constant striving to impose its values ​​on other countries, said Martin Siff, chief analyst of the Globalist research center and Globalist website editor-in-chief:
"I don't think that Obama is acting wisely, avoiding the dialogue with Putin. If you recall
history
the Cold War, even after the Caribbean crisis, none of the American presidents — neither Lyndon Johnson, nor Richard Nixon, nor Gerald Ford, nor even Jimmy Carter — ever shied away from dialogue with Brezhnev, although the differences between the US and the USSR were sometimes much more serious. than the current Snowden story. In the end, Russia and the United States are now cooperating in many areas - for example, Russia allows the United States to deliver its military cargo to Afghanistan through Russian territory. During the Cold War, no Soviet leader would have allowed the United States to do that. There is also an area in which the United States and Russia, no matter what happens, should still go hand in hand - the fight against terrorism.
A very big problem is Islamic terrorism all over the world, this worries both Putin and Obama. And our countries have great potential in terms of cooperation in this area.
Therefore, all talk of recalibration is as meaningless as a large plastic red button with the word "reset", which Secretary of State Hillary Clinton handed over to Russian Foreign Minister Lavrov for a joint press. It is symbolic that this button was even made not in the USA, but in China. Even more symbolic is that when they pressed on it, it did not work. Therefore, what Washington is saying now is empty demagoguery. The United States and Russia are the two main nuclear players in the world and for a long time. The US leaders do not understand the central role of Russia in the world, as well as the crucial importance of US-Russian relations, and Russian leaders constantly perceive this ignorance and irresponsibility (from the US) as proof of principled hostility, which is not true. So both sides see themselves in a completely wrong light.
- Regarding the Russian law against homosexuals and lesbians. Obama said that it would be wrong to boycott the Olympic Games because of this (and he appealed not only to Russia, but also to other countries). How do you think, how seriously do Russia and the United States disagree on this social issue?
- This is a fundamental problem of the United States. As the eminent American historian Samuel Huntington said, the world is multipolar, it has many different civilizations. The catastrophic mistake of the United States is the constant desire to impose its values ​​on other countries. And here Obama showed himself from his best side. He is cool, emotionally balanced, avoids provocations. And this is absolutely the right behavior. He absolutely did not try to use this question as a reason for boycotting the Sochi games by other countries. First, a decision on this matter must be made in each country separately. And secondly, I don't think it would be wise to boycott the games in Sochi. "
Barack Obama, in his speech, invited Snowden to return to the United States and stand trial, but Snowden will not receive an objective hearing in a US court, said Shahid Butar, executive director and head of the Bill Protection Committee.
"Barack Obama promised greater transparency of control programs. He also promised to support introducing changes essentially to the 215 provision of the Anti-Terrorism Act, although he didn't specify these changes. After that, he said a lot of words that have no direct relation to the true state of affairs. For example , he said that the Congress was actively observing the consideration of cases related to this program in courts, which is completely untrue. On the contrary, when Congress tried to monitor the state of affairs with In connection with listening to NSA phone conversations of Americans, executive officials strongly opposed this, providing frankly false information to congressmen and the American people. It is symptomatic that when the president was asked about Snowden, he refused to admit that Snowden had a public service and did not agree to recognize him as a patriot And what Snowden did is an act of a real public servant, as a result of which everyone paid attention to the director of the National Intelligence Service, James K. lapper, who lied under oath, speaking to Congress. And this is a crime. It is strange that the president was not in this situation with those who are right.
The president in his speech invited Snowden to return and stand trial, but Snowden will not receive an objective hearing. See how Bradley Manning has been treated. He was tortured and made a show trial. The fact that Bradley Manning was convicted of multiple offenses will make Snowden think carefully before deciding to return.
As for Obama's promise to make the government surveillance program more transparent, there is no need for greater transparency of these programs, but rather that they should be reduced. They violate our fundamental constitutional rights. It is better to ban these programs altogether. The American people must now continue to follow the leaks of classified information, which the Guardian newspaper continues to publish.
Last week, another secret program, XKeyscore, was another revelation. I have every reason to believe that over time we will learn many more interesting things from this area. "