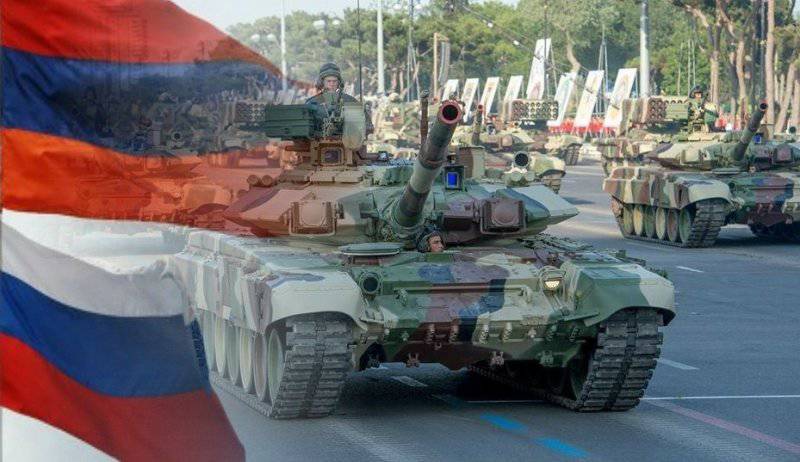 On the territory of Armenia, near the city of Gyumri, the 102-I Russian military base is located, which is one of the most important objects of Russia's geopolitical presence in the South Caucasus, as well as one of the main components of Russian-Armenian relations. In addition, the tenure of the Russian military at the base in Armenia has been extended to 2044. Russian border guards together with their Armenian colleagues are guarding the borders of Armenia with Turkey and Iran. But on this the interaction of Russia and Armenia in the military field does not end: Armenia, to all the above, is still a member of the CSTO.
Once, I remember, Boris Gryzlov called Armenia the outpost of Russia in Transcaucasia. In principle, if you think about it, then it is. Armenia is currently the only strategic ally of Russia in the South Caucasus and one of the few countries where there is a Russian military presence. According to many Armenian politicians and military experts, the Russian military presence in Armenia is an essential element of Armenia's national security.
It would seem that Russia and Armenia are allies, strategic partners bound by many agreements in the military field and, based on all this, Russia must take into account the geopolitical and strategic interests of its ally Armenia. But what really happens? But in fact, everything happens the opposite. Specifically, what happens is that the main opponent of Armenia in the region, Azerbaijan, buys half of its weapons from the most important strategic partner of Armenia, Russia. If Azerbaijan bought only defensive weapons, then there could be, as they say now, understand and forgive. But the arms purchased in Azerbaijan by Russia are mostly offensive rather than defensive.
The list of purchased offensive weapons by Azerbaijan in Russia is very impressive. Contracts signed on the supply of Russian weapons to Azerbaijan are estimated at several billion dollars. Back in 2006, 62 were purchased from Russia
tank
T-72M1, which subsequently went through modernization thanks to the Israeli company Elbit Systems. Then purchased 2S7 self-propelled guns "Peony" in the amount of 12 units, BTR-80 and BTR-80A in a total of 70 units, 24 units of attack helicopters Mi-35M, up to 70 helicopters Mi-17-1V were ordered from the Kazan Helicopter Plant for the Air Force and GPS, 100 units of the Kornet ATGM, and Russia also granted Azerbaijan a license to manufacture up to 120 AK-000M assault rifles with a caliber of 74 mm.
All the previously purchased weapons have also been added with recent shipments of new offensive weapons from Russia to Azerbaijan. To be specific, between Azerbaijan and Russia a contract was signed for the purchase of X-NUMX tanks T-94C (there is also an option for 90 tank T-94С), 90 SAU units 182 Msta-S (there is also an option for so many Msta -C "), 19 units of the CAO 18С2" Vienna ", the same number of MLRS" Smerch "and 31 units of TOC-6А" Sunchip.
New models of military equipment purchased by Azerbaijan in Russia were demonstrated at the military parade 26 of June in honor of the 95 anniversary of the creation of the Armed Forces of Azerbaijan. After all this, naturally, in the Armenian media, statements by various military experts and politicians began to appear that Russia betrayed Armenia, that Armenia needed to stay on course at NATO, in general, to completely sever relations with Russia and to terminate all military agreements. Although there were also such experts who argued that Armenia should not be worried that Russia delivers the same weapons to Armenia for a gift or at a reduced price. In reality, these are just loud statements for the domestic public, since practically nothing that has been sold to Azerbaijan by Russia in recent years at a reduced price, and even less so for nothing, has not been delivered to Armenia.
It is difficult to imagine that Turkey, as the most important and strategic ally of Azerbaijan, would supply the latest types of weapons to Armenia. Well, firstly, Turkey has its differences with Armenia, and secondly, it could provoke a break in relations between Azerbaijan and Turkey. Azerbaijan has its own independent foreign policy, its geopolitical interests in the region, and its stable economy. In turn, Armenia with its dependent economy, dependent political elite, is literally unable to do anything to prevent Russian arms supplies to Azerbaijan. Whenever it became known about any deliveries of arms to Armenia, Azerbaijan at the state level expressed its discontent with this. An example is the fact that recently it became known that the Armenian Armed Forces have in their armament the "Milan" anti-tank systems of Franco-German production. As it is known, these countries imposed an embargo on arms sales to Armenia and Azerbaijan in connection with the Nagorno-Karabakh conflict. So the reaction of the Azerbaijani side was immediate: the embassies of these countries in Azerbaijan were asked to clarify the question of how these complexes got into Armenia, despite the embargo in connection with the supply of weapons to this region.
All the above written leads to the idea that there is no strategic alliance between Armenia and Russia, and if there is one, then it is very fragile. But this is just my subjective opinion. Yes, Russia is indeed the only guarantor of the security of the Republic of Armenia. But the very concept of strategic partnership does not fit into the Armenian-Russian relations. The Union of Armenia and Russia is a forced union. Russia, apart from Armenia, has no close and trusted partners in the Transcaucasian region. In turn, apart from Russia, Armenia does not have such a close other country that could protect, help ensure the security of the country and support Armenia economically. The unresolved conflict in Nagorno-Karabakh more and more affects the development of the Armenian economy, its backwardness in the arms race. Azerbaijan's revenues are increasing year by year, the military budget of Azerbaijan will be increased to $ 2015 billion already by 5, purchases of modern military equipment will increase, and the Azerbaijani authorities do not hide this. Naturally, the countries-exporters of military equipment, including Russia, are interested in Azerbaijan, as a country procuring not a small number of weapons, to buy from them. Incidentally, the Secretary General of the Collective Security Treaty Organization Nikolay Bordyuzha paid attention to this, who was on a recent visit to Armenia, where he was asked one of the journalists about the latest arms supplies from Russia to Azerbaijan. Then Nikolai Bordyuzha told the journalist that the supply of Russian weapons to Azerbaijan is related to the financial gain that Russia receives by selling weapons to Azerbaijan. This statement by Nikolai Bordyuzha caused even greater indignation in Armenia, since, in the opinion of the majority of Armenian experts, Russia replaced the strategic partnership with Armenia with lucrative defense deals with Azerbaijan. There have been opinions that supplying
weapon
Azerbaijan, thereby, Russia is even more consolidating its presence in Armenia. But whatever opinions may sound, whatever accusations towards Russia, and how strong Armenia's desire to change its pro-Russian course to pro-Western was not, of course, the strategic and military alliance of Armenia and Russia will not collapse. Russia continues to strengthen its position in the region and in particular in Armenia, the agreement on the presence of the Russian military in Armenia until 2044, is still in force.