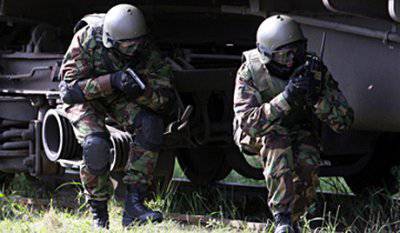 According to the press service of the UFSB, 12 August 2013 of the Year The regional special service "GRAD" of the UFSB of Russia for St. Petersburg and the Leningrad Region has been celebrating 20 years. The special unit was formed on August 12 by 1993 by order of Colonel-General Viktor Cherkesov, Chief of the St. Petersburg Department of the Ministry of Security of Russia.
Initially, the unit was formed as an anti-terrorist group. It consists of employees of the anti-terrorism service with high moral and volitional qualities, with good physical, fire and operational training.
The predecessor of today's special unit is a non-staff combat group called the Baltika. It was formed in 1983 year and carried the function of supporting the operational activities of the Leningrad KGB Office.
To date, the special forces "Grad" is one of the best-trained anti-terrorism units of the Russian Federation. Its employees regularly take part in special operations during long business trips to the North Caucasus. Behind the fighters of the Grad there are thousands of military trips to apprehend dangerous criminals not only in St. Petersburg and the Leningrad Region, but throughout the North-West Federal District.