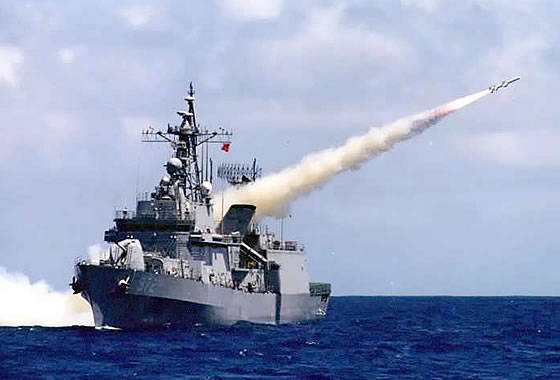 Thailand's 8 August signed a contract with Daewoo Shipbuilding and Marine Engineering (DSME), South Korean company Daewoo Shipbuilding and Marine Engineering (DSME) to build the first of the two multi-purpose frigates planned for delivery.
According to Jaynes Defense Weekly, the contract value is 14,6 billion baht (about 468 million dollars). It is assumed that the frigate will be a modernized version of the destroyer KDX-1 (Kwanggaeto Daewang), which DSME built for the Republic of Korea Navy. Delivery will be completed by August 2018.
As TSAMTO previously reported, in April of this year, the tender commission of the Thai Navy chose Daewoo Shipbuilding and Marine Engineering, the winner of the tender for the construction of new frigates for the Thai Navy. In the final, DSME competed with another company from the Republic of Korea. Previously, shipbuilding companies from Spain, Italy and China were excluded from the number of contenders for victory.
According to a source in the Thai Navy, one of the key requirements for the purchase was to ensure the effective use of the frigate without foreign assistance. Discussion of the division of labor is not yet complete.
The ship will be built by DSME in the Republic of Korea. As part of the DSME program will transfer to Thai industry the technology necessary for the maintenance and repair of frigates. In addition, the Thai industry will be involved in the supply of some components.
The displacement of the new frigate will be about 3650 t, length - 122,5 m, width - 14,4 m. The ship will be able to reach a maximum speed of 30 knots, cruising range - more than 4000 nautical miles, crew - 136 people. During construction, low-invasive technologies will be used, as well as modern weapons systems from Europe and the USA will be purchased, which will make it possible to combat submarines, surface ships and air threats.
The new frigates will replace two Knox-class ships in service, which were built in the 1960. and after recovery transferred to the US Navy of Thailand in the late 1990-ies.
The frigates will be used to protect the exclusive economic zone of the country and mineral deposits in the Gulf of Siam. As expected, in the case of the availability of funds, a contract for the construction of a second frigate will be signed over the next several years.