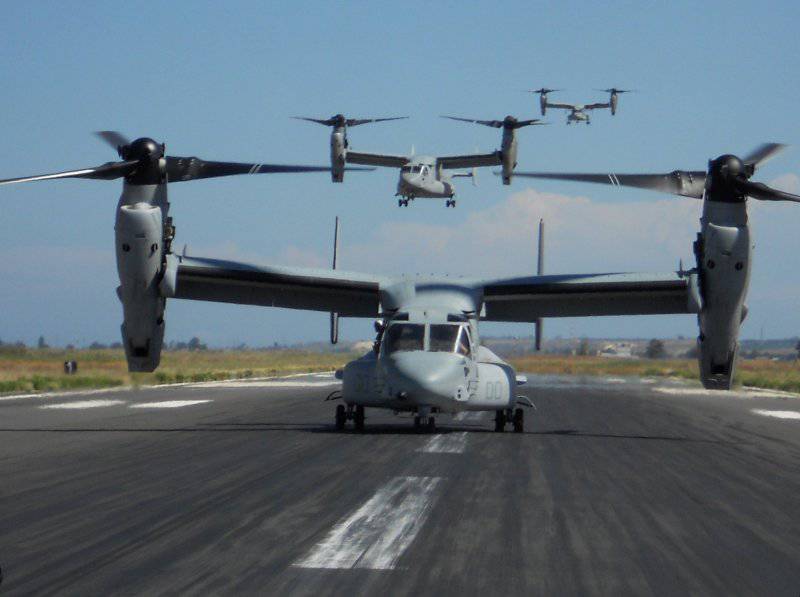 On Monday, the United States sent a new batch of convertible planes to the Japanese island of Okinawa: eight MV-22 Osprey flying machines left Iwakuni airbase (Yamaguchi prefecture) and headed towards the new base.
The relocation of another group of American convertiplanes to the Futemma airbase (Okinawa Prefecture) was scheduled for the middle of last week. However, the US military command was forced to postpone it because of the incident with the military helicopter HH-60, which 5 August crashed at the Camp Hansen base in the central part of Okinawa, ITAR-TASS reports.
As a result of the crash, no one was injured, but the incident caused great concern among the Japanese government and the local population. Washington was even launched an official protest over the incident.
At the end of July, two Osprey converters were already transferred from their own Iwakuni airbase to a new permanent location at the Futenma airbase in Okinawa.
On Okinawa, most of the American military facilities in Japan are located, including the largest Kadena air force base outside the US. In recent years, the American military presence has been increasing discontent among the population of the island, mainly in connection with the transfer of Osprey convertoplanes here. The authorities of Okinawa insist on their withdrawal from the local air bases because of doubts about the safety of these machines.
Osprey is an aircraft equipped with two engines that can rotate 98 degrees. This gives the convertiplane the ability to take off and land like a helicopter and fly like a plane by translating its two screw engines into a horizontal plane.