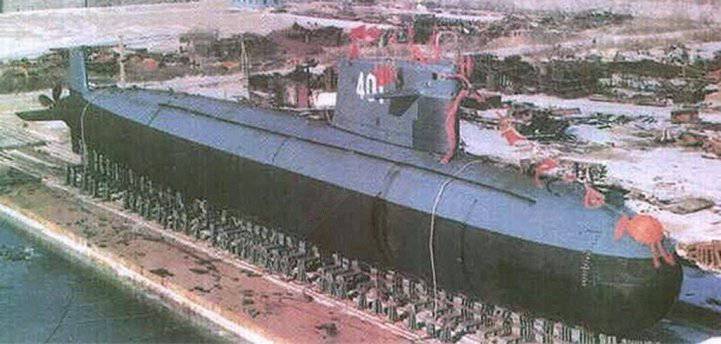 "Military Parity". Work on the creation of the first Chinese multipurpose nuclear submarine (APL) with a torpedo / anti-ship missile armament project 091 (NATO code - SSN Han-class / "Han") began in the 1960-ies. Chief Designer Peng Shilu (Peng Shilu).
In 1958, Beijing turned to Moscow with a request to assist in the development and construction of nuclear submarines, but the leadership of the USSR linked this issue with the creation of joint naval bases on the coast of China. PRC Chairman Mao Zedong withdrew the request, making it clear to Nikita Khrushchev, the head of the USSR, that China will create an atomic submarine fleet and will not allow its coastline to be under Soviet control.
The first nuclear submarine (b / n 401) was laid down in 1967, prepared for delivery
the fleet
in 1974, but due to serious technical problems in a nuclear power plant (NPP), it was only part of the PLA Navy in 1980.
Tactical and technical characteristics of the submarine "Han"
Displacement: - 4500 / 5000 t.
Main dimensions: 98х10,0х7,4 m.
Immersion depth - 300 m.
Power and type of power plant: 1 water-cooled reactor (90 MW), TSU - 12000 hp, GED - 6000 hp
Speed ​​- on 12 / stock 25 knots (corresponding to 22 / 46 km / h).
Crew - 75 people, of which 20 officers.
Weapon
: 6х533 mm SET-65E torpedo tubes (6 RCC C-801 / YJ-8Q, 14 torpedoes, Yu-1 or Yu-3, the number of mines taken to replace torpedoes - 36). Electronic weapons: GAS DUUX-5, Thomson Sintra, detection radar NTS and SORS; RTR type 921-A, a set of communications.
In total, five submarines were built (they were commissioned in stages by 1990, they joined the Northern Fleet, the base of Qingdao). The disadvantages are the low reliability of nuclear power plants, high noise, irregular access to combat patrols. It is estimated that currently two boats are withdrawn from the fleet (w / o 401 and 402, presumably in 2000 and 2001).