The fact that the criminalization of the trade component in Russia has reached incredible heights, every inhabitant of the country knows firsthand. To understand this problem, it is quite enough to stroll through the markets of domestic cities. Most of these markets have long been turned into a kind of criminal concentrate, richly seasoned ethnic component. Citizens of individual republics, which at the beginning of the 90's "long-awaited independence" from the "hated Russian yoke", decided to ignore the sovereignty that fell on them with strange zeal and come close to the distance of stale breath. Independence turned out to be good for newspaper articles, mud-polluting Russia in the comments and Internet posts, but for earning a "gravel" sovereignty was not what it should be. Everyone wanted to eat bread and butter, to someone - without fail with red and black caviar, and to someone - also washing it all down with "Veuve Clicquot" at the wheel of "Kayena" surrounded by blond "nymphs".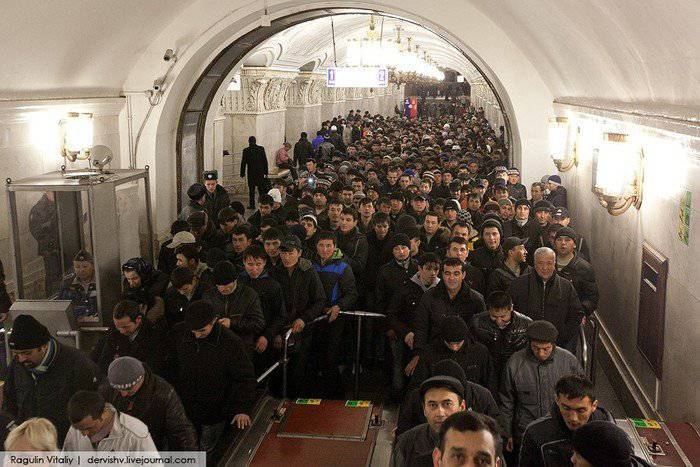 Desires began to coincide with the possibilities not immediately. They did not coincide until Russia itself had not had time to ripen a whole serpentarium of officials of various levels who also wanted "Kayenas", nymphs and black caviar. Thus, the aspirations of some began to be realized at the expense of the aspirations of others. A striking symbiosis has emerged with elements of reciprocal parasitism between individual Russian officials and representatives of the criminal immigration segment — this is a time, and with systematic parasitism of both, on ordinary Russian taxpayers, these are two.
For large fish, shoals of smaller fish flowed into Russia, without which doing business on "affordable" conditions would be extremely difficult. Tajikistan, Uzbekistan, Moldova, Georgia, Kyrgyzstan, Azerbaijan, Armenia became the main "donors" of the immigration sector from among the former Union Republics, among which for a long time the processes of division of spheres of influence were observed. Chinese, Vietnamese, Koreans and other representatives, as they say, were added to the "fraternal" immigrants. Over time, this intricate foreign explosive mixture was added by internal Russian migration flows (mainly from the regions of the North Caucasus), which led to an even more fierce redistribution of influence segments in the territories of many federal subjects, especially in large cities of the European part of Russia.
At a certain point in time, it came to the point that it was almost impossible to see local workers (traders with local products) on construction sites (urban markets) in Moscow, St. Petersburg or, for example, Voronezh. Turkish, Spanish or Israeli vegetables and fruits were successfully sold under the vigilant control of the "guests" from sunny Transcaucasia or North Caucasus. Signs of restaurants, cafes, dumplings, cheburechnyh and other catering establishments said that their owners are also far from Ryazan or Kursk volosts by birth. For the majority of Russians, Central Asian speech and musical motifs at construction sites have become familiar ...
We thought: let's break up Cherkizon, Puddle and other similar places, we will adopt a number of laws on trade only by citizens of Russia - you see, and life will get better. Ethnic criminal groups will evaporate, the Russian peasant will have the opportunity to work and earn money by bringing their products to the markets without intermediaries. But they dispersed Cherkizon, dispersed the Puddle, dispersed several more markets, market squares and flea markets, but did not feel better ... The Russian peasant was unequivocally hinted that for his own well-being it was not worth going out to the large urban markets, but it was better to sell according to the "good" the price of goods to dealers "Alisher" or "Magician", and they will try to provide the people with high quality goods themselves.
Instead of one Cherkizovsky, dozens of others opened, eventually also turning into a stronghold of not only semi-legal trade with a philosophical attitude to paying taxes, but also on Wednesday to cultivate those interpersonal relationships that, frankly, are alien to the indigenous society. The inhabitants of these places began to get the impression that they turned into full-fledged owners, capable of issuing bills and claims not only to each other, but also to local ordinary residents, and even to the authorities.
The bureaucratic corps, meanwhile, continued to search for free boxes for storing tightly tied packs of kickbacks, a continuous stream of incoming and outgoing from representatives of, let's say, business migration. Some of the officials of this link even tried to state that the increase in the crime rate in Russia is in no way connected with the increase in the number of illegal immigrants who settled on Russian territory. It is understandable. After all, if these gentlemen had mentioned the fact that the crime rate of the number of illegal and semi-legal migrants is bound by direct proportionality, then this would be the same direct blow to their successfully working feeder.
How much curl such a string? I would like to believe that is not forever. One of the next calls was an incident that occurred not so long ago in one of the markets of Moscow, when a policeman who was trying to detain a merchant on suspicion of raping a minor girl broke his head. Obviously, the seller of watermelons, attacking a representative of the rule of law in front of hundreds of people, was convinced that his action would go unpunished, because he was not in Moscow at all, but in the Moscow branch of his "family aul", over which there are not only elders-co-religionists, but also Moscow officials with oil eyes, eager for large bills.
The incident put on the ears of Moscow, and with it the whole of Russia. Interior Minister Vladimir Kolokoltsev ordered to carry out serious work in the markets (and not only) in order to identify the migrants in them. In this regard, the actions of the Ministry of Internal Affairs can be described in force "better late than never" or "until thunder breaks out ..."
Thousands of riot policemen embarked on a "tour" of the country's markets and outlets in order to detect and detain illegal immigrants. However, the task was difficult to accomplish. There are several reasons. Firstly, illegal immigrants in the markets, construction sites, basements, warehouses and trailers turned out to be ten times more than the law enforcement officers participating in the operation. Secondly, in some cases, during the raids, respectable gentlemen were announced, who presented some papers that, they say, the raid at this place was wrong, and riot police should proceed to another area to identify illegality. In some cases, respectable people with pieces of paper in their hands turned out to be, as they say, in the position of "face to asphalt", but unfortunately, there were very few such isolated cases.
As a result of the campaign against illegal immigration, several thousand citizens of Tajikistan, Uzbekistan, Azerbaijan, Vietnam, China were detained in Moscow alone.
Identified illegal immigrants - not bad, detained - also good. But the main question is not at all in this. The main question is: what next? .. From Russia towards the Central Asia and the Caucasus will train trains with those who are among the detainees? .. And in these trains there are VIP cars for people who run illegal businesses based on ethnic groups ? .. The tradition is fresh ...
It is obvious that the current problem cannot be solved only by police methods. Well, they caught, well, they twisted, well, even if they turned out ... And how many drove back at that moment? How many bureaucrats warming up their hand in the illegal immigration business remain in their offices waiting for the return of the profitable migratory "plankton"?
It turns out that you need to hit not the tails, but start from the head. But here again the problem. The head is not alone. In recent years, too many people have managed to grow heads of ethnic crime. Heads are big, mouths are toothy. They bite each other, bite everyone around, as soon as someone tries to bring an ax over them. So, with the efforts of Kolokoltsev alone, even if he firmly set out to decriminalize the Russian markets, this is definitely not enough. The problem is too painful to be solved by riot police alone. What is needed is not the momentary activity of the police and its leadership, but the development of an effective legislative framework that would really allow to bring order to migration issues.
Wrote this sentence and think: utopia? ..