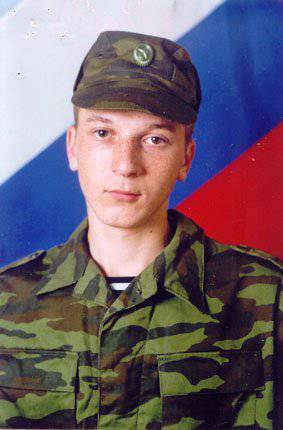 In one of the clear December days, the parents of Anton Marchenko, a soldier-peacemaker who was one of the first to die on that terrible first night in Tskhinval, parents of the Volga military district in a solemn ceremony handed the star of the Hero of Russia, who showed courage during military debt their son is honored posthumously. Only no reward, no high rank will return to the parents of the best boy in the world, to friends — a true friend, a girl — a favorite ...
- We need a son - alive, - Anton's father Alexander Marchenko is difficult to pronounce. Until the end of his days, he will desperately and bitterly regret that he could not dissuade his son from the decision to remain in the army under the contract, especially as a peacemaker in Georgia.
"Anton's mother informed me about this to work on the phone," Alexander recalls, "asked him to" dissuade him! "But the son had already made a decision and did not change it. Anton was always like this: the word certainly followed the case. Was very independent. At the age of five, he could already boil his tea and warm up his food. I remember when we arrived in our village Obukhovo from Ukraine, then the children, like today, were not taken to school.
I had to go to classes in Krasnogvardeets: on a snowstorm, and on slush, and not on asphalt - almost off-road. Anton on this occasion never grumbled: in the snow all will appear, powdered, flushed from the cold, and smiles. My son did not have the habit of discouraging. Very funny, funny, sharp on the word, quick to jokes, jokes. School teachers did not always like this. But, perhaps, only it didn't like it, because Anton's student was diligent, he read a lot. At the same time and had time to help the house. After all, we have a large vegetable garden, at one time we kept pigs, rabbits, even goats, and housekeeping requires considerable ...
"Our very Antoshka was persistent," his grandmother Nina Vasilyevna sighs, with whom Anton lived all the years of study at the technical school.
- I remember that he rewrote his thesis about ten times - everything wanted her to be impeccable. And read how he loved! I sometimes persuaded him: "Yes, you should get up early tomorrow!" It is useless - I will bury myself in a book and hear no persuasion. As if in a hurry to learn more ...
"The group of hydrotechnical in which Anton Marchenko worked was distinguished by a rare strong friendship and solidarity," said the former class teacher of the deceased soldier Svetlana Simonova. - And Anton was in her like a small bright and bright planet, attracted friends and girlfriends to him, generously gave them his kindness, warmth, responsiveness.
Their friendship was not limited only to communication within the walls of the technical school, the guys met in their free time, did not forget each other, either in trouble or in joy. Birthdays, some significant dates, the appearance of a baby in one of the classmates - Anton was each time in the center of these events. Always cheerful, open ... We will remember him like this.
"We grew up with Anton together, we were called up for military service one day, together we passed it in Dagestan's Buinaksk," says Anton's cousin and close friend Valery Galahov. - With all his benevolence, Anton could, nevertheless, recklessly stand up for the weak, even with his fists to defend his case. Undeserved resentment neither in relation to himself, nor in relation to those who were near, did not let go. At the same time he was very careful with his relatives. Perhaps, it came to him to one of our cheerful company to call in the evening to the grandmother and to warn that he is late. He loved the guitar and bard songs very much and sang them willingly and often. He was cheerful ... He stepped boldly into the army life and somehow immediately "fit" into her rather severe everyday life.
Anton did not tell anyone about his intention to remain in contract service - he made the decision independently. He always hoped only for himself.
"I, realizing how dangerous the role of the Russian peacekeepers is, reacted very negatively to the news that Anton had become a" contract soldier, "Konstantin Garshin's friend Marchenko does not hide the bitterness. - Even the biggest money is not equivalent to human life. Especially the life of such a kind, cheerful and bright person, what was Anton Marchenko ...
"Anton didn't allow serious pranks, to which our children are sometimes even grown-ups, Anton didn't allow, and the little ones were forgotten long ago," Alexander Marchenko continues to unravel the tangible memories. - The biggest punishment for my son was a ban on walking. He had a treasured stool with his buddies-friends, where they were going in the evenings ...
Then boyish gatherings were forgotten, because it appeared in the life of Anton Zhenya - the girl who became his first and only love in such a short life. She spent Anton, by this time successfully completed a hydrotechnical school and got a profession of a programmer, in the army, truly waited for him, lived in hope for a long and happy life together ...
A private of the Russian army really wanted them to have a loud, merry and beautiful wedding with their beloved. To make money on it, the guy and stayed on the contract service. On the night when the Georgian leadership, obsessed with bringing the freedom-loving people of South Ossetia to its knees, unleashed a bloody massacre, the mechanic-driver of an infantry fighting vehicle, Anton Marchenko, was in combat protection. He began to conduct aimed fire at the attackers, thus giving his comrades the opportunity to get out from under the jet-mortar attack. One of the shells hit the BMP and it caught fire. When Anton was pulled out of a car burning with a torch, the twenty-year-old soldier was already dead. And only more than a week later, his body was brought to his homeland in a zinc coffin, so that he would find eternal rest in his native Buzuluk land ...
"Politicians make money in war," Anton's father sighs heavily. - To them, war is mother dear. And parents who have lost their sons - a terrible grief.
A year after the death of Anton Marchenko, members of the Buzuluk branch of the All-Russian organization "Combat Brotherhood" and his father, Alexander Marchenko, visited Tskhinval. More than two thousand kilometers crossed the old PAZike. Already approaching the city, the guys met missionaries from Novosibirsk headed by an Orthodox priest. They carried a simple wooden cross to install it in the place that was the first to be subjected to Georgian artillery shelling, at the place where Anton Marchenko and his comrades died ...
In Ossetia, even today, traces of war are visible everywhere, "says the head of the" Battle Brotherhood "Valery Materikin. - There are a lot of women in mournful black clothes on the streets of Tskhinval: they still mourn the dead relatives, friends, neighbors.
One of them rushed to us.
"Thank you for your boys," she repeated with tears in her eyes. "For defending our Tskhinval and our freedom!"
In the mournful silence stood buzuluchane - internationalist warriors from the distant eighties, in the place of the death of his countryman, a guy who each of them was good for his sons. In addition to Anton Marchenko, in Tskhinvali, according to unofficial data, three more Orenburts were killed. Before Tskhinval, there were Afghanistan, Chechnya, other "hot" and bitter points ...