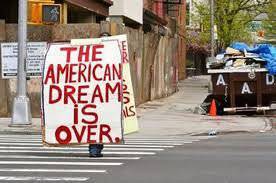 The socio-economic situation in the United States began to deteriorate due to massive defaults at the grassroots, municipal level, which is carefully hidden from federal and international statistics.
Over the past two years, a strange migration trend has emerged: from 21 of my classmate, classmate, and acquaintance, who have long been safely settled for permanent residence in the US, more than half, 12 people, have unexpectedly returned to Russia. To the question "why," people say just awful
stories
more like a summary
News
from the poorest countries of Africa. "America is not the same at all!" Said Yura Istoyev, a programmer with whom I once hung out at the dormitory of a St. Petersburg university, and then in 2000 we heartily said goodbye to Pulkovo, seeing him off to the states. I looked at the US-RF migration statistics in recent years - indeed, the trend, as they say, is obvious: in 2012, 2 Russians returned to their homeland, which is almost three times more than in 102. Monitoring of macroeconomic indicators of the country of freedom is not He gave an answer to the question about the causes of this phenomenon: there is no recession, unemployment is stably high, but not critical, the industrial production index treads at zero. However, if you dig deeper, look at the problem from a regional perspective, it becomes clear where the dog is buried - as of August 2011, 1, 2013 cities had already declared bankrupt and stopped servicing their social obligations, 12 cities and 346 municipal districts were in pre-default state country. These stories are carefully hidden. And the world learned about Detroit only because there the socio-economic situation completely got out of control and could not be hidden.
San Francisco and stool
Nikolai Boev, an engineer returning from San Francisco, over a glass of delicious American Jimmy in a bar told me about the virtues of life in this once-thriving city: "There is a district called Hunters Point - an absolute nightmare. More than half of its population lives in poverty, and more than half of children live without fathers. I sometimes had to go there on business. My chief and I made our way through mud and concrete to the northeast of the building. Somehow we stopped to look around an unpopulated house, whose windows and doors were boarded up. The stream of shit, urine, tampons and toilet paper flowed from a dark hole in the sidewalk, flowed down a hill and near the street into a kind of crappy lagoon. Weeds grew in it twenty centimeters high. Fresh shit, understand? This is not a joke and not funny. I look at the WHO website for information on the "red dots" on the world map - San Francisco is marked with a thick line with a note: "high rates of viral infections among the population." The explanations of specialists are very clear: fecal masses are the shelter of dangerous bacteria, especially E. coli, a pathogenic microbe that causes illness or even death of people, especially infants. In the so-called developing world, according to the WHO, water polluted with feces is the main killer, on whose account 1,8 has millions of lives every year.
Child poverty, Detroit and darkness
Overall, however, San Francisco is in a better position than the rest of California. To the south along the coast, Los Angeles suffered the fate of a city with high unemployment and the ensuing rise in crime. In just the past three days, 54 arson and 8 rapes have been committed here (city police data).
The number of children living in extreme poverty in California from 2007 to 2010 increased by 30 per year. According to the National Center for Poor Children, in Philadelphia 36.4% children living in extreme poverty, 40.1% in Atlanta, 52.6% in Cleveland (!), And in Detroit 53.6%. According to the Brookings Research Institute, from 2000 to 2010 the year in the United States has increased the poverty rate from 15% to 40%.
About Detroit in general, monstrous numbers. Analysis of the census showed that 48.5% of all men living in the city at the age from 20 to 64 years are unemployed. The average cost of a house in Detroit right now is only $ 6000, and some of the houses are on display for a symbolic 1 dollar. Only 25 percent of school students finish high school. The city has become a very dangerous place to live. Recently, 100 bus drivers refused to go on the line, fearing for personal safety. The head of the drivers union, Henry Gafni, said that drivers "fear for their lives." ... "Our drivers are scared, they fear for their lives. This security situation has been going on for a long time. I think that yesterday's incident simply overwhelmed patience when one of our drivers on Rosa Parks was beaten by teenagers, and the police got there thirty minutes later, and this is in the center of Detroit, "said Gefni. At the moment, Detroit is a city that thieves and vandals are tearing apart. Buildings are literally being taken apart by people who are looking for at least something that can be sold and stay afloat.
In Detroit, there is a serious war to ensure that street lighting works in the city. Thieves, outdated equipment and lack of funding prevent the authorities from solving this problem. City officials believe that 15-20 percent of 88.000 street lamps do not work, and recognize that in some areas this number can reach 50 percent. But street lighting has become a major disaster, not only in Detroit. In Highland Park, Michigan, most streetlights were removed because the city did not pay for electricity. In the city of Fresno, California, the theft of copper wires of street lighting has become a serious problem. Today, the repair of lighting lines and the loss of copper wire cost the city monthly 50 thousand dollars. Now about 2500 lighting poles stand without wires. An interesting comment about a trip to Detroit of the Belarusian Andrei Rogov, who now works in Canada as a truck driver: "A terrible abandoned city with a very high crime rate. There are many places where the police do not drive in at all. They are shot there from a corner. Once due to construction and the heavy snowfall turned into some side streets on the wagon. At each (!) intersection, negro drug dealers stand like guardsmen. "
This year, the United States again fell in the WHO ranking of growth rates of tuberculosis incidence (already 6 place in the world) and STDs (5 place). The rate of HIV infection in Washington is higher than in West Africa, said the director of the agency for the fight against HIV and AIDS of the District of Columbia:…. "We have a higher level than in West Africa," says Shannon Heider, director of the agency who led the Centers for Disease Control and Prevention in Zimbabwe. "We are on par with Uganda and some parts of Kenya." Canada has come up with very "unusual" ways to prevent the spread of disease. For example, in Vancouver, British Columbia provinces are distributing free pipes with a heavy crack drug to drug addicts to reduce the spread of disease. But there is a limitation - a person is allowed no more than one free pipe with a crack per day.
Stockton
The city of Stockton declared bankruptcy on 28 last June due to a downturn in the housing market and accumulated debts. Over the past few years, the city has cut more than $ 90 of millions of expenses, especially for the police department, which has predictably led to an increase in murder and general crime. Ruslan Bezhemsky, who returned to his native St. Petersburg in June, said: "The city dump in Stockton is just a few blocks from the city hall. There are a lot of suspicious people around, mostly black. And I have not seen such a large number of homeless people even in Moscow crossings - they are almost there more than ordinary passers-by. Constantly begging for trifles, and if you give one, then a few more immediately run up. On the streets hang signs about leasing offices in whole buildings, but there are none. Half of the buildings in the city or on chains, or boarded up. The only thriving business in Stockton is selling liquor. Later in the evening, the streets of the city are filled with drunken black teenagers, at the sight of whom it immediately becomes uncomfortable. For a whole day in the city, I never saw a single policeman, even in the center. But almost with every gateway there is a smell of marijuana. "
Unknown heroes
Below is a partial list of the largest US bankrupt cities, which the general public is not aware of.
Mammoth Lakes, California
On July 3, Mammoth Lakes filed for bankruptcy due to his inability to pay $ 43 million, filed by the city planner against the city, on a claim for compensation.
San Bernardino, California
San Bernardino filed for bankruptcy, becoming the third largest bankrupt American city. Instead of major cuts for the police and fire departments, as the Stockton did, the city chose to file for bankruptcy. City lawyer James Penman says that the documents submitted to the mayor and the city council, 13 of 16 years were falsified, and thus concealed the true expenses of the city, only aggravating its financial problems.
Rockland County, New York
The district already cut 412 jobs in the middle of last year, after Moody's gave him a negative outlook because of its budget deficit of 18 million dollars. This year, the authorities fired another 514 staff. All American analysts are unanimous in the opinion that the city has come close to default, which will inevitably come during the 1-1,5 year.
Scranton, PA
Scranton in the budget currently lacks about $ 16,8 million. To help reduce costs, the city has reduced around 400 state jobs. "The city has no money," said city council member Robert McGoff. "We live every day like the last." Bankruptcy Forecast: I quarter 2014 of the year.
Providence, Rhode Island
At the end of May, a judge appointed to the bankruptcy of Central Falls (a city in Providence District) declared, "I don't know how else they can get out of it, except by declaring bankruptcy." Forecast of default: Autumn 2013 of the year.
Santa Ana, California
According to Moody's, the city's credit rating is only one unit higher than insolvent status. Bankruptcy forecast: 2014 year.
Long Beach, California
Long Beach revised contracts with police and fire unions to cut pension spending in an attempt to reduce overall costs and save 18,5 million dollars for the city budget. Projected bankruptcy: 2014 year
Costa Mesa, California
To save money, the city of Costa Mesa sold police helicopters and cut wages. Bankruptcy is expected in December 2013.
San Diego, CA
Pension problems have plagued the city for many years, and most of the proposed solutions have a negative effect on the new workforce, doing little to reduce all the growing debts. Default in 2014.
Los Angeles, CA
The city budget deficit is $ 238 million, it also has huge unsecured pension liabilities and an annual budget of almost 7 billions of dollars. Expected default (if the federal center does not save it): February 2014 of the year.
The Governor of Michigan, Rick Snyder, announced in January that, according to his calculations, in his state 235 of large and small cities that are functional bankrupt. One of these cities in Michigan is the city of Flint. At one time, Flint was called "the engine city of America" because there was a Buick assembly plant, a large spark plug manufacturing plant, and a Fisher Body. None of these units is functioning anymore. "Engine City" has become a "city of murders." Last year, 102 recorded these crimes in a city with a population of 66. The kill rate is even worse here than in Baghdad.
According to analysts, cities such as Chicago and Santa Fe (New Mexico) have alarmingly high retirement obligations compared to their incomes. Moody's singles out Santa Fe (New Mexico) among American high-cost US cities, whose net retirement obligations are six times its operating income — the worst among all cities. This is followed by Virginia (Minnesota), where this excess is 5.9 times. Las Vegas (New Mexico) is in third place with 5.5 times exceeded, while Chicago is fourth with 5.4. Moody's Investor Services downgraded Chicago's credit rating by three points to A3, and Cincinnati down to Aa2 because of rising pension costs. Like Detroit, Chicago experienced a 7 percent decline in population from 2000 to 2010 a year, but it's still flowers, compared to the catastrophic 25-percent decrease in Detroit's population over the same period of time.
World Bank expert Eric Schweitzern in an interview with Expert Online explained: "In the USA, many social obligations were transferred from the federal to the state level in recent years, and the states themselves, in turn, willingly gave them to municipalities. Suffice to say that from 22 social programs initiated since 2008 under the Anti-Crisis Pact, only 3 remained with the federal center and 7 - with state budgets. Distressed assets in the public administration system are also transferred to districts and urban settlements. hide the huge deficit of the consolidated budget of the country, which, when considered in combination, already has defaults. To cover the deficits with traditional transfers from Washington is no longer possible due to the law on sequestration. Over the next 3 years we expect an avalanche-like process of bankruptcies of US cities, which able to put the whole country on the brink of sovereign default. "
In conclusion, we only note that the United States, despite the titanic efforts of the government to return industrial enterprises to the country, is still faced with the migration of industries to Asia. According to the OECD, over the past 20 years, more than 43 of thousands of companies, or 76% of the US industrial potential, have moved their plants from the states to XNUMX. And the social obligations of the state remain at an extremely high level. The current political elite will have to go to unpopular measures to reduce social standards. But Americans are so accustomed to a comfortable life with large benefits and pensions that they cannot even accept this idea. Disturbances of the disgruntled are already taking place with enviable regularity with any significant reduction in budgetary obligations to the population. Barack Obama has a difficult share - to teach US citizens to live within their means and finally deprive them of the great American dream.