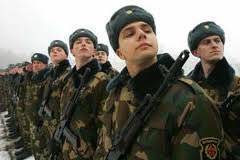 Around 10, thousands of recruits will join the ranks of the Armed Forces of Belarus in the autumn draft. BelTA was informed in the Ministry of Defense.
The Minister of Defense of Belarus Yury Zhadobin 2 of August signed an order to organize the implementation in the Armed Forces of the 1 decree of August 2013 of the year No. XXUMX 337 of the year. " The top commanders of the Armed Forces of Belarus have been instructed to plan and ensure the implementation of measures for the dismissal of military servicemen and reservists who served the conscription period and to send citizens from military commissariats of regions, districts and cities to military service. , serve as a reserve in the Armed Forces, other troops and military formations, and provide acceptance recruitment.
The Ministry of Defense noted that this call to the Armed Forces, as well as other troops and military formations, is planned to call up to 10 thousands of recruits. About another 2 thousand guys will be called up for service in reserve. The Defense Ministry recalled that currently sending recruits to serve in the reserve is carried out once a year - in November.
According to the military, the main tasks of conscription for urgent military service and service in the reserve are the training of a military-trained reserve and the acquisition of a military registration specialty by a citizen. The ministry also reminded that in accordance with Article 57 of the Constitution, the defense of the Fatherland is the duty and sacred duty of a citizen of the Republic of Belarus. "In modern conditions, the Armed Forces are a state institution that ensures the fulfillment by citizens of their constitutional duty and sacred duty," the ministry stressed.