8 August marks five years since Georgia's attack on South Ossetia and the operation to force Tbilisi to peace. In an exclusive interview with RT correspondent Oksana Boyko, Russian Prime Minister Dmitry Medvedev, who served as President and Supreme Commander of the country in August 2008, spoke about the events of those days, how the decision was made to deploy troops and why the Russian army did not reach Tbilisi .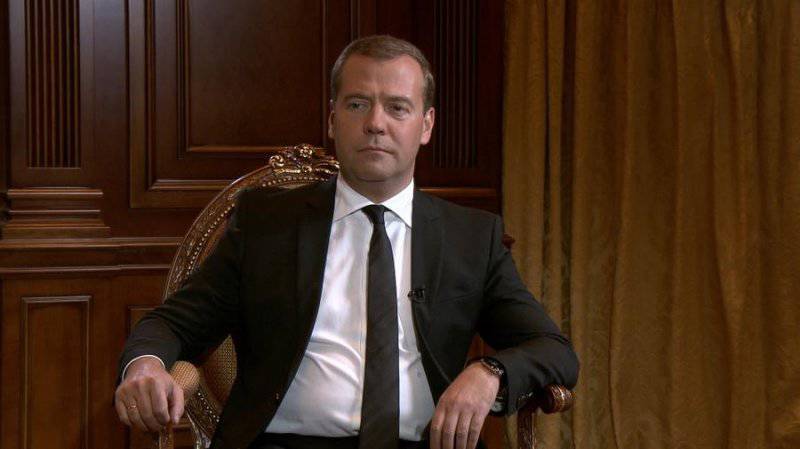 Oksana Boyko: Dmitry Anatolyevich, thank you for your time. Five years later, this war is almost forgotten by the world community. Because there were many other wars and more bloody wars. But I am sure that you hardly forgot what happened in those days. What comes first to mind?
Dmitry Medvedev: Well, I certainly have not forgotten. And I do not think others have forgotten. You are right that this conflict, he, thank God, was not long. Nevertheless, he deeply bumped into my memory, as, probably, into the memory of a huge number of people, especially those living in the Caucasus. In Abkhazia, in Ossetia, in Georgia, in other places. Well, I, of course, remember how it all began, how it happened, the drama of this situation. I will not hide, and, of course, the need to make the most difficult decision in my life. It really was the most difficult in my life. And in the life of an ordinary person. And in the biography of the then young President, who spent less than 90 days at his post. But so ordered
история
. All decisions have been made. Well, all the goals that I set myself before were achieved.
- If we retreat, maybe for a few weeks, or maybe months ago from those August days, relations with Georgia were already quite strained. And I am sure at the time when you took matters from your predecessor, you probably discussed this topic anyway. What mood at that time existed? At that time, much was said about reboots of various kinds. Was there any hope that relations will improve, maybe?
- Well, when there is a transfer of power, there is no acceptance-transfer of cases in such a very simple sense of the word: "Well, you have this on you, and don't forget about it." I recall that I had been a permanent member of the Security Council for five or six years before. And all the issues related to our foreign policy, key aspects of ensuring the security of the Russian Federation were discussed with my participation. Therefore, I was completely in the material, but, nevertheless, I had a feeling that we could somehow try to normalize relations with Georgia, which by that time, you are right, were not in the best of times. In my opinion, in early June, that is, just a few weeks after I officially assumed office, Saakashvili called me, and we discussed some current issues with him. In my opinion, he said that it was necessary to help in the restoration of the railway communication between Russia and Abkhazia, Abkhazia and the corresponding territories of main Georgia. In general, there was such a completely neutral conversation. I expressed the wish to continue the communication, to talk about the whole set of our relations. What happened just a few days later, in my opinion, when we met at the CIS summit in St. Petersburg.
I still remember this moment, as I get up, meet him in the office, and he, such, enters with a big and kind smile. I told him that I would like to somehow try to improve relations in the sense in which we understand this. To improve them, especially in view of the special sympathy that the Russian people have always felt towards the Georgian and vice versa. Mr. Saakashvili said that he is full of the same feelings and believes that this is our most important task, and believes that this can be done. Well, they decided on that. Then there were some consultations, then I called him again, something else was there. I can say that the last time before the conflict I saw him in Astana at the celebration of the city's day, there was a completely relaxed atmosphere. We sat there, on some sofa, talking. He asked some questions of his own, I told him that the situation was straining. There is a feeling that we are not able to get on the right path. We agreed once again that we will meet. He said that he was ready to come, well, almost on an official or working visit.
And, I already talked about this, then somehow, well, he disappeared from the connection. Literally before the conflict. And I even asked one of my assistants, I say, if someone from the office of the Georgian President was leaving about the meeting. Because we planned. He says no, there were no messages, they are silent. Well, then what happened happened. That is the background.
- The official countdown of hostilities is conducted from August 8, but it is clear that the tension arose a few days, if not weeks, before that. When you were personally told that the troops were being dragged to the border, and how much at that moment did you realize the true intentions of, say, the Georgian leadership?
- Naturally, I was informed all and during the past few days that there was some kind of concentration, and some provocations were being carried out. But given the fact that the conflict had already been for many years, and our peacekeeping contingent had been standing there for a long time, in general, this could be assessed very differently. Although, of course, it already alerted us. And certain instructions were given. Nevertheless, I will not hide, I still hoped that the Georgian leadership and Saakashvili personally would have the sense not to create the problems that they created. As for the night itself, then, indeed, there were also shelling, and there was already an obvious aggravation of the situation. And yet, well, as they say, until the very last moment I hoped that they would stop. But, unfortunately, already somewhere around one o'clock in the morning, when I spoke with all participants of immediate events (this is, naturally, the Minister of Defense, Chief of the General Staff, the Minister of Foreign Affairs), it became clear to us that this is not a series of short-term provocations, but a real aggression aimed at unleashing the development of South Ossetia by force and bringing another regime to power. Well, and I, too, have repeatedly spoken about this, after this report I had to take this most difficult decision. When I was forced to give a direct instruction to start military operations and open fire on the forces of the Georgian troops.
- I understand you correctly, that you think that it was such a multi-pass combination, that is, a strategic calculation?
- You understand correctly. I think that there are several factors. First, in all likelihood, Mr. Saakashvili was in the illusion that after the change of leadership in Russia, one could try, so to speak, little by little, to achieve those goals that he had not been able to achieve by his predecessors in previous years. What can somehow, so to speak, quietly accomplish everything. Secondly, I also spoke about this, in my opinion, the direct support provided to Saakashvili by the United States of America and some other countries played a certain role. She was not only moral, she was also material. Let me remind you that from 2002 year to 2008 year the total amount of expenses for the maintenance of the armed forces of Georgia grew fifty times - almost to one billion dollars. It is clear that the state increased its military power. And it never passes without a trace. In all likelihood, there was a feeling that Georgia, which applied for membership in the North Atlantic Alliance (the application was not rejected, they were put on a waiting list, as it were), then became an absolutely invulnerable country to which the well-known rules agreement on the creation of the North Atlantic Alliance "On collective defense". Anyway, somewhere in the inflamed brains it could be. And this set of factors, it seems to me, ultimately led to the fact that Saakashvili and, probably, part of his entourage decided that they could restore the order that they considered correct.
- Let me ask you such a hypothetical question. In your opinion, if in Russia there had been no change of power, he would have dared to take such a combination?
- It's hard for me to talk about it. You know, if on the stage, a gun hangs on the wall - it will definitely shoot. Therefore, the fact that they armed themselves, submitted an application to NATO would sooner or later lead to an escalation of the conflict, during this period (08.08.2008) or somewhat later - these are just hypotheses. But the fact that the militarization of the state, of consciousness took place, and, in fact, hammered in the position that it would not be possible to restore the state's unity within the old borders in any other way — that's the only way.
- Many analysts believe that Saakashvili may have had two scenarios that he expected. One is that Russia will not interfere at all for some reason. The second is that Russia will really break the wood, overtake the stick - and thus it will be easy enough to set it up as an aggressor, and it will be able to use such aura of the international community to compensate for the obvious imbalance of power between the two countries. What do you think, here's the second option - how much was it likely?
- You know, I have a low opinion of the military and diplomatic talents of Saakashvili. I do not think that he was guided by option "B". This is too difficult a situation. I think that he was primarily focused on the option of non-interference of Russia in the conflict, a quick entry into Tskhinval, the seizure of the main buildings, the restoration, in the understanding of the Georgian leadership, constitutional order and intercession by the United States of America and some other states. Option "B" is very risky, because, as you said, if you go too far, well, it could have ended very differently for him personally.
- I just have a few questions on this topic. But before we approach them, I would like to ask about the movement of Russian troops, including in the territory of Georgia. I know that a number of Georgian cities, I myself, in fact, saw it with my own eyes — Gori, Poti, Kutaisi — air strikes were inflicted on them. Was this a strategic value for the Russian army? Or did it happen because it happened?
- This is not a strategic value and did not "happen because it happened." And this is because in war as in war. And you need to disable the enemy's military facilities. Those objects that could harm the Russian army, the peaceful population of South Ossetia and Abkhazia, the citizens of the Russian Federation. It was on them and hit. Of course, not on civilian objects, as the propaganda periodically trumpeted him. It was only about disabling military facilities, including airports, so that it was impossible to send aircraft, equipment, and so on. But it was not about any strategic plan, and, of course, these are not spontaneous decisions. This is, so to speak, a prepared military position.
- In the Russian military tradition, after all, go to the end, every May 9 we say that our army has reached Berlin. And I remember, at that time, at least in the press, both in Russia and in the west, the possibility of Russian troops getting to Tbilisi was discussed. Why didn't we do this?
- I remind you how we evaluate what happened. This is not a war between Georgia and Russia. This is a Georgian-Ossetian conflict, in which we had to intervene in order to force Georgia to stop exterminating, in fact, people whom they considered as their citizens and who, at the same time, were largely citizens of Russia. Let me remind you that in South Ossetia at this moment 75-80% of people were citizens of the Russian Federation. This is not a war between states and certainly not a war between the people of Russia and the Georgian people. This is an operation for compulsion to the world. She had absolutely local goals. We had to disarm the enemy to such an extent that he stopped exterminating people. This was the main goal. She was reached in five days. And I think this is the main success of this campaign. I will not hide when it all began, I was very afraid that this campaign would go on longer and would develop according to other laws. But our armed forces, our army, our fleet showed the highest valor and very good mutual assistance and organization. And they fulfilled these tasks, by the way, not very simple, given the militarization that I spoke about in a very short time. As the Supreme Commander-in-Chief, I have never allowed me to enter Tbilisi, change the political regime there and execute Saakashvili.
- Why not?
"Because, I repeat, we did not fight with Georgia." We needed to secure the interests of the Russian Federation. His personal fate never interested me. I have always proceeded from the fact that the people of Georgia will determine this fate. And, I can not say about it, in my opinion, he had almost determined it.
- You know, since then I have had to cover a great many conflicts - both in Libya and in Syria and in a number of other states. And one of the most popular phrases in the geopolitical lexicon right now - "mission creep" - is when it starts with a peace enforcement operation and ends with the overthrow of a state leader. And in this regard, I would just like to ask you: was there even the possibility of this very "mission creep" at that time that we still could not stop on time?
- Here, as they say, "feel the difference". I believe that it is precisely in such situations that the true intentions of the state are being verified. We initially did not pursue the goal of a regime change, even though Mr. Saakashvili, for obvious reasons, is for me and for my colleagues an absolutely shaky face. And I consider him a war criminal. Nevertheless, we believed and believe that the people should deal with their rulers. And Georgia, I have always emphasized this (and, by the way, during the first meeting with Saakashvili), has state sovereignty within its borders. As for territorial integrity, there really were problems. And they originated in the 90s. But no one forbade the Georgians and the leadership of Georgia to glue their country together. And it had to be done slowly, carefully, negotiating among themselves. And at some point, perhaps, there were chances to create, if not a federation, then a confederation and somehow live together, exist. But it was all lost. And in fact, I have already spoken about this, it was Saakashvili himself who tore his state into pieces. But you talked about how Russia is evaluated. It seems to me just this conflict, this operation are the best evidence that we have always pursued purely peaceful goals. We restored the order that was supposed to be and left. And they did not change the political regime. They did not try to promote any of their people. Because we consider it wrong, in violation of the UN Charter, to change the political system and bring the people we like to power. We believe that humanity in the XXI century should act differently, and the state should behave completely on different principles, on the principles of international law.
- You, in response to this question, probably five times said "we", and I know that you are often asked about it, well, one way or another, it is inevitable. As far as I understand, you kept in touch with your predecessor and closest colleague at that time, Vladimir Putin. Have you had any discrepancies?
- Well, no, well, our positions, of course, have always been very close. Although I can tell you a very simple thing: the burden of such military decisions always falls on a person who, according to the Constitution, is authorized to take them. This is not going anywhere. This is your decision and no one else. We called up. And some time before these events, because there was some escalation. At night, we didn't talk at all with Vladimir Vladimirovich; I only received reports from our army commanders. And, actually, after them I made this decision, which I called the most difficult in my life. We didn't talk, maybe until the end of the day, in practice. In the evening, phoned somewhere. Vladimir Vladimirovich at that moment was in China. There he talked with his colleagues too, who were at the Olympics. But if we talk about any discrepancies, then, of course, they did not exist, because we have repeatedly discussed this topic before my introduction.
- Even before the inauguration? What will happen if there is an open confrontation?
- On this, we always had a simple position. We will protect our people, we will protect the interests of the Russian Federation. After all, the main problem of making such a decision is that we have to protect Russian interests, the life and health of our citizens on the territory of a foreign state. This is a big specificity, it is not just a reflection of the blow to their own country. This is different. And this creates both legal specificity, and, of course, the need to weigh the consequences as much as possible. But, in fact, there is nothing such that our positions in this period or subsequently demarcated, was not and is not, this, in general, is all talk.
- So you, in principle, even at the planning stage of possible actions assumed that open war is not excluded?
- The fact is that the last years, starting with the 1992 year, there was, in fact, a quiet war. She then strengthened, then weakened. Our peacekeeping contingent helped to hold the situation. And this is his great merit. Unfortunately, some of our peacekeepers died there. And it was such a very hard blow to our interests and emotionally a very strong feeling. But, of course, watching what policy the leadership of Georgia led, especially at the last stage, we did not rule out such a development of events. But, you know, one thing is not to exclude, and another thing is to admit that the leadership at that time, Saakashvili personally, as they say, broke the roof. It's still different things. Hypothesis and real circumstances.
- You just said that this is a rather unusual case in Russian history, when we had to protect the interests of our citizens in the territory of another country. Still, we have Ossetians, North Ossetia, we have Chechnya, where we were delivered to
weapon
including on the Georgian territory. How much the question especially of North Ossetia was taken into account? Did you forecast at that time the reaction of the Ossetian population, the Russian Ossetian population to the fact that their relatives, people from their families are subject to such open aggression? Could this have created a real problem on Russian territory? How would our own Caucasus react if Russia did not intervene at that time?
- Well, I have no doubts - not only the Caucasus would have reacted badly to this, but the whole country. It would be just impossible. We can assume that at this moment, if we refused to protect our citizens, we would simply admit defeat. And about our state would wipe our feet. This would not accept not only the Caucasus, this whole country would not accept. But, of course, for those who live in the Caucasus and for residents of our North Ossetia and for residents of other Caucasian republics, this situation was, perhaps, as sensitive as possible.
- Returning to Saakashvili's calculation that he will manage to present Russia as an aggressor in the eyes of the world community. And it must be admitted that at the initial stage he did this quite well. How much did this same global community figure in your own forecasts and in an attempt to form a worthy answer? Could you count on the impartiality of Europe and the same America in reaction to the actions of both our country and Georgia?
- Well, I will not hide, of course, I was counting on a more objective analysis. But I had no particular illusions. I once even recalled how during my visit to the White House as head of the Presidential Administration, the first thing my subsequent colleague, George W. Bush told me, was: "Here, Misha Saakashvili is a good guy." Just remembered for a lifetime. The first phrase I heard from him. Therefore, what kind of impartiality. It is clear that this is such a strategic moment. But that's not the point. Speaking so seriously, for us, of course, for our country, for me personally, as the President, the reaction of our partners in the international community was important. The reaction of our partners in the CIS, in other integration associations. But this is not the main thing. The main thing was to protect the interests of Russia and the life and health of our citizens. I, in fact, thought of international reaction as a secondary or tertiary factor. I thought, of course, I will not hide, but it was not the main thing.
- In this conflict, the United States took quite an interesting double position. On the one hand, at the level of diplomatic contacts and at the level of the media, they gave Georgia some support, but, of course, did not go to the end. What is your connection to?
- With the fact that this is Russia. United States of America cannot be in conflict with Russia. Any President of the United States understands this. Here I am connecting with this. There were "hotheads" there, we all know that too, but I think there were some cold reasoning. The fact that all this can lead to a very serious conflict. And nobody needs that. Therefore, as you rightly said, the United States took such a dual position, which was probably a big disappointment for some of the clever people from Georgia.
- You have already said that Saakashvili stopped contacting you, just a month before the war, you were talking about normalizing relations. It seems to me that he, obviously, tried, if not to mislead the Russian leadership, then at least not to bring all the information to him. As far as the leadership of the United States was informed about the plans, that is, do you perceive this as a joint Georgian-American plan or is it such a personal adventure of the Georgian President?
- I dont know. But I assume that the United States of America is a large, mature, very powerful state that pursues its own interests all over the world. I do not think that the interests of the United States of America would be answered by such a joint rectilinear game with Saakashvili, which ended in such a shameful end. One thing is a kind of general understatement, and another thing is playing the situation in a mode of playing together. I think this is, well, at least the excesses of the performer. And most likely, the roughest political miscalculation that led to the crime. From the one who then was the leader of Georgia.
- I would like to return, if I may, to one question, to the topic of protecting the interests of our citizens. I was on the spot at that time and, of course, on the one hand, it was interesting to observe how it seems to me that the Russian position was rather restrained, taking into account all the historical and cultural characteristics of our country. On the other hand, there were many citizens, South Ossetian citizens, who talked about why Russia did not come earlier, why we had to be under Georgian bombardment for days. We also have the right to protection, our passports give us such a right and, in principle, I think that many people treated this with some emphasis. In all questions, there are probably two sides, but have you heard such statements, how would you answer them?
- To be honest, it did not happen. I have never heard this from anyone from South Ossetia or Abkhazia. I heard only words of gratitude to the Russian army, those who put things in order, well, and words of gratitude for the political decisions that were made. Nevertheless, I will say, because, of course, the estimates can be very different. The fact is that the conflict in the relevant territory has been going on since 1992. And, if it were a situation that was formed a month ago, and before that it was quiet and calm, it would probably be a different situation. But the conflict was of a prolonged nature. He then flared up, then weakened, and therefore our peacekeeping contingent stood there. This is the first. And the second thing that should never be forgotten. I repeat once again. This is another country. It doesn't matter how and who qualifies it: as an independent state, which we recognized, or as a breakaway part of Georgia. But it is in any case another country. And any leader of a foreign state, when deciding on the use of its armed forces, must weigh everything carefully. Because this is indeed a very difficult situation from an international legal point of view.
- And you considered it from the legal point of view? What was the role of the personal factor? You just said that you had a personal attitude towards Saakashvili.
- You know, I, of course, considered it from a legal point of view, but for the time being. And until that time, until I understood and decided that legal arguments, diplomatic arguments should step aside. And the guns should start talking. Once again I say: this is a very difficult decision. I do not wish to accept him to any leader of any country in the world. And even more so in our country.
- We have already talked about your work, I would like to ask a few questions about our work. Journalists very often consider themselves to be an independent, independent voice in any conflict ...
- And they are right.
- I am quite skeptical about this, because I personally saw examples of how journalists acted on this or that side. In your opinion, from the point of view of journalistic debt or, on the contrary, using the media as a tool in a geopolitical game — what function did the world media do in that war?
- Unfortunately, I can not disagree with you. In the activities of a number of global, very well-known, respected, reputable propaganda media, there was 90% and only 10% truth. For myself, it was, of course, a great disappointment. I also have no illusions. Ideology, one way or another, is present in the activities of any media, this is normal. Moreover, each national mass media, anyway, well, if this is not a very specific media, it tries to support its state somehow. But the way the individual media behaved during that period is a colossal element of cynicism. When black was called white, Russia was indeed declared the aggressor, and only after some time they began to say: "Well, yes, well, yes, well, probably, the Russians behaved themselves there, but they attacked them". And now, after the work of various kinds of commissions, including the Tagliavini commission, after an analysis that was carried out by our investigative structures, our military prosecutor's office, various kinds of analysts, everyone acknowledges what really happened. Suffice it to recall what Prime Minister Ivanishvili said. He did say everything correctly. What are you all provoked, and you unleashed a conflict. It was probably hard for him to say this, but these are courageous words.
"I remember that at that time many employees of your own press service worked in Tskhinval, the people we met before in the Kremlin organized high-level meetings between the leaders of the states, and it seems to me that, on the one hand, this indicates the importance of this information work, including for the Kremlin at that time, but on the other hand, the fact that the country was in the information plan rather unprepared. Do you think that we, Russia as a whole and the leadership of Russia, have learned from this war precisely in terms of working in the information field?
- Oksana, we were not preparing for this war. In general, the country that is building its ideology through the possibility of war seems to me to be on a bad path. And the fact that at some point I had to make a decision, the administration, my colleagues, send some of the people who work directly with me to look at this process there - it does not seem surprising to me, because such events Fortunately, thank God, the past decades have been extremely rare in the history of our country. And in the life of the Russian Federation as an independent state, this was the first time. Lessons, yes. Of course, they must be removed. You called one of them yourself. I completely agree with him. This is the engagement of a whole range of foreign media, their utmost propaganda position directed against our country, against those assessments that we gave. And, so to speak, the choral performance of the part that was written in a certain place. Well, on the other hand, of course, we must look at how to act in such situations. Probably, if something like that, God forbid, happened later, our actions in this regard would be more coordinated. Although, if so, to be honest, I do not consider that any gross mistakes were made in this sense. And the fact that, as is customary to say, Russia was inferior in terms of propaganda, well, I remind you that we carried out our position on our own, and much of the international media conducted this position in unison with the position of their foreign ministries that acted, well, in fact, as allies within the same military-political alliance.
- Do you think you can win the war through the media? Because, when you answered this question, I immediately remembered the situation in Libya, the accusations, all sorts of accusations against Gaddafi, which, after a few years, obviously, were not confirmed by some facts. The same thing seems to be at least about Syria.
- You were quite restrained in the assessments and, if I may, I will slightly exacerbate my question ...
- Sharpen.
- It seems to me that many political scientists and historians, people who study war from an academic point of view, say that there is always a moment when war enters a certain direction, in a certain dynamic ...
- Passes the point of no return.
- Yes, and then it is very difficult to bring both parties even to the negotiating table. And, as it seems to me, five years ago, the Russian leadership still tried not to reach this point. But, I don't know if you agree with me or not - according to my feelings as a war correspondent, very often now our Western partners, including deliberately, purposefully pushing entire nations to this point, after which the events can no longer be reversed. Do you agree with this?
- You know, if you want to sharpen, let's sharpen. Our western partners sometimes behave like an elephant in a china shop. They climb, they trash everything inside, and then they don't understand what to do with it. And I am sometimes amazed by their analysts and the inconsistency in the projects that they promote through their leadership, and the subsequent results. To put it bluntly: what good did the "Arab spring" bring to the Arab world? Freedom? Only in part. In a significant number of states, these are endless bloody clashes, regime changes, endless disturbances. Therefore, here I also have no illusions. And the fact that there is such a boost ... Yes, unfortunately, it is present. But we just behaved very restrained. I would like to return once more to the results of this conflict. See what happened. We, despite the fact that an act of aggression was committed against our citizens, our peacekeepers, suppressed this conflict in five days. Tough, but, in my opinion, extremely fair. They didn't quarrel with the whole world, which would be extremely unprofitable for Russia. I had different feelings, but I remembered how already at the end of 2008 of the year, in November or in December, I was sitting with colleagues from the European Union, from other international associations, then we started to deal with the crisis. And we have already discussed a completely different agenda. But it could be completely different. If Russia behaved somehow differently, it would disproportionately apply force. Or vice versa - would not apply it at all.
Well, even though you did not ask me, but, of course, there is another very difficult moment in this whole story. This is the moment of recognition of the sovereignty of new states. New members of the international community. It was also a difficult choice. I had to do it. I remember how we just talked with my colleague, Vladimir Putin, walking down the street. I told him that I made such a decision, I consider it appropriate. He said that he considered this to be the right one, despite the fact that some time ago it would have been extremely difficult. But in the present circumstances, he considers such a decision of the president the only possible one. Here we talked to him. Then I gathered the Security Council, in which everyone participated, naturally. He said that I consider it expedient to make such a decision. Security Council colleagues supported me. And then I turned to our country and said that I had signed two decrees. And after that, another epoch began in the life of these two nations.
- You can just question on this topic. He stood next on the list. You have just emphasized several times that you consider this war a personal crime of Saakashvili, his personal decision, and Russia has nothing against the Georgian people. It is obvious that your decision affects the entire Georgian people and will influence, probably, for many decades. Why it was impossible to do otherwise?
"Because otherwise we would not be able to ensure the interests of the citizens of our country and the national interests of the Russian Federation." Well, let's imagine that after what happened, we would have gone in different directions. Mr. Saakashvili associates would restore military power. And they, by the way, immediately began to help to do it. Airplanes flew there, warships with weapons went, and so on. But at the same time, the situation with these territorial entities would be uncertain for us. We, what, there would need to continue to maintain a peacekeeping contingent? After what happened, it would be impossible. The people who live there are largely citizens of our country. They made their decisions long ago, back in 90-s, conducted them through parliaments. Yes, for the time being we considered it to be inexpedient. Because we still had hopes that the Georgian leadership would be able to glue the collapsed state. But, unfortunately, what is the crime of Saakashvili before the future nations, before the future generations of the Georgian people: he, in fact, hammered a nail into the coffin of this former state. He buried these hopes with his own hands. And this is, of course, the saddest thing.
- Over the past five years, the relationship still slightly improved. Russians can already travel to Georgia without a visa, we can consume Georgian wines ...
- And Borjomi too.
- What do you think, is there any natural frontier beyond which relations, despite all efforts, will never be able to leave?
- Well, you know, I am an absolute optimist in this sense. I'm sure everything will be fine. Our peoples did not quarrel. Unfortunately, this conflict, of course, does not help mutual understanding, but it is not a deep-seated conflict of peoples. This, unfortunately, I say again, a mistake that has grown into a crime on the part of individual leaders of the country. And now, indeed, the situation is somewhat different. The new political leadership of the country, in accordance with the changes that have occurred in the political system, in the Constitution of the country, takes a much more pragmatic position. We are glad of it. I remind you that the Russian Federation did not sever diplomatic relations with Georgia. We are ready to restore them under certain conditions. And they are simple: just a recognition of what happened. Maybe it will go much more neat, difficult way. But I am sure that there will be no return to the previous one. And this is the saddest page in our relations of recent years, it will be turned over and leave, along with the disappearance from Saakashvili's political arena and some other people who are involved in making this criminal decision.
- Let me ask you a somewhat politically dangerous question, but nonetheless. If the new Georgian leadership, after Saakashvili's departure from the political scene, is able to build relations with both the South Ossetian and Abkhaz peoples, is it possible, as a hypothetical or theoretical option, to reunite these peoples? And could Russia then recognize the territorial integrity of Georgia?
- In this world, everything depends on the decisions that are made by people. And from the political will. But some time ago we did not imagine that we could create a Customs Union and now move towards the Eurasian Economic Union. And these are serious integration associations with political, not only with economic, but also with political consequences. Everything will depend on the will of the peoples who live in these territories. From the will of the Georgian people and from whom they elect the leaders of their country. From the will of the people of Abkhazia, South Ossetia. They can give them any mandates, and this will be within their Constitution and generally accepted international human practice. We would like them to live in peace. In what form their relationship will be realized - that is their business. We will not influence these processes. But we, of course, will defend Russia's national interests.
- We have been talking to you for a long time. Two questions, if you please. I will try to formulate them very briefly. After the war, many Russian political figures spoke of the need to bring Saakashvili to justice, including international. He, as you have already noted, committed crimes not only against his people, but also against Russian peacekeepers. Anyway, all attempts to somehow do this were probably abandoned quickly enough. Why didn't this happen? Just gone political opportunity to do it, or very expensive?
- No, this, of course, is not connected with the high cost of living. This is due to the imperfection of international institutions. And with selectivity in the application of relevant international decisions. Well, humanity once had the strength and the will to judge the Hitler criminals at the Nuremberg trials. There are other examples of the modern application of the relevant tribunal. It all depends on the agreed position of the countries. Here it did not work. Well, the final verdict will be arranged by history, and the political verdict, as it seems to me, to those decisions that Saakashvili made, has already been passed by the people of Georgia. Because, despite what happened, his political force failed.
- And the last question. I think that lately, war as a geopolitical method has been quite popular and may even be fashionable. What do you think - based on your personal experience with the leaders of the states - what attracts leaders in the war? Why this as an element still does not go out of the political arsenal?
- Only a very stupid person can want war. I tell you absolutely definitely. Whoever he is. War is a terrible disaster. And, as you rightly said, our country knows perfectly well what it is. At the genetic level, we remember that. In each of our family there are relatives, either deceased or still living, who remember the war or participated in the war. We really made a terrible sacrifice on the altar of war in the 20th century. Not even wars, but wars, let's say. Maybe in some countries it is perceived more lightly, especially in those who fought on foreign territory or did not fight at all. But in fact, any normal person does not want war. Whoever he is: the President or the ordinary absolutely citizen who does not engage in political activities. But, of course, there is the famous saying that war is the continuation of politics by other means. Unfortunately, this is a fairly common pattern of behavior. But, I can tell you very frankly, even my political experience, which is not measured in decades, but I already think that it is quite decent - I visited various alterations and made different decisions - it shows that nothing good will ever come of it. can. Here you list the conflicts. Tell me at least one country that would benefit from an internal civil conflict or from an intervention that was carried out from other countries and which resulted in a change in political structure. Everywhere only problems. Therefore, it is a big mistake to think that with the help of war something good can be achieved. This is a terrible disaster. And God forbid us once again to get into this situation.
We have been talking with you for quite a long time, I just want to say that every person naturally has some small details in memory associated with those dramatic events that are happening. And here I have this office and some other places in this residence - this is such a small residence - connected with the events of August 2008. We are sitting, talking, and I just remember some particular nuances of my telephone conversations, which I conducted from the Kremlin, and sitting in this chair. There is a meeting room of the Security Council. Of course, it will always remain in my memory as a very difficult period in the life of our country, in my personal biography. But, on the other hand, I will not hide, I believe that we, Russia, our people, our warriors, have come out of this ordeal with honor.
- Thank you for your time.
- Thank.