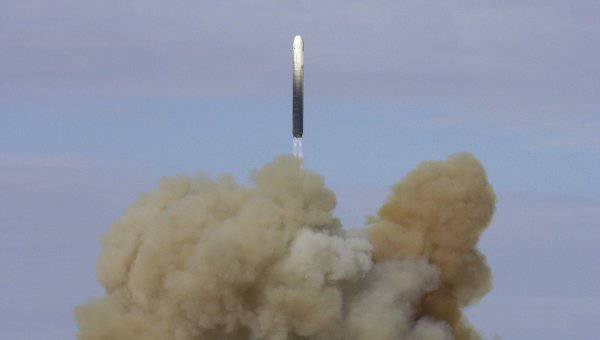 Exactly 25 years ago, the heavy liquid ICBM Р-36М2 "Voevoda" was adopted by the Strategic Missile Forces of Russia , reports today The Voice of Russia. Able to overcome any missile defense system, this rocket has become one of the legends of the Cold War.
The former chief of staff of the Strategic Missile Forces Colonel-General Viktor Yesin told The Voice of Russia that the US SDI program (a strategic defense initiative, better known as the Star Wars program) was a bluff, but received a very real answer: "The decision to create a strategic missile system "Voevoda" was made at a time when US President Ronald Reagan announced the launch of the PIO. This program had the goal of creating a large-scale missile defense system capable of destroying Soviet missiles in space. "Voevoda" was a heavy missile with a large combat load, which could overcome any missile defense system. "
The main advantage of "Voivode" was its carrying capacity (drop weight), almost 9 tons, which was twice as large as the similar parameter of the most powerful American ICBM MX. In addition, the rocket body was strengthened to reduce the impact of the shock wave.
However, the "Voevoda" had a drawback - stationary type of basing. Currently, this factor reduces the combat survivability of the complex. According to the director of the Center for Social and Political Studies, Vladimir Yevseyev,
weapon
deterrence need not have such destructive power. "The period when heavy rockets were needed was over. Now we need to develop new missiles with a smaller mass and, therefore, fewer warheads, which are fully consistent with the new approach to reducing nuclear weapons. "
As the warranty periods expire, the remaining "Voyevoda" ICBMs remaining in the Strategic Missile Forces continue to be decommissioned, Russia does not have the capacity to replenish their fleet. However, in general, Russia is not abandoning heavy ICBMs. According to Yevseyev, in the near future, "Voevoda" will be replaced by a new rocket complex "Sarmat".
According to some reports, this rocket (experimental design work called "Sarmat") is being developed in the GRTs them. Makeeva (Miass) with the participation of the NPO Mashinostroeniya (Reutov), ​​the design mass of the rocket 100 t, the throwing weight 4,3 t, the firing range 10 thousand km.