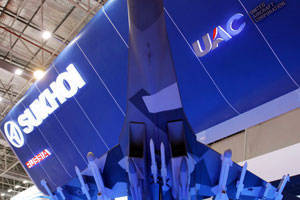 Sukhoi Company, a member of the United Aircraft Building Corporation (UAC), and the Institute of Theoretical and Applied Electrodynamics (ITPE RAS) completed the construction and commissioning of a laboratory and research complex of radio physical technologies.
Investments in the construction of the laboratory research complex exceeded 500 million rubles, the project was financed by the Ministry of Industry and Trade, the Russian Academy of Sciences (RAS) and the Sukhoi Design Bureau. The complex also includes test sites based on anechoic chambers, a nanotechnology laboratory for composite materials and thin-film structures and coatings, a laboratory for the electrophysics of composite materials, experimental production of composite materials, etc. Technologies and materials developed and tested in the laboratories of ITPE RAS are used as in civilian
aviation
, and in the design and construction of all new types of military aircraft. In particular, by mid-2013, ITPE RAS together with the Sukhoi company completed the stage of laboratory and bench tests of radiophysical technologies used in the fifth-generation T-50 aviation complex. Collaboration with the RAS is of great applied importance for the development of modern combat and civil aviation. Joint work with scientists from the Institute of Electrodynamics made it possible not only to obtain valuable technologies and materials, but also to quickly adapt inventions to the requirements of industrial production and operation of modern aircraft. In the near future, a new agreement will be signed between aircraft manufacturers and scientists, which will determine additional areas of cooperation in the development of radiophysical technologies. The United Aircraft Corporation was established in February 2006. Today, the authorized capital of the corporation is 188,9 billion rubles. The Russian Federation owns 84,33 percent of the shares.