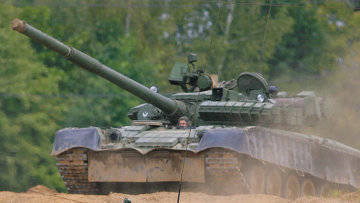 Recently, Russia held the largest military exercises after the collapse of the Soviet Union. The plan of the exercises included the transfer of 160 thousand military personnel, as well as 130 aircraft and helicopters of various types to the Eastern Military District. In the maneuvers also took part 70 ships of the Russian Pacific
fleet
who recently returned from large-scale naval exercises conducted jointly with the Navy of the People's Liberation Army of China.
Defense Minister Sergei Shoigu said that seven hundred railway platforms and fifty cars were also involved in the exercises. Troops of radiation and chemical protection took part in them, launches of ship-borne missiles were carried out, naval artillery was fired, and a naval rescue operation was conducted.
The fact that the maneuvers were carried out under the direct control and leadership of President Vladimir Putin and Defense Minister Sergei Shoigu, speaks in favor of their significance. In addition, it was a clear signal addressed to a very different foreign audience.
Although Russia claims that the maneuvers were part of normal combat training, their scope suggests that they are designed to demonstrate the military power of modern Russian armed forces, both to her friends and foes.
In the 19 century, Tsar Alexander III said his famous words: "Russia has only two allies: the army and the navy." As in those old tsarist times, today Russia has few allies. Belarus, Ecuador, Syria and Venezuela should not be taken into account.
Therefore, the number and variety of types of armed forces and types of troops - these "true allies" of Mother Russia, continues to grow. These are strategic missile forces, aerospace defense forces, and the most recently emerging cyber-war.
These military maneuvers are a symptom of Putin's strategic approach under the slogan "Russia is a fortress". Many experts believe that they were closely watched by China and Japan. These countries received an unequivocal signal on the readiness of the Russian military.
According to the retired officer of the Russian General Staff Konstantin Sivkov, these exercises became an imitation of the Russian response to a possible attack by the United States or Japan.
The theater for maneuvers included Sakhalin and the Kuril Islands, which the Japanese call their "Northern Territories" and which are the subject of a long-standing dispute between Moscow and Tokyo, which refused to sign a peace treaty at the end of World War II.
However, these exercises were also intended to contain China. Although Russia and China maintain close economic ties and actively cooperate in the military sphere, Russia's strategic prospects in the Far East are rather ambiguous. True, Beijing and Moscow recently held joint military exercises in the Sea of ​​Japan, and press reports indicate that Russia is supplying modern Su-35 aircraft to China, and possibly also Lada-class submarines.
But, despite such proximity, the growing military potential of China is a matter of concern for its northern neighbor. The rather weak Russian armed forces may create a temptation for China to try to seize new territories for its ever-increasing population (although this is unlikely in modern international conditions). The fact that China still calls unfair some of its border treaties with Russia from the 19 century, only heightens the anxiety of Moscow.
In 2004, Moscow and Beijing signed a new border treaty providing for the transfer of the Tarabarov island and half of the Big Ussuri Island to China. But Moscow believes that the concessions end there, and that these agreements should not whet China's appetite and desire to get more Russian land in the future. Alexander Khramchikhin, an independent military analyst from Moscow, notes that the exercises were a "sobering signal" for Beijing, so that he would not even think about any actions against Russia using force.
Getting new territories from a nuclear state will be a long, dangerous and costly business for China. The political goal — to include the Russian Far East in the Chinese sphere of influence — is easier to achieve by means of economic expansion, rather than military aggression. Nevertheless, the Kremlin decided to demonstrate its military readiness - "just in case." Russia understands that China's non-nuclear armed forces substantially exceed its own, and continue to evolve and grow. Moscow clearly decided that it would be more profitable for it to step up its military cooperation with Beijing, but preferred to keep the powder dry.
Not only its nuclear arsenal, but also conventional armed forces take part in Russian military exercises. The participation in the maneuvers of one hundred and sixty thousand troops indicates that Moscow is capable of deploying a large group of troops on the Chinese border in a matter of days. It is also possible that this was a rehearsal in case of changes in the situation in Central Asia, when large-scale intervention may be necessary after the withdrawal of NATO troops from there in 2014. In addition, these maneuvers became an exam for the new Defense Minister Sergei Shoigu on the subject of his ability to control the Russian army.
Washington should closely monitor the demonstration of Russian forces, especially due to the fact that the combat capabilities of the Russian armed forces increased significantly after the five-day war with Georgia in 2008. The fact that today the combat readiness of the Russian military is higher than five years ago must be taken into account not only the United States, but also the other member countries of the North Atlantic Alliance.
At present, a military confrontation involving Russia and China, or Russia and the United States is very unlikely. There is hope that the Far East for many decades will not be an arena of military action. Nevertheless, military strategists must prepare even for incredible events, so that we all have the opportunity to reflect on the worst nightmares.
Ariel Cohen is a senior fellow at the Russian and Eurasian Studies Program and International Energy Policy at the Heritage Foundation.