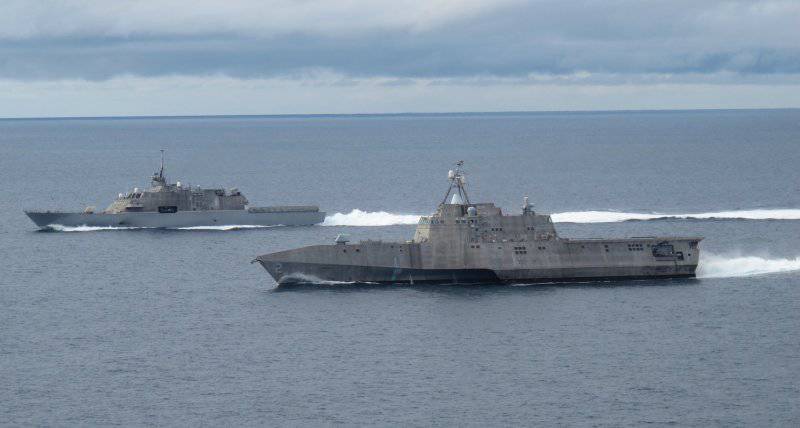 In the United States, criticism of the coastal zone warship development program LCS (Littoral Combat Ship) is intensifying. The relevant report on the LCS program was prepared by the Government Accountability Office GAO (Government Accountability Office).
Despite the implementation of the LCS program in the interests of the Navy, in which two corporations with different ship concepts (LCS-1 Freedom and Independance LCS-2) participate, unresolved problems continue to accumulate. The US Navy is taking measures to eliminate them on the basis of the results obtained from the operation of the lead ships of the two series under construction.
To date, test programs for LCS type ships remain unfinished. However, the Navy is already taking steps to eliminate the identified problems and to ensure a higher unification of the two types of ships and some adjustment of their tactical and technical elements.
Ships under construction should be equipped with special modules for solving various tasks. These modules should be quickly installed in the berths of ships and are oriented to the performance of anti-mine or anti-ship operations. However, at present, the deployment of these modules is being carried out in stages and it is unlikely that the Navy will finally formulate final requirements for them before their deployment in 2017 and 2019, respectively.
So far there are big uncertainties about the main tasks performed by the LCS. Nevertheless, the procurement plans for the LCS of the two concepts are being actively implemented and more than half of the number of ships planned for construction and purchase has been contracted to date.
The LCS ship consists of two main components. Among them, the ship itself (seaframe), as well as its target module (mission package), which provides combat use of the ship. The LCS ship can have three configurations due to the replacement of target modules: for anti-ship, anti-mine and anti-submarine operations.
The Navy plans to acquire the 52 ship of two options being built at US shipyards, as well as an 64 target module. The total cost of the LCS program is about 40 billion dollars in 2010 prices.
Based on an analysis of the LCS implementation program, financial management
GAO recommends that the US Department of Defense limit funding for the construction of the remaining non-contracted ships until the Navy completes research on their design and combat capabilities.
The Pentagon's leadership is extremely disappointed with the GAO's findings, since a slowdown in the rate of purchases of LCS ships may lead to an increase in their cost as well as the cost of target modules necessary to equip already built ships.