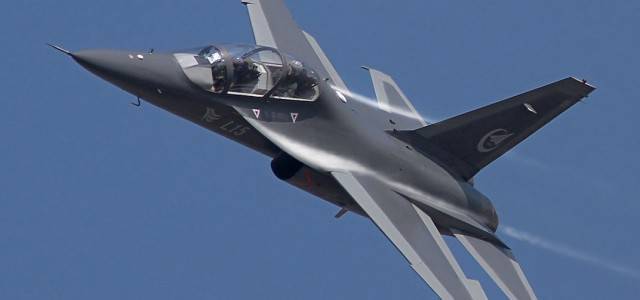 According to the newspaper Jiefangjun Bao, recently the PLA Air Force began testing the new combat trainer JL-10 (L-15) "Lein" ("Falcon"), during which issues of the combat use of aircraft weapons were worked out. According to the correspondent, during the departure of the departure observed by him, the aircraft successfully hit the ground target with 24 unmanaged
aviation
rockets. In addition, bombing and firing at ground targets from an aircraft gun were practiced.
The tests are conducted by a group of PLA N4 air force personnel. During the tests, several thousand shots were fired from an aircraft cannon, several hundreds of unguided aircraft missiles, and several dozen aerial bombs were used, while the accuracy of the use of weapons was rated as "good and better." The use of any types of high precision
weapons
, as well as the use of weapons on air targets in the article is not mentioned.
The purpose of the test, according to the publication, is to develop a program for the training of pilot instructors who will later train pilots and cadets in flight schools of the PLA Air Force in combat use of weapons.
JL-10 / L-15 is manufactured by the Chinese aviation industry company Hongdu Aircraft Industry Corporation, which is part of the general aviation holding of the Chinese aviation industry company AVIC. The aircraft was developed in 1990-e and 2000-ies with the participation of Yakovlev Design Bureau and is actually a Chinese modification of the Russian Yak-130 aircraft.