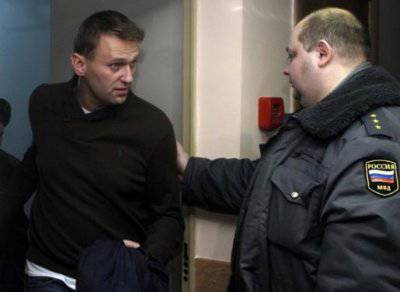 The case of Navalny caused another aggravation not only among the Russian liberal public, but also among the Ukrainian ones. The Russian oppositionist, about which, in fact, in Russia itself is far from being known in the widest circles, was declared a symbol of Russian protest and the main hope of the anti-Putin movement.
The most desperate fantasts have even managed to draw an analogy with Yulia Tymoshenko. However, few people are aware that Navalny is only the fruit of the prevailing political situation, from which the political technology maximum will be squeezed out and sent home.
My God, how many opposition messiahs have already been in Russia! Yavlinsky, Nemtsov, Kasyanov, Kasparov and even the obsessed Limonov ... Here, even the whole of a democratic Ukraine can jealous. And all were blown away, so plainly and without having pierced the political space with their heroic participation. Why? There are many reasons. Anyway, Russia is an anti-liberal country. At least it always has been. Therefore, fairy tales about a bright democratic future, stitched along European (or American) patterns, are perceived there with natural skepticism. The frills of Chubais in Russia are still well remembered.
But so consider those who caught 90-e. During Putin's rule, a whole generation has grown up in Russia, for which words such as "hyperinflation", "voucher" and "privatization", at best, are topics from a textbook on economics.
This generation took place against the backdrop of economic recovery, high oil prices and affordable trips to Turkey. This generation, like the Ukrainians in 2004, wanted a legendary triad of "freedom, spirituality and justice."
Navalny, bursting into the information space relatively recently, quickly became a kind of hero of this time, a kind of Internet activist with a hazy past and an ambitious future. Alexey quickly gained a reputation among the liberal public thanks to a number of civil anti-corruption projects, slogans in the style of "New Vasyuki", street rallies and the famous memo about "crooks and thieves."
For those who go to hang out at the Swamp, crawling out of credit foreign cars, this has become more than enough. Although few people care that their daily comfort is provided by precisely those "crooks and thieves", who are so opposed to them, working unhindered in the offices of firms owned by "rogues and thieves". Something it reminds Ukrainian speeches about the "malicious possession", although she, of course, still has to grow and grow up to "crooks and thieves".
Yes, Navalny was making noise, collecting rallies, pushing speeches, lighting on the Internet hamsters network. But no more than that. He has no party or team. The program is vague and foggy. But, nevertheless, the narrow circle of the Swamp Party idolized him.
Naturally, the criminal case opened against the oppositionist caused a fit of hysteria, creating a real storm in the glass. Let's systematize all that information flow that comes from our northern neighbor, and try to look at the situation from the point of view of our own experience. The blessing in the political sphere, he is rich with us - to argue with this is just as stupid as trying to show off.
The case against Alexei Navalny was opened in 2010 year. After that, he was brought to administrative responsibility for his protest activities. What certainly suited him and even made him happy - it was necessary to build the image of Che Guevara. The criminal case, which lasted three years, was essentially simple and trivial. Navalny was accused of working as advisor to the governor of the Kirov region Nikita Belykh, forcing the head of Kirovles, Vyacheslav Opalev, to conclude an unfavorable contract with the Vyatka Forest Company. The amount of damage - 16 million rubles. "The sentence strangely coincided with the intention of Navalny to run for election as mayor of Moscow" - say the admirers of the Russian oppositionist, arguing the version of the political order. And they are right ... true, in part.
Navalny, as a candidate for mayor, would oppose Sergei Sobyanin, the current mayor and chief contender for the status of Vladimir Putin's favorite. Sobyanin, as a man with far-reaching plans, is extremely interested in a fair victory. But he has a large number of detractors, including in the law enforcement system. Simply put, Navalny stupidly used two pro-Kremlin groups for their tactical purposes. That is why the sentence to five years in prison the very next day was maximally mitigated by a written undertaking not to leave the place.
The idea that Navalny fears Putin himself is absurd. The rating of the oppositionist varies within 3-5% throughout the country, and only in Moscow can this indicator be considered more or less impressive. In this context, Yanukovych's fear for Tymoshenko's cause was much greater.
Bulk is a very convenient figure, which in the future the Kremlin can use very successfully for itself. Let's start with the fact that Navalny after the court
stories
in opposition circles has every chance of becoming the sole leader. That will cause a mixed reaction among a whole galaxy of political losers, who still consider themselves capable of anything. They say that Navalny has already had a schismatic experience, ostensibly with the assistance of the odious political consultant Stanislav Belkovsky. In this vein, the Russian opposition is no different from the Ukrainian one - one can only dream of unity there. But undercover intrigues and small parties sometimes more sophisticated than ours.
In addition, Navalny is the best gravedigger of a liberal idea. And all because he was never a liberal. The oppositional public in the person of Bolotnaya stubbornly puts it on these very clothes. The real views of Navalny are much closer to nationalism, chauvinism and, in some places, have every chance of being called fascist.
Of course, the label "fascist" is hung for political purposes, but there are also facts. Navalny repeatedly participated in the so-called "Russian marches", at which the contingent was waving definitely not with pink flags and shouted not "Beauty will save the world". And the famous "One for All, All for One" in combination with the characteristic gestures can hardly be considered as directing the Kremlin. This is exactly how Navalny positions himself. At one time, German journalists from Der Spiegel reported that Alexei was seeking support from right-wing radical movements in Russia, which also leads to certain thoughts.
The fashion for praises and odes, dedicated to Navalny, should leave the Ukrainian liberals as well. The Russian oppositionist openly speaks of the "united divided people" and the idea of ​​uniting the three fraternal republics. In fact - voiced by the fact that among the Ukrainian opposition beau monde is called "Russian shovіnizmom." It is strange that another political martyr, Yury Lutsenko, did not think about it. "
Alexey Navalny received today not 5 years in prison, he received today the highest tribune of the country. The next step can be a presidential post.
", - commented on the situation around his Russian counterpart Yury Vitalyevich, who apparently decided so subtly to hint at his own presidential ambitions.
But especially pleased with the analogy, voiced by some experts. The Echo of Moscow observer Matvey Ganapolsky gave a very good prediction, from which it became scary for our northern neighbors. According to the expert, they adopt our negative experience.
"He (Navalny) is sitting down now in the first (case), and then there will be a second, third, sixth. As with Tymoshenko. Or as with Khodorkovsky and Lebedev: there will be a mother case from which other criminal cases have been isolated. The authorities do not see that the country is at its peak, which is why it is so shamelessly and brazenly cracking down on the political opposition. "
No one doubts that Tymoshenko has launched a trend for the status of a political prisoner, but, in my opinion, Mr. Ganapolsky is flattering the Kremlin.
Well, what kind of bulk Tymoshenko? The phenomenon of Yulia Vladimirovna is generally a topic for a separate conversation, which is better to be held in a few decades. Bulk can only dream about the grace with which YuVT managed to powder the brains of its own electorate over the years. Since the end of 90, Tymoshenko has alternated between the prison and the highest offices of state power, put Yushchenko into the presidency with her own hands, remained afloat after the orange fiasco and sat down not for the shredded forest, but for a grand gas epic fail that will respond to the whole economy Ukraine has more than one year.
What did Navalny do? What kind of opium for the people he invented? Yulia composed an entertaining Euro fairy-tale, seasoned with democratic dreams, which was not only sown, but actually started on Ukrainian soil. Russia is a country of a different cut. There you can't tell about any European integration, and democratic money-sticks act on a limited number of archetypical middle managers. I do not think that Navalny has other options.
Navalny is not even Khodorkovsky, who realized himself in business and, having won over almost entire branches of the economy, decided to seize political power after that. Khodorkovsky at one time really alerted Putin, who was afraid of losing influence and gaining competitors. Mikhail Borisovich knew what he was going for, so he played according to the principle "either he was, or he disappeared." Navalny is the hero of the online community, who will stay at home and write malicious posts provoked by his own complexation, but Internet fans will not be able to provide organizational and financial assistance.
Yes, some of them are even ready to go to the square. Part - for the sake of adventure, part - from youthful maximalism, part - just out of boredom. They call themselves civil society, but a citizen is not a profession, but a legal status. Civil rights are provided not so much with meetings as with the resources that need to be taken from somewhere. Khodorkovsky was able to earn money, I don't know if he knew how to distribute, but he knew how to earn money. There is reason to say that Navalny can ask for money. Moreover, the fathers of democracy - the Americans, of which he was accused after breaking into his personal mailbox. Then, in particular, there were clear hints that Navalny is cooperating with the National Endowment for Democracy, which functions to finance US foreign policy goals.
We have already passed. I hope the Russians will not step on our rake and will cease to scale the figures that place, at best, on the political periphery.