It is believed that scientific companies can become an effective social elevator for young scientists, that the intellectual elite of Russian universities will be concentrated in them. The opinion is expressed that everything must be done to support them and further employment of the young men who have served, either in the Ministry of Defense or in the military-industrial complex. So, the first scientific companies for students have already appeared. What do they represent?
How do we know that we are talking about the scientific elite? Students of technical colleges with military departments fall into scientific companies for the time being. But neither the third nor the fifth year it is impossible to determine what constitutes a particular student in a scientific sense: whether the future Einstein is in front of you, or diligent mediocrity.
So far, as you can understand, students who want to serve in the army for nine months instead of 12 want to serve as scientific companies, and they serve, as they think, in dusty conditions - instead of marching on the parade ground, which is much more pleasant in white lab coats to labore or appliances.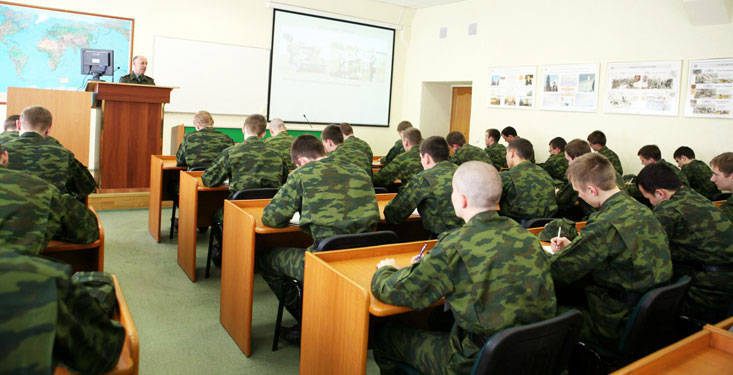 Now let's see where the first scientific companies appear. Some are deployed at the Air Force Academy named after Zhukovsky and Gagarin in Voronezh. Other companies are going to create in the suburbs at military schools and in St. Petersburg at the Kuznetsov Naval Academy.
However, military academies and schools are not engaged in scientific research, but above all in academic work, and military academies are not directly connected with the military-industrial complex and R & D. And it is not difficult to guess what the fighters of scientific companies will do in military academies — chores and maintenance work on the educational process: sweeping the parade ground, scrubbing floors, putting training materials into classes, washing flasks, etc.
Now civilian firms and civil servants from the structures of the Ministry of Defense are gradually being removed and fighters of scientific companies can replace them in some capacity, although today their drop in the sea is unable to provide for the needs of even one academy. After all, the first scientific company has only 35 people. But it is possible that, over time, if students flooded into scientific companies, which would have to be reduced to scientific regiments, they could be equipped with such companies as major academies and military schools, as well as some research institutes of the Ministry of Defense, and then, constantly receiving variable composition, scientific companies will be able to exist all year round and perform the functions of the educational process.
But to science, I repeat, and especially to the conduct of scientific and developmental works in the interests of the defense ministry, this will have nothing to do. If only because the academy is not able to carry out the selection of those who are needed for scientific and technical developments and research programs. And it is very difficult to come up with a mechanism by which scientific companies could be directly linked in the form in which they are being created to the specific needs of the military-industrial complex.
Meanwhile, the Russian army requires advanced scientific and technical developments, and programmers, who know their business well, and not under-educated students. And some kind of scientific company can be created in the Ministry of Defense system, although it is not necessary to call them that way. It seems to me that their name would be temporary research teams set up to solve specific scientific and technical problems in the interests of the Russian military-industrial complex.
We can recall, for example, that such teams were Soviet and American projects to create atomic and hydrogen bombs. Only in the composition of such research groups, students can not enter, perhaps, with the exception of single geniuses-geeks, who had time to clearly manifest themselves in science in his student years. At the head of such a team should be a venerable, experienced scientist who made a significant contribution to the study of this problem and is in the prime of its creative power. If we talk about age, then the head of the research team may most likely be from 25 to 50 years (with age, the creative potential of scientists in the field of natural sciences usually falls), and this is certainly not a student.
He will try to recruit his employees among young and ambitious candidates and doctors of science, as well as graduate students and applicants for scientific degrees. Usually the scientific potential of a graduate student can be determined at the end of graduate school, when his first scientific publications had already appeared, and he himself had reached the age of 24 – 25 years.
The incentive to get into the research team of the Ministry of Defense may be twofold, but it should not be associated with the desire to serve or not to serve in the army. The first stimulus is the interest in solving the original scientific or scientific-technical problem. The second is material. Alone, each of these incentives does not work in this case. If a task is not attractive and does not have an important practical value recognized by researchers, very few people will undertake to solve it, even for a lot of money. But even a very interesting and important task is difficult to solve on an empty stomach and in the mind that you are not able to adequately provide for yourself and your family.
In Soviet times, it is well understood. And in the implementation of atomic, hydrogen, rocket-space and other defense projects, scientists attracted both purely scientific interest in solving new problems, and more than solid material incentives. "Closed" scientists received perhaps the highest salary in the country, practically did not know what a deficit was, and did not worry about improving their living conditions. Project managers could select the best specialists on a competitive basis. But at the same time, the overwhelming majority of researchers remained civilians and, with rare exceptions, did not call them into the ranks of the Soviet army and did not assign military ranks. Probably, now we have to go the same way. Moreover, even a very high salary of scientists is only a small part of all R & D expenditures.
In connection with the introduction of scientific companies, it was suggested that the future scientist of the military-industrial complex should learn the course of the young soldier. But in fact, this course will have no relation to the problems solved by the researcher, nor will it have any practical value for him. Since no one in a nightmare does not suggest that in the event of a war, a scientist engaged in an important defense development be used as a fighter or even a platoon commander running to attack or, sitting in a trench to reflect an enemy attack. On the contrary, such scientists, for reasons of secrecy, are not even close to the front line. Therefore, the course of a young fighter can be useful to them except for general erudition.
And programmers in the army must be taken not from students, but possibly the best ones and, if necessary, enroll them in military service and confer titles, including officer ones. Only they need to be recruited not by conscription, but voluntarily, according to the same principles by which scientists should be recruited for defense projects. The level of complexity of military equipment is now such that the Russian army should be professional. And the non-combat functions of the Armed Forces in non-combat conditions, for the fulfillment of which today mainly conscripts are used, should be transferred to civilian organizations and personnel. Only in this case it is necessary to have close control over them and to ensure that real competitions for the provision of services to the Armed Forces are held and the firms that are closely affiliated with officials of the Ministry of Defense would not receive. Then the level of corruption will not go off-scale.
Of course, during the transition to a fully contractual army, we will have to accept both the rising costs of maintaining personnel, to make military service attractive for a sufficient number of young people, and the fact that almost exclusively immigrants from the Russian province will serve as soldiers and sergeants. and not from Moscow or St. Petersburg, since the salary of ordinary contract soldiers is still too far from the average level of the capital. But Muscovites and Petersburgers will remain in the army anyway, only in officer positions. Yes, and in scientific companies if they are created, they are likely to prevail, given the concentration of domestic scientific and technical potential in both capitals.