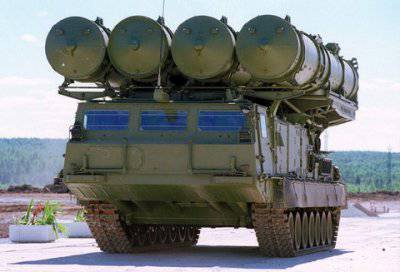 C-300 enterprises are engaged in the production of the C-400 complex, and the Antey-2500, the army version of the legendary system, is offered to foreign customers.
The anti-aircraft missile system (ZRS) C-300ВМ ("Antey-2500") will be the basis of Venezuelan air defense. The strategic operational command (Comando Estrategico Operacional - CEO) of the National Armed Forces plans to create six air defense brigades. In each brigade there will be several groups of fire weapons and the C-300ВМ control division.
Venezuela became the first foreign buyer "Anteev". Next in line is Turkey. C-300BM is participating in the tender for the supply of long-range air defense systems, along with the US Patriot air defense missile system, and the C-300 clone from China. Earlier, Russia offered Iran, to replace the annoying White House, C-300, with "Antey-2500", within the framework of an already concluded contract.
The C-300 PMU1 and Antey-2500 (C-300ВМ) complexes have similar characteristics. In fact, the "Antey" is an improved C-300 tracked modification, which was designed specifically for military air defense and was not intended for overseas deliveries. C-300BM is capable of striking airplanes, drones, ballistic and cruise missiles, flying at speeds up to 16200 km / h, within 200 radius, at altitudes from 20 meters to 30 kilometers. The transfer time of the on-duty ZRS to combat readiness is only 40 s, preparation of the rocket for launch takes no more than 7,5 s.
The main elements of the C-300B. Photo © Rosinformburo / A. Sokolov There is evidence that the Ministry of Defense intends to equip this system with four anti-aircraft missile brigades.
But why, Russia decided to sell overseas air defense system, created exclusively for domestic use.
A source in the defense industry agency suggests that this may be due to the re-equipment of the Russian army with the C-400 Triumph complexes. Enterprises producing C-300 are engaged in the production of new products, and to foreign customers are offering an army version of the famous system, which is assembled at other factories.