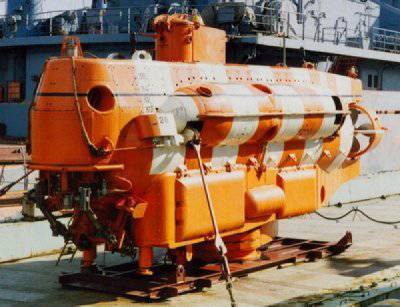 In Russia, a fundamentally new deep-water device is being developed, which will be able to conquer even the Mariana Trench with a depth of 11 kilometers.
According to the general director of Admiralty Shipyards, Alexander Buzakov, quoted by Interfax-AVN, the project of the new deepwater apparatus is being developed by specialists from the Malachit St. Petersburg Marine Engineering Bureau. "If such a project is implemented, Admiralty Shipyards are ready to consider a proposal for the construction of the device. We at the enterprise have all the possibilities for its implementation, and, of course, we would like to keep the Admiralty school for the construction of deep-water equipment, "Buzakov noted.
Admiralty Shipyards is rightfully considered one of the pioneers of the domestic construction of deep-sea and underwater vehicles. In 2011, the Navy
the fleet
The consul, an autonomous deep-sea vehicle, was handed over to Russia, which during deep-sea tests reached a working depth of 6.270 meters. He became the 70th ship built at the shipyard. And on the eve of Navy Day, which will be celebrated next Sunday, the Bester-1 project 18271 deep-water rescue vehicle for the Igor Belousov rescue vessel was launched. The device, which in turn became the 71st created at the enterprise, successfully passed the first - slipway - stage of mooring trials. There are two more steps ahead - at the completion wall and in the dock chamber of the Krasnoe Sormovo plant with imitation of deep-sea diving.
Buzakov noted that Bester-1 is a device that worthily continues the traditions of the Admiralty Shipyards in the construction of experienced high-tech, high-tech orders. It introduced for the first time many fundamentally new developmental developments. These are ship control systems - navigation, the unified automated Bester system, more powerful and fundamentally new propulsion and steering systems, a new guidance system, landing and anchorage to an emergency submarine, and, of course, a suction chamber through which people can be evacuated during roll to 45 degrees. All previous rescue vehicles built in our country and abroad could assist the crew in distress when the emergency submarine roll is no more than 15 degrees. The number of rescued sailors will also increase - an 22 person can simultaneously be accommodated inside the vehicle. In addition to the above, a new flow ventilation system mounted on the MUH will allow decompression of rescued submariners to begin not after but in the process of ascent, which will reduce the subsequent time spent in pressure chambers. A number of apparatus systems have been developed and produced at the St. Petersburg NPO Aurora, where now two Bester-1 teams of six are mastering them. MUH will have an operating depth of 700 meters.