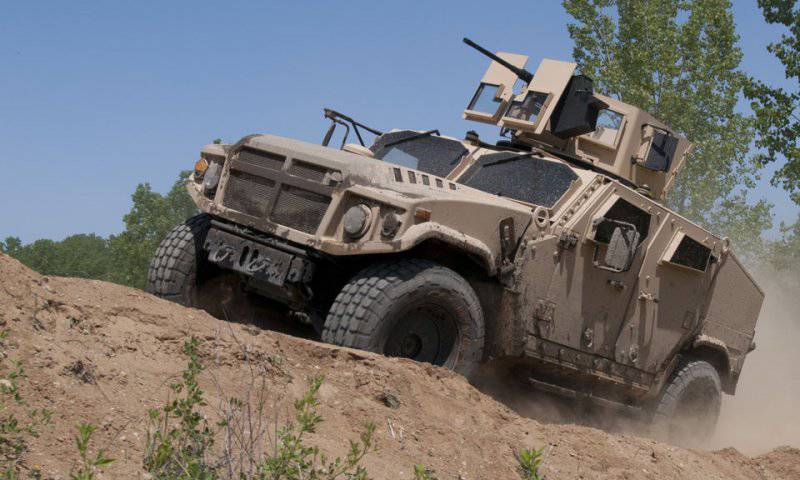 The United States Marine Corps (CMP) may wind up the acquisition program for a promising combined-arms light tactical armored combat vehicle (BBM) JLTV (Joint Light Tactical Vehicle) due to sequestration of the military budget. This was reported to journalists by the commander of the CMP, James Amos.
A more efficient and economical BBM JLTV should have replaced the highly mobile multi-purpose wheeled vehicle Humvee or HMMWV (high-mobility multipurpose wheeled vehicle), which has been in service with the 1985 of the year. The Humvee machine was never considered as a BBM, and despite a number of modifications to increase security, it remained vulnerable to homemade explosive devices (IEDs).
According to the commander of the ILC, the continued use of Humvee machines in combat conflicts may lead to an increase in casualties among personnel. However, the ILC does not have the means at present to solve the problem of replacing the Humvee and switching to the BBM JLTV.
As reported earlier by ARMS-TASS, the threat of destruction of the personnel of the Armed Forces of leading foreign countries with improvised explosive devices (IEDs) made it important to increase minefield defenses in the BBM design. In particular, the introduction of a V-shaped armored module into the BBM design is considered very effective. This structural solution has been applied in the program of the American military light tactical vehicle JLTV and in the program of the English light protected patrol vehicle LPPV (Light Protected Patrol Vehicle).