Without the legalization of civil weapons in Russia it is impossible to protect personal freedom, family, property
There is a view that the restriction on the acquisition and use of weapons infringes the rights of law-abiding citizens. Criminals, on the other hand, are not inconvenienced in the established system of control and prevention of violent offenses. The military-industrial complex weekly publishes an interview with the head of the Right to Arms movement, Maria Butina, to some extent reflecting the views of a significant part of society.
- Maria Valerievna, the weekly Military Industrial Courier covers the work of the defense industry complex in Russia. The publication is intended primarily for representatives of the military economy, entrepreneurs, scientists, engineers, gunsmith masters. He is read with interest by military professionals and weapons lovers. The movement "The Right to Arms", which you have the honor to lead, is interesting to many. Please tell us about the appearance of the movement, its goals and objectives.
- Our organization originated in August 2011 as a community of civilian weapons enthusiasts, starting with ordinary get-togethers at a restaurant in Moscow. Then, realizing that we needed to act, we began to conduct our first street actions and field training in shooting galleries and shooting ranges, and like-minded people in the regions came up. As a result, over the year of our work, we have an organization of several hundred like-minded people in more than 25 regions of the country, and 28 – 29 of October 2012 held the first all-Russian congress to strengthen their ranks and form legitimate governing bodies of the organization.
The main purpose of the movement, as the name implies, is to protect the right of citizens to weapons. There are innumerable meaningless legislative prohibitions, bureaucratic barriers, arbitrariness, slander and prejudice. For example, there is a myth that a legal weapon does not participate in self-defense and does not hold back, but allegedly, on the contrary, provokes violent crime. Legal prohibitions and public prejudices that impede the normal realization of the fullness of our right to arms, we try to at least restrain us from being taken away from even what we have. And since the best defense is attack, we are also conducting offensive, educational, human rights work, so that this right to the weapon is not only not reduced, but also expanded.
This results in various practical areas of our work: legal and public advocacy and advice to those who were forced to resort to the necessary defense or simply plan to buy weapons, increase weapon culture - organizing practical and theoretical seminars, classes and tournaments with those who already have personal weapons or just planning to buy it. Work with the authorities, the expert community, the media, public opinion, aimed at informing the parties that legal weapons are much more beneficial to society than harm, and that citizens 'right to arms should be expanded rather than collapsed.
- What media has the movement? How interesting is it to the press, radio and TV all over Russia?
- We have an organization website, our periodically published newsletter and newsletter, thousands of like-minded communities and social media broadcasts. The main informational work, of course, is conducted through other - regional, international and all-Russian mass media, with which we are trying to work most closely, because this is how we can convey our point of view to a wide audience. In order to achieve this, we create various informational occasions, hold public events - pickets and rallies on our set of problems, which attracts the attention of the media and authorities. Some consider this a vulgar self-advertisement, but in fact without this informational work it is impossible to convey your point of view to a wide audience.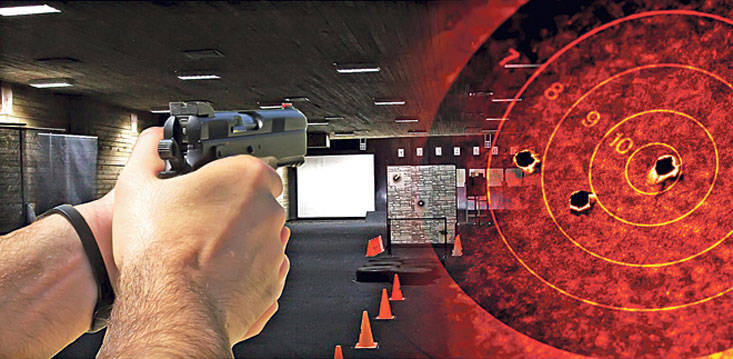 Unfortunately, the arms community in Russia suffers from a certain self-isolation, which largely determines the existing state legislation, in particular, the Law on Advertising, which effectively prohibits the widespread promotion of civilian weapons, which means that it does not become so widespread as in the United States. where up to half of the families belong to the armed community. In Russia, those are about ten times smaller. These people are artificially driven into information isolation, slandered and limited in their rights. Although in many respects it is on them in Russia that the rule of law and law and order rests. The government, the media and society should not argue that "if the gun is hanging, it means that it will definitely shoot", and declare that "the more weapons, the more crime," but on the contrary, to encourage these law-abiding and sane people in every way. After all, they can, if anything, come to the rescue before the police arrive at the unarmed victim of unlawful acts. It is no coincidence that in the United States, with the help of civilian weapons, from 100 thousands to 2,5 million violent crimes are prevented annually.
Since advertising of civilian weapons in Russia is actually allowed only within the framework of a highly specialized, already armed audience, this leads to the very small number and isolation of the weapon community. Five million owners of civilian weapons in Russia are, of course, not a little, but not a lot. If we consider that cars, for example, have about 30 millions of citizens, although the weapon is much more affordable and more important subject. Indeed, unlike many other technological devices, a weapon can really save lives and does so quite massively. This specificity of the legal field in Russia leads to the fact that people in the masses learn about civilian weapons only from criminal records. Cases of successful use of weapons are less likely to become information events, because they tried to attack you, you showed, even if you had a traumatic gun, and you managed to prevent a crime before it began, the federal information channels.
Our experience shows that even the egregious cases of armed self-defense, when a husband fought off an attack on his pregnant wife with a weapon, even such incidents are not interesting for journalists. Well, he beat off and beat off - there were no mountains, rivers of blood and dozens of corpses, which means that the audience is not interested. But drunk shooting or a frustrated father of the family who shot relatives with civilian weapons is a hot
news
, it is snapped up by all the media, as a result, people, even the officials of the Ministry of Internal Affairs, who do not lead, and cannot keep relevant statistics, have the illusion that civilian weapons are used only for criminal purposes. Thousands of similar cases without the use of weapons seem to have no meaning. Hacking a family with an ax or strangling with a pillow is typical for domestic by-living, unfortunately, and the same actions with weapons immediately turn a crime into an all-Russian event, although every year thousands of people are killed in the country from 14 to 50. If each of these cases were so covered in the media as weapon incidents, then kitchen knives, pans and rolling pins would at least be subject to compulsory licensing for storing a house without the right to take them outside.
We also try to counteract this distortion of the information space, often successfully. Even federal TV channels are interested in an alternative point of view and are ready to show it, if there is someone ready to communicate it. Therefore, you can periodically see me on the main TV channels. Any regional press covering the topics of weapons and security also has a need for this alternative point of view, but now there is simply no one to voice it and everything is limited to the usual reasoning of departmental officials and the humanitarian intelligentsia divorced from reality about how bad everything is and how dangerous weapons are, completely ignoring its main useful features.
To reverse this trend, we are trying to create an extensive All-Russian structure with a representative office in each locality. Otherwise, people will live in captivity of dangerous illusions, which, by the way, turn into real deaths. After all, less legal weapons means more illegal and higher violent crime, which does not meet the repulse of respectable citizens, who are an absolute majority in any society. But today this is the majority of the weak, and we are trying to change the situation, making it stronger.
- Who came into motion? Are there many bright, interesting, accomplished, famous and influential people in it? Representatives of what political forces take part in it?
- All of us are united by the fact that we value our right to arms and see the lack of viability of the rights to property, life and freedom without it. Someone appreciates the weapon as a hunter, someone as a sports shooter, someone as a collector, and someone keeps it for self-defense. As a rule, these different aspects of civilian weapons overlap and complement each other in each individual person. There are those who do not own weapons, but still actively support us, because they understand that the owner of legal civilian weapons is like a policeman or soldier, he will protect you or your loved ones in difficult times, if he is near. After all, you personally can not always be with them. Of course, among all there are people who are crazy and abusing their abilities, but such an insignificant minority, and as a result of the actions of Evsyukov or another aggressive deserter, they do not draw conclusions about the need to disarm the army or the police.
Basically, the members of our movement are men, since only they are called up for military service in Russia, because such
historical
specialization of the sexes, because, unfortunately, most women still believe that their safety issues do not concern them, or they have not yet become involved in such fascinating activities as shooting sports or hunting. Although everywhere, of course, there are exceptions, but sometimes this feature of female logic comes to completely egregious cases. For example, one woman killed a rapist with a knife, but she's sure that she doesn't need a weapon, because she can't cope with it. Another husband saved her and the children from the attack of a gang of robbers on the same taiga outskirts, but she still claims that she is against weapons in the house. It would be funny if it were not so sad.
Older people, for obvious reasons, are also rarely engaged in our organization, because they have their own, as it seems to them, more pressing problems. Even if they take to the streets, they will rather demand an increase in pensions, not new rights and freedoms for themselves, for which they, of course, cannot be blamed for their blatantly low standard of living.
Poor, declassed elements, which usually form the main asset of various radical and even quite moderate political organizations, are also rarely found in our topic, because it still attracts already accomplished and prosperous individuals who do not want to ruin anything to the ground, but want more rights for themselves and responsibility, which is what to protect and what to lose. Any person in principle and a member of our movement in particular is bright and interesting in his own way. If we talk about some well-known personalities, leaders of public opinion, then at the first All-Russian Congress of our movement as guests of honor were, for example, famous actor and screenwriter Ivan Okhlobystin, former Minister of Economic Policy of Russia Andrei Nechaev, Right Cause party leader Andrei Dunayev, a number of less famous figures - our associates. A unique feature of the organization is that it is supported by literally all political spectra. Especially, if you take into account not careerists, who situationally stick to one or another political force and ideology, but intellectuals. This is not to mention the extra-parliamentary parties and especially political forces in a broad ideological sense. After all, a person who considers his people unworthy of the right to arms cannot be either a patriot, or a liberal, or a nationalist, or a conservative, or a socialist. Civilian weapons strengthens state stability. Armed peoples, where they exist, be it Switzerland or the United States, where they are less likely to encounter mass riots, revolutions and external intervention, than societies weakened by their defenselessness, and therefore unstable. It is civilian weapons that are a great leveler, allowing even the poorest person, unable to hire bodyguards or settle down behind a high fence of an elite residential complex, to rely on security. Well, and so on. Holistic, consistent perception of any political ideology leads people to understand the importance of the right of citizens to weapons. Only people who, in principle, do not think about it and are engaged only in populism and playing on the fears of the crowd, can overlook this.
- Experts believe that, for the most part, the leaders of the country officially still have a negative attitude to the idea of ​​legalizing civilian self-defense military weapons. You invited to the constituent congress of representatives of the presidential administration and the government? If so, what was their reaction?
- The country's leaders only stated that they were against the free sale of weapons to the public. The vast majority of our organization members agree with them on this, and no one is now talking about canceling the license for civilian weapons and eliminating strict state control over this area. The ruling party also does not have a single clear position on this score, for example, one of the deputies of this party in the State Duma took the initiative to give journalists the right to wear real military pistols, since this profession in Russia is associated with increased risk (as, indeed, thousands of other professions who do not have their own deputies in parliament). Senior officials are afraid to contradict public opinion, which they themselves formed, because it is known that the majority of the population has a negative attitude to the legalization of pistols. It does not take into account, however, that 60 percent of Russians are not even aware that for almost years 20 has been able to acquire long-barreled smooth-bore weapons for self-defense purposes. People are very poorly informed, even senior officials. For example, the well-known story of what embarrassment these people fell into when they decided to fight the supposedly unlicensed sale of traumatic weapons. Although it was rather strictly regulated before the law was toughened up, the number of crimes associated with it was decreasingly small as it was and is. But there was a huge monopoly training business to obtain a license for traumatic weapons.
I think that the negative or rather skeptical stance of top officials regarding civilian weapons with occasionally arising very dubious bills of a restraining plan is not related to the fact that these people have some kind of formed and conscious point of view on this matter (still quite specific and narrow-profile, not the scale of the wide mind of the sovereign husbands), but primarily because they were captured by those limited flows of information and attitudes that were sent to them by departmental lobbyists ie, a purely commercial interest in maintaining a huge and very corrupt market premium weapons, private security, sale of gray schemes "left" of weapons from warehouses and so on. d. It involved a lot of money and hardware game, but not political or ideological positions.
We are trying to break through this information blockade with our modest efforts, although we have not yet managed to get to the "body" of the representatives of the presidential administration or the government. But amid the development of an active industrial policy and the military-industrial complex, as well as as part of a campaign for the fight against corruption that is gaining momentum, I hope that this persistent vicious stance on civilian weapons will soon be broken. Now the government has undergone quite significant changes, the leadership of the Ministry of Internal Affairs has also improved significantly, so perhaps the situation on this issue will improve in the near future and the updated management will be able to take a fresh look at the problem, separating the wheat from the chaff.