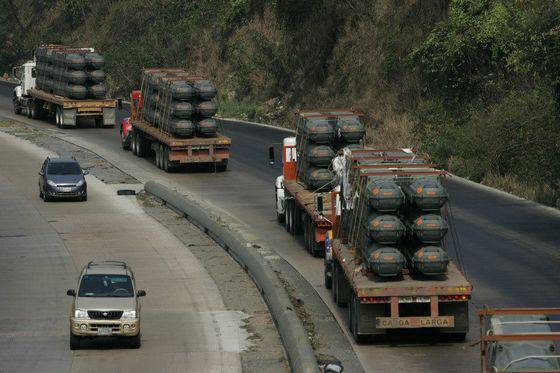 The combined command of aerospace defense (CADAI - Comando Aereo de Defensa Aeroespacial Integral) has recently formed at least three anti-aircraft missile groups armed with systems purchased in Russia.
These units 5 July took part in a military parade on the occasion of the Independence Day of Venezuela.
According to Infodifensa, the most attention is paid to the 394-th anti-aircraft missile group. Hugo Chavez, part of the 39-th air defense brigade (Caracas), which received the Antey-300 C-2500BM air defense missile system.
In April of this year, an official representative of Rosoboronexport announced the delivery of two batteries to Venezuela, which should be ready for combat use in the fall of this year.
At the event on the occasion of Independence Day, the 393-I anti-aircraft missile group was also represented. Rear Admiral José María García, also a member of the 39 Brigade of the Air Defense Forces and manned by the Navy and Marine Corps. It is located in Meseta de Man (Meseta de Man, Province of Vargas) and is equipped with Buk-M2E anti-aircraft missile systems, deliveries of which began in April of this year.
For the first time, the 198-I group of man-portable air defense systems was represented at the parade. Colonel Juan Montes de Oca from the 19 Brigade of Air Defense (Maracaibo). It is armed with the Igla MANPADS, which are located on the national off-road Tiun light off-road vehicles.
The exact number of MANPADS purchased was not disclosed, however, according to the latest report of the Russian Federation to the UN Register, in 2012, Venezuela delivered 2 thousand missiles and 400 launchers.
As planned, the CADAI Strategic Operational Command (Comando Estrategico Operacional - CEO) of the National Armed Forces will include six air defense brigades, four of which are already being formed: 19-I (Maracaibo), 29-I (El Sombrero), 39-I (Caracas ) and 49-i (Barcelona). Each brigade will consist of several groups of fire weapons and a division of detection and control.
The groups will provide air defense of units and subunits of the armed forces and will be equipped with the Antey-300 C-2500BM, the Buk-M2E and the Pechora-125M C-2, as well as Igla, RBS-70 and towed C-systems. 23-mm anti-aircraft guns ZU-23 / ZOM-1-4.