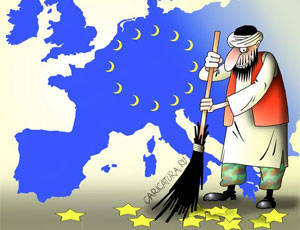 A few days ago, the German, Dutch and Swiss police simultaneously raided the offices, homes and prison cells of six alleged members of an international group called "Werewolf Commando." However, no evidence of neo-fascist terrorist plans of the police did not find. It is known that for computer communications "werewolves" developed encryption program. Now correspondence and seized computers are being studied.
Alexander Shishlo (
"Voice of Russia"
) says that the police did not find evidence of plans of terrorist acts being carried out by six neo-fascists.
The authorities of EU countries do not pay sufficient attention to solving the problem of rising nationalist sentiment in society. The latter are due to more than one economic crisis. Social radicalization specialist Matthew Goodwill told the Voice of Russia correspondent that:
"Supporters of the extreme right are mainly concerned about a widening migrants and ethnic diversity. In this they see a threat to their national identity, their values ​​and culture. In other words, the reason is not only in crisis and its associated deprivations ".
Searches of alleged neo-fascists were carried out the next day after the arrest of musician Varg (Christian) Vikernes in France. Of this
famous black metalhead
the police suspected of preparing terrorist attack motivated by ethnic hatred.
As passed in July 18
"Vesti"
With reference to ITAR-TASS, the ideologue of the neo-paganism of Varg Vikernes in France was released.
16 July forty Vikernes was arrested together with his wife, 25-year old Frenchwoman Marie Kas, in the town of Salon-la-Tour in southern France. There are a couple and their three children have lived the last few years. Law enforcement authorities suspected the Norwegian of "preparing for a large-scale terrorist act" on the basis of national hatred.
The police searched the house Vikernes. Guards found there five units of long-barreled firearms
weapons
In particular, several carbines of the 22 caliber (they were acquired legally).
The detainee declared support for the manifesto of his compatriot Breivik. Police suspicions were also caused by anti-Semitic and xenophobic publications that Vikernes posted on the Internet.
In his youth, Varg Vikernes participated in an anti-Christian group suspected of arson by Norwegian churches. In the 1993 year Varg killed guitarist black metal band «Mayhem» Euronymous (Øystein Aarseth), for which he served 16 years in prison.
During interrogations, investigators failed to confirm that Vikernes was carrying any terrorist plans, so he was released. Released and his wife.
This does not mean that French justice of the Shrew Norwegian retreat. It is possible that it sued for intolerant statements on the Internet. He will have to appear before the Correctional Court of Paris in connection with the "incitement to racial hatred," Vesti notes. The relevant article provides for imprisonment for up to five years and a fine of 45 thousand euros.
With regard to support Vikernes Breivik's ideas, it is not entirely accurate.
The journalist of the Norwegian edition of the Verdens Gang Ole Christian-Strom in an interview with a correspondent
"MK"
Renat Abdullin told that Vikernes - one of the 1003 people who have received an email from the manifesto of Breivik's July 22 2011 years. Yes, he spoke positively about this text, but noted that Breivik was wrong.
Vikernes believes in the "invasion" of Muslims in Europe blame Jews. Last year, in an interview, he suggested, recalls Christian-Strom, that Breivik himself is a Jew. In addition, Vikernes wrote in a blog that he understands the terror Breivik, but criticized him for murder, "Breivik killed more Norwegians than Muslims in Norway in recent years 40."
According to experts, Vikernes is a traditional neo-Nazi, and Breivik is an anti-jihadist. Varg Vikernes focused on Norse and Scandinavian mythology and sees Christianity as part of Jewish "corruption."
If in France - Norwegian Vikernes, Germany - "werewolves" in the Swedish countryside - black newcomers who speak languages ​​42.
Ekaterina Zorina (
"Vesti"
) Talked about life in the Swedish village of Strauss, where it is law-abiding Europeans admit they are tired of the endless flow of migrants and feel at home by strangers.
Here is Mohammed from Ghana, and here is his friend from the Gambia. From Sweden, they are waiting for: a) a residence permit; b) social benefits. Young people are indignant: "They pay too little allowance! Two weeks does not pass, as the money runs out. "
250 euros per month to these guys is not enough. Mohammed does not work, he has no documents, he came illegally on a ferry from Africa to Italy, from there he reached Stockholm. Sweden, in his opinion, is a solid village. How did he get to Strauss?
It turns out that in the last century iron ore was mined in this area, and then production was closed, and apartments in high-rise buildings were deserted. Authorities surrendered rooms to the migration service. The village has become almost a camp for illegal immigrants. Places like this village in Sweden a lot.
Swedish retirees note that they didn't get along well with the characters. Migrants steal idle. In the end, there are simply too many of them: for the three hundred local people of Strauss, there are a hundred visitors speaking, among other things, in 42 languages.
Mohammed and others like him, eager for the big city. The outskirts of Stockholm are inhabited by immigrants from the East. Muslims in Stockholm - a quarter of all residents, said E. Zorin.
In conclusion, back to the "Werewolf Commando."
According to the German newspaper
"Bild"
, the federal prosecutor in Karlsruhe said that the right-wing extremist group was aimed at eliminating the political system of the Federal Republic of Germany. There was a suspicion that the participants wanted to achieve the goal by terrorist means - apparently, on the model of the so-called "werewolves" - the Nazis who were partisans behind enemy lines during the Second World War. The name of the group was borrowed from the organization "Werewolf", created on the initiative of Heinrich Himmler in November 1944. "Decisive" men and women were supposed to wage guerrilla warfare behind enemy lines, killing "traitors."
During police raids around offices, apartments and prison cells, written documents and computers were seized. Currently the data are being studied. The raid was preceded by many months of secret investigation.
According to Spiegel, the two detained Swiss right-wing extremists are most likely the leaders of the group. One of them, 25-year-old Sebastian H. was arrested in Hamburg last year - shortly after he allegedly shot and killed in May 2012 years in a young man Zurich. The Swiss prison cell was just this man and his comrade Robert S. (54), and was searched by the police.
The dissatisfaction of citizens of different countries of Europe with the migration policy of the authorities and the political system of the European Union that came into crisis demonstrates a stable "dissimilarity of the characters" of visiting refugees, legal and illegal, and local residents. All this will continue to determine, if not the emergence of new Breiviks, then additional work for the police and special services - at least in the form of long-term surveillance of potential "werewolves". By the way, against the background of the migration crisis in the EU, the initiative of Australia looks timely, where Prime Minister Kevin Rudd said that labor migrants and refugees will no longer receive shelter in the country. Instead, they will be sent to the island of Manus - to the Papuans.
Observed and translated by Oleg Chuvakin
- especially for topwar.ru