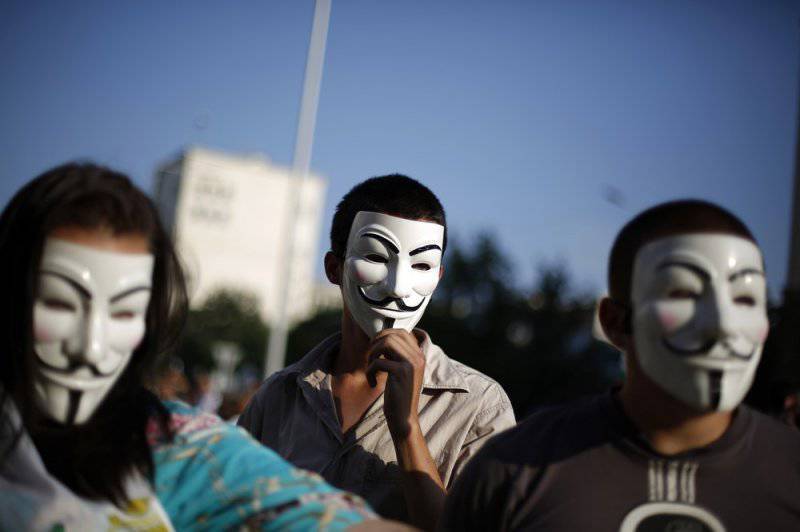 Recently, in the so-called. publications appeared in the liberal media, the essence of which comes down to accusing the Russian middle class of being insufficiently radical and not ready to make revolutions. Here, under the eloquent headline "
Contrary to trends
"The author writes that while in the whole world the middle class is entering the square to overthrow dictators, the Russian" disgruntled townspeople "do not do that:" The almost complete absence of mentions of Russia in numerous publications of reports and articles on today's global uprising of the middle class and trend predictions can be explained by the fact that either the researchers do not see any middle class in our country, or they consider it just sleeping. "
The author shames the target audience - here, they say, corruption, and alienation from the ruling political elite, and the "clan-capitalist" regime, in which economic opportunities largely depend on political connections, and "voiced already intentions to cancel the flat scale" (which supposedly lead to the destruction of the middle class - despite the fact that in all European countries, where the middle class and the truth lived until recently in a socially-oriented state, the scale is sharply progressive, which is considered the key to prosperity and social guarantees) - in a word, all the conditions are available, but there is still no Tahrir Square on Manezhnaya. "But so far the threat of a real drop in the incomes of the middle class has not become fatal, and corruption, alienation from elites, and the like do not cause any special allergies. In a word, the Russian middle class can afford to continue a political dream, "this author appeals to them with reproach.
But the apotheosis was, undoubtedly, the interview of Aleksey Navalny to the Afisha magazine, which will be released on July 26, but has already been published on the Internet. Under the heading "Guys, you made it so that I'm alone." Yury Saprykin, chief editor of Afisha, who is arguing on behalf of ordinary hipsters, is talking to Navalny. And he says things are very interesting.
That for people dissatisfied with power is often a closer position "step aside", rather than an active revolutionary struggle: "It's as if I owe something to people who are imprisoned, or even my conscience, and I haven't done so." That, in principle, even in power, there seems to be officials who do something useful for the urban infrastructure. That there are people who simply are not up to the revolution: "Burgers and shops are a very narrow layer of our facebook friends. They can really choose - to engage in shops or to engage in politics. But behind them there is a giant layer of people who are mired in everyday problems, who earn their bread with great difficulty. And when, suddenly having reached out to him, we yell: "Guys, what are you doing there garbage? Well, quickly print a newspaper ", it does not cause them anything but irritation." And the main thing - asks Navalny about responsibility. "Because we went to the Swamp and came again, several dozen people are now rolling for a long time. Here one percent looks at it and thinks: "But exactly the next time you need to go to court? And will not be worse? Not to me worse, but to the one who is in court. " And that some even prefer to emigrate if they don't like everything at all.
Bulk responds to this in the sense that everyone is a coward. "What have you got your hands down? Where are you, show me the weights on your legs? Where are your shackles? "" No one has the right to say now: "I have such a bad life, I have three children, I take care of my grandmothers, so I don't care about politics." "The typical cowardice that everyone is trying to wrap into the design of some rational reflection on utility or harm," "to say that everyone who goes to the rally is in danger, not. We came up with some kind of nonsense: we will all be beaten and imprisoned. Kill and plant all impossible. " And calls feasible to participate.
About the "kill and put", by the way, I want to make just such a remark. Recently, Forbes magazine columnist Mark Adomanis wrote an article "Forgotten punitive action: everyone forgot that Yeltsin shot his opponents
tanks
and artillery, "in which he notes that the hysteria of the Western media about the brutality of the totalitarian Russian government looks a little strange, given that in general it is Yeltsin, not Putin shot at his people.
And Mr. Adomanis once analyzed Russian statistics of population incomes and wrote to Forbes that "the Russian middle class is not something you can think of," and explained that you should not confuse the notion of "middle class" with a social group, rather relating to its upper, high-income part, or urban representatives of the "creative class" and bohemians, who are opposition-minded.
Statistics of Rosstat is very simple - only 1000% of the population in Russia have income per person in a family of more than 10 euros per month. Including all oligarchs, businessmen and simply well-paid specialists in megalopolises. Obviously, the real middle class in Russia, and not in Moscow, is somewhat different people. Otherwise, there are quite surprising maxims that the middle class in Russia is 10%. And the remaining 90% are recorded as poor, while more than half of them live far from poverty. Having an income from 500 to 1000 euros per person in the family, which allows in the regions to lead, if not elegant, but quite ordinary philistine life, with shopping in supermarkets, vacations and even a car. And those in Russia are not 10% at all, but 40%.
And, as shown by opinion polls in the regions, the population is more concerned with economic instability, poverty, rising prices, and housing and utilities problems. Naturally, corruption. But not the idea of ​​political protests. This, for example, is mentioned even in the recent report of the Center for Strategic Research to the Civil Initiatives Committee, not loyal to the authorities - yes, people are ready in the regions for protest actions - but for economic reasons. As events of the last weeks have shown, also by ethnic ones. The report says the growth in demand for democracy in the regions. But what is meant by this?
To understand, you can pay attention to another recently published report - the Institute of Sociology of the Russian Academy of Sciences presented the most extensive study of poverty in Russia in the last 20 years. There are many poor people - a quarter of the population. These people consider modern Russia to be unjust, divided into rich and poor, those who have nothing, and those who can do anything.
At the same time, this is what the authors of the study say about the attitude of the poor towards the authorities: "With all the urgency of the experiences, Russians, balancing on the edge of poverty, do not express a desire to change something by their efforts" to the ground, and then ... ". They crave not change, but stability (almost three-quarters of them said so - 71%). There are even fewer supporters of change among the poor than the national average. " "The main thing that poor Russians want is for the state to base its policy on the principle of" common good ", so that people have equal chances and opportunities, and" social elevators "will not get stuck between floors." "Russians trust the president of the country, although they express quite a few critical comments to the authorities - especially about corruption and the work of law enforcement agencies. But even among the poor, 63% support the current government, although they assess the situation in the economy and the social sphere with a minus sign. "
The conclusion here is very simple. The real middle class and not rich Russians really make a request for change - they are waiting for the authorities to tackle pressing issues. Even in a wealthy middle-class megalopolis that does not love power, there is no desire to take part in radical protest rallies, when it is not ribbons that are supposed to be, but fights with the police, blood, arrests and other attributes of real, but not facebook revolutions. Although this social group is not very nice for conservative patriots, it is not necessary to demonize it either. Not loving power, criticizing it, supporting liberal parties, advocating for their values ​​or even emigrating, since it's absolutely unbearable to continue living here - anyone has a right to do so.
But this, as we see, for those who "blame" citizens for not being ready to go to the barricades, is not enough. There is little criticism, little intellectual discontent, and even peaceful rallies too little. Only irrational hatred is needed. Which they will warm up by any means in society so that, with all the mantras about peaceful protest - if you are lucky - transform it into real violence. However, this is not at all a new method, and not at all Navalny, and not even Gene Sharp invented it. Walter Lippmann, the propaganda and PR grandfather, wrote back in 1927: "You need to influence the crowd, reinforcing your feelings. Narrow down the choice to several options. Separate ideas from emotional symbols. "
In a word, "Vote with your heart!". 2.0 version ...
PS Viktor Marakhovsky
I would like to add a few words to what my colleague said. We have repeatedly written that by itself the concept of "middle class" has no independent content - that is, in different countries at different times can mean anything. From "those who have property, education and savings" to "those who have a roof over their heads, daily food and work." And even "those who use the most modern gadgets and are aware of the main trends." That is, the "middle class" is a vagrant trademark, pasted either spontaneously or arbitrarily onto different groups of citizens.
It is because of its vagueness and vagueness that the "middle class" seems to be in such persistent demand from various political consultants. To manage a real social group that really exists and has common interests can only be within the narrow confines of these very interests: such a group inevitably realizes what it needs. And, as a result, any "recruitment" of political technologists does not affect it.
The creation of a social simulacrum group, made from scratch on a knee, allows you to organize something like a pseudo-religious community: its members will believe that they belong to a special circle, simply by accepting a number of dogmas. Accordingly, it will be possible to impose "class interests" on them without encountering special resistance - if a person agrees to consider himself part of a community that does not exist in reality, then he will not be aware of a common interest, but it will not be known by hearsay.
The fact that in Russia this simulation is not going well yet, says that the majority of citizens still prefer to solve their problems and tasks in reality. Anyway, bye.