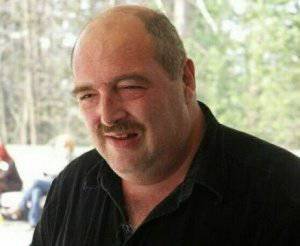 "The power in Russia must be strong! Ideology - monolithic! This is not a joke and not a thing for banter. It is a question of the survival of our people and each of us individually. It's time for us to remember it very well and pass it on to school books in future generations ... "
The given reasonings, in my opinion, are reasonable, correct and exact. I can only recommend them to everyone who wishes to familiarize themselves with them. Some dissonance is caused only by exclamation marks in moralite. To what they where there are enough points. Calmly, without exaltation, for an axiom: the power in Russia must be strong, and the ideology must be monolithic. Rather, the ideology should be monolithic, and with such an option for a strong power, be calm, it will not matter. The problem, however, is that there is no ideology today at a quite official level ...
In fact, the state is always ideological. Even if formally declares the opposite. Another thing is that loud ideologies like "Freedom, Equality, Brotherhood", "God is with us" or "We will destroy the whole world of violence!" Being irrational in fact, giving society a powerful impulse, are erased in the second generation and completely disappear in the third, having turned into a duty set of slogans - and then, in the dry residue, the main thing for which an ordinary person lives on ordinary ground falls out.
And, it would seem, ideally grounded "Get Rich", with samovars and canaries in every home, suitable for all ordinary people, this again turns out to be impossible. For it is also impossible to get rich so that no one with a guarantee leaves the offended, and to correct this injustice under the slogan "Take it away and divide!" Means only to launch a barrel organ in a new way.
Here, perhaps, it would be necessary to slow down and disassemble each of these ideologies by bone, showing and proving its irrationality. But I will not. It will take a lot of time, even though, in fact, it is not necessary: ​​I count on people who are sufficiently trained not to chew on something that has already been chewed. We state the fact: the trouble of the Russian Federation is precisely in the absence of an idea for which it lives at all.
T. n. "Liberal values" no longer work. The notorious "Get Rich!", Which gave the opportunity to ruin the Union, are already embarrassed to say it out loud; Those lucky are enriched secretly, pretending that they do not see the reaction of those who are not lucky and no longer lucky, and who are not at all sorry for the power, where they will never get rich.
And "God is with us!" Does not turn on the masses either. Attempts are evident, but they do not give any effect, for the simple reason that the official speakers of God's word fit perfectly into the existing paradigm.
And "To destroy the whole world of violence" also — at least, in a mass order — no one breaks, for once the proletariat had nothing to lose except its chains, and now there is very much to lose, but for the sake of what it is not known and losing in order to come down new flies, meaningless.
And "Freedom! Equality! Brotherhood! "Aka" You give democracy "also, if anyone is lit, then perhaps a very successful" minority "about itself; all the rest - not with the mind, so with a bum-ass - recoil, subconsciously realizing that, in fact, the same "Enrich yourself!" is offered, only in a different wrapper.
Already I hear: what about the "Nation above all"?
Did not forget. I will definitely tell you.
There is such a card in the deck. The last trump card that is thrown when it is already completely seams. By "nation" it is not a political community, but "blood relationship". That is, the unity of totems, tattoos, taboos and tomtoms, bequeathed by the First-Fore-Wolf. Or Crocodile. Or some other representative of the fauna.
This is, I repeat, the most extreme case. The fullest, more abruptly than the previous varieties, is irrationalism, densely mixed in primitive mysticism and suggesting the search for, and then the elimination of the enemy with a different First-ancestor, who is to blame for all troubles.
Here, the calculation is on a stupid mass, on youngsters and on offended, dissatisfied with what they see, but do not understand the reasons and searching for simple solutions in convulsions. And the consequences are consistent. Just because, even if we succeed in cleaning out all the "alien Tutsis" at the root, it will soon become obvious that the problems have not gone away, and "their Hutus" are also enriched by the Hutus who have not been lucky. Without any amendments to the Call of Blood.
And what remains?
What is to build the very, damn, ideology, without which nothing?
The answer, in my opinion, is.
He may be wrong, but I do not think so.
Remember the triad: "For God, the King and the Fatherland!"
Throwing away all the superficial, the "God" of this formula is a certain Higher Justice. That is, when all is not perfect, but at least not bad. The "king" of this formula is a certain guarantor of Higher Justice specifically here and now. And "Fatherland" is a common, one for all, sum of this justice, implemented in practice. That for which it makes sense to live, and if necessary - that is, if someone takes away - to die with
weapons
in hand.
If we proceed from this, everything is extremely simple.
There was a country that tried to live "in the manner of God", taking into account the interests of all who inhabited it. If the "Tsar" made failures, it was changed, and the new "Tsar" put the system in order.
And then there was a collapse. The single economy was torn apart, in certain areas they put the supervisors with evil dogs, they turned all the others from co-owners into powerless laborers - and everyone, except supervisors and dogs, is bad.
Proceeding from this, the only option to fix everything remains to return your own. Not an inch of a stranger, but his - to the drop. In order to use their ports and pipes again, without paying for transit, so that their relatives in a single moment became more on 25-30 millions and didn't have to complain about the dominance of the "distant relatives" in order ... so that ... damn it!
This is certainly not an option for everyone. Here and the fork, and even an ax under the bench a little. But with a big gun that evil neighbors are afraid of, you can try. Winning is not guaranteed, but loss is not guaranteed. And - yes! - if only there was no war. War is the worst. But wars are different, and external war does not always go into a hot phase, but it is more terrible than internal war, which Russia is now trying to impose on the outside, from nowhere, there is nothing at all.
That's all. Who does not understand, I will not chew.