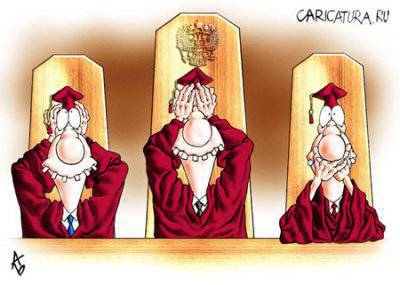 The declared fight against corruption in Russia is gaining momentum. Yesterday, in most cases, the citizens of the country did not know about the transactions of a corruption nature in the bureaucratic environment; today, numerous corruption facts surface. Naturally, the people are eager for instant reprisals against those who have a hand in state property, often not completely trusting the Russian judicial system. Many believe that quality
legal services
It turns out only to those who are convicted of power or have a large sum of money on their accounts to pay for the expensive work of lawyers. However, only those citizens who are completely unfamiliar with the legal system, and all
news
got used to getting about it exclusively from "hot" tapes, often representing exceptional negative.
The fact that the legal field of Russia over the past 15-20 years has developed quite substantially can only be denied by an amateur. In recent years, jury trials have appeared, which some time ago could have been generally considered something fantastic. There are numerous legal associations that aim to prevent corruption in the country. It is impossible to say that the Russian judicial system has become ideal, but the fact that it is becoming more and more modernized every year cannot be denied.
So why do Russians so often talk about lawlessness in the courts and during the investigation? What is the modernization then, if real terms can get innocent people, and the perpetrators are able to easily get away from justice? It's all about publicity. With the development of mass media, citizens of the country have the opportunity to follow the trials and their consequences. A society in real time can follow the course of a trial, and if a court decision does not correspond to the civil attitude of a certain part of the population, then there is a rejection not only of the court decision itself, but also of the work of the entire judicial system. This is a completely normal psychological phenomenon. Not every person is ready to separate the concepts of "separate process" and "judicial system", which does not allow to fully appreciate the trends that are observed today in the legal field of Russia.