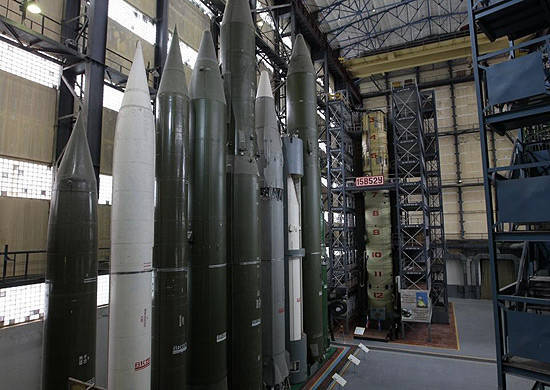 July 21 1965, according to the results of the third stage of the flight tests of the Strategic Missile Forces, adopted a two-stage rocket R-9А with a range of up to 12 500 km. The rocket was developed by Sergey Pavlovich Korolev Design Bureau and equipped with a 5 megaton single-block nuclear warhead.
The rocket weight at the start was 80,4 tons. The high-precision radio system for controlling the flight range and lateral movement of the center of mass provided for prediction of the point of incidence of the head section and its deviation from the target. The missile could be launched from both ground and mine ("Dvina" - the first sample of a secure silo) launch positions with grouped launchers.
For the first time in domestic systems, the missile test equipment could produce automatic control of most of the parameters of the control system. For the first time, it was decided to use supercooled liquid oxygen as an oxidizer in the rocket, which made it possible to reduce the total preparation time of the rocket for launch and to increase its combat readiness.
Also in its design was first used developed by the scientific school of Professor B.I. Nazarov (Dzerzhinsky Military Academy) the principle of forced acceleration of gyroscopes, which made it possible to significantly reduce the preparation time of the missile control system for launch.
To ensure the sustainability of the rocket flight, angular velocity sensors were first used in the angular stabilization system.
The chairman of the State Testing Committee of the complex was Lieutenant-General A.I. Semenov. By adopting the P-9A rocket, the first generation of strategic missile systems was completed. A characteristic feature of this generation was the ability to solve strategic tasks in continental (European, Middle Eastern and other) and intercontinental (overseas) theaters of military operations.
According to open sources, the maximum number of missiles that were in service with the RVSN was 29. The last P-9A complex was decommissioned in 1976 year.