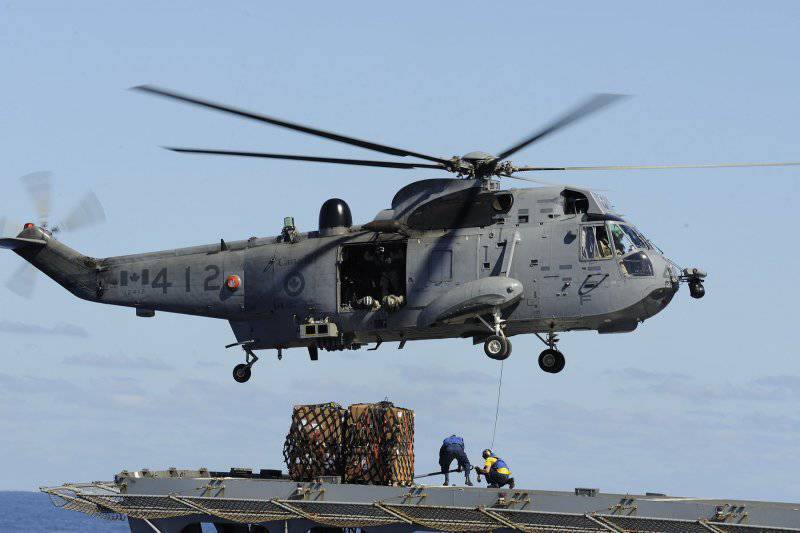 The Canadian Air Force temporarily suspended the fleet of multi-purpose and anti-submarine helicopters "Sikorsky" SH-3A "Sea King" (CH-124A / B in Canada). This was reported by the Office of National Defense. The suspension of helicopter operations was caused by an incident that took place on July 15 with one of the CH-124 helicopters after landing in Shearwater near Halifax. After landing of the helicopter in the area of ​​the station refueling after the execution of the training flight, the tail boom of the machine lifted upwards, which led to the impact of the rotor blades with the ground.
None of the four crew members, as well as technical personnel on the ground, was injured in the helicopter crash, although fragments of the propeller rotor blades scattered over damaged nearby buildings.
All Sea King 26 helicopters in the multi-purpose CH-124A (U) and PLO CH-124A / B versions used by the Canadian Air Force are temporarily prohibited from taking off until the end of the investigation into the causes of the incident.
The CH-124 helicopters are operated by the Canadian Air Force, but are based on naval frigates. The service life of these rotary-winged machines has reached almost 50 years and since 2009, they must be replaced by Sikorsky S-92 (CH-148) Cyclone (Cyclone) helicopters. However, the entry into service of these machines is delayed, since problems have arisen both with the development of onboard equipment for solving problems of antisubmarine defense and monitoring of the surface situation, and with the integration of software and hardware.