Publication of my article "What does not warn the Ministry of Health"Caused a great resonance: reposts, letters, calls ... It turns out that the topic of abortions worries many of our fellow citizens, most of those who responded fully support the initiation of a legislative ban on this essentially child-murder. The most active opponents of abortion are young people, which, I confess, surprised me. This instills hope that in our country everything is not as terrible as our geopolitical enemies try to instill in our offensive large-scale information war. Young is our future. And the triumph of common sense and the desire of the nation for self-preservation is our salvation!




Margarita Podgorodova examined the problem of abortion from a slightly different angle, namely, from the position of a killer doctor, who, like the executioner, revels in her bloody work and, perhaps without realizing it, turns into a serial maniac from medicine. At a time when he kills unborn babies, his soul inevitably dies ...
This material, which was sent by Margaret, we place today. I am interested in your opinion, to condemn or still regret abortmakherov and whether you agree with the author of the article in his answer to the question: do these doctors have the right to be called a doctor?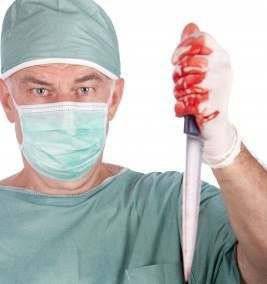 In this article, we raise a very relevant topic, the topic of safety of medical institutions. Agree, it concerns absolutely everyone. First, let's fantasize a bit. Here, imagine, you live in medieval times, suppose, 13 th century. How would you feel if you had to remove a tooth from ... an inquisitor's executioner? No, no, he would not torture and burn you at the stake, he would simply remove your aching tooth. But how will he do it if he's used to killing? Tell me frankly, would you go to him? The author of this article, clearly, would not go.
And now we will return to our realities. Unfortunately, even today, the aforesaid situation has not changed, just few people make such comparisons. In the vast majority of gynecological departments of maternity hospitals, antenatal clinics, multi-disciplinary private and municipal clinics, in addition to providing treatment and obstetric aid, abortions are practiced, that is, artificially terminating a pregnancy for up to 12 weeks of pregnancy, which is possible for medical or social reasons and for later . And, if you translate all this into Russian without medical cunning, then infanticide is performed in gynecological departments, for up to 12 weeks of pregnancy, which is possible for medical or social reasons and at a later date. Let us call a spade a spade, without blinking like blind kittens. Of course, not all patients go to hospitals and private clinics to have an abortion. Not at all! After all, these institutions offer a full range of gynecology treatment services, just like the executioner we represented above. Do you agree? And the author also agrees, And maybe even worse. After all, the executioner didn't hide his "craft," unlike modern doctors, hiding behind crafty terminology, representing abortion, as an ordinary medical operation.
There is another point in this problem, which is very little talked about. The fact is that a doctor practicing abortions is no longer a doctor, because a doctor, by definition, is called upon to save a life and heal a person, to restore his health. And the doctor who performs abortions performs exactly the opposite actions. He is ruining the life of one person and crippling the health of another (after all, today everyone knows how harmful an abortion affects a woman's health). His personality is destroyed, degraded. No matter how he deceives himself by suggesting to himself and others that he "helps women", by making abortions, he cannot stop this terrible process. Once having broken the line of moral prohibition to kill, he becomes a different person, a person capable of cruelty, of breaking the law.
And, by no means, you should not think that the doctor who performs abortions does not know what he is doing. No, it is not. He has no ignorance that could to some extent relieve him from responsibility.
He understands what he is doing. After all, who, no matter how doctors know that human life begins at the moment of conception.
Moreover, talking with abortions, observing their behavior, comes the understanding that many of them are experiencing real pleasure, a kind of euphoria, from an abortion procedure. Let us turn to the article by Yulia Sysoeva, in which she talks about the following case:
"Once I watched a terrible scene in the abortion clinic. The gynecologist did a late-term salt abortion. Puncturing the fetal bladder and lowering the amniotic fluid, she began to fill the uterus with saline solution, which was supposed to cause artificial preterm labor. At such a period of movement of the child is already clearly fixed with the naked eye. When saline was allowed into the uterus, the child being killed was swept so that his mother's stomach ... jumped and walked with a shake. The doctor, seeing this, voluptuously smirked, saying literally the following: "Look, it feels like he is being killed as he jumped, but nothing left for him for a long time to jump." At the same time, her face expressed such euphoria, which even if desired, cannot be hidden. Her face was written unearthly pleasure "
, - that this, no matter how real pleasure from the killing. The delight of a sadistic maniac who, simply, can no longer kill. By the way, it is known that the Inquisition executioners also received unspeakable pleasure from what they did. This can be read in the documentary.
historical
literature.
It is also interesting to consider the fact that doctors who have done more than ten abortions in a shift do not get tired of their "work" at all, but, on the contrary, are experiencing a surge of strength and good mood. But when the same doctors came to take delivery, their faces had such an expression, as if they were forced to do unbearable hard labor.
Doctors who do abortions really start loving their work in abortion clinics and hating childbirth. And again we refer to a quote from an article by Yulia Sysoeva: "Once I had a chance to talk with a gynecologist, who, having come to faith, repented of her sins. Here is what she told me:
"I loved to do abortions. At first, I did not fully understand why I love it. It seemed to me that I love medicine and this is my vocation. I was engaged not only in abortions, I also treated women: I removed fibroids, cysts, did a cesarean section, stopped uterine bleeding and saved life. But, working in gynecology, I caught myself thinking that I love to do abortions most of all. I felt like I was resting on them, as if I was gaining strength. "
. Although, according to this doctor himself, she understood perfectly well that abortion is murder. She drowned out the voice of conscience with various arguments usually advocated by abortionists.
There is a process of complete destruction of the morality of such a doctor. But you just have to cross this line once ... And then the human psyche adapts and adapts to the realities of his life. Especially when colleagues are doing the same. Thus, gradually what obviously criminally becomes quite acceptable for such a doctor. Who knows what crimes such a person would be capable of. And in what circumstances? An example is the real story from Andrei Malakhov's program "Let They Talk," in which the conversation was about a doctor who practices abortion, who knocked a person to death. The emphasis in the transfer was placed on the perpetrator's attitude to the crime - this attitude was cynical and indifferent.
Think about whether you want to seek help from such a "doctor"? For real help, of course. But the doctor works in a particular medical institution. And we see that the clinic, a practitioner of abortion, as a rule, is capable of deceiving its patients (after all, not a single woman, with rare exceptions, will agree to have an abortion if she receives all the information about him, and doctors simply keep silent about such information ), and in violation of the laws of the country.
Not to be unfounded, we present the following facts. It will be about the well-known, offering its patients various types of abortion, a clinic of a wide profile in the Republic of Tatarstan "Alan Clinics".
So, in the summer of 2012, on the eve of the next picket "Alan Clinic" by activists of the public movement, a person who called himself the director of the clinic contacted the organizer of the picket. In the conversation, he was very requested to cancel the picket. Moreover, having learned that the only reason for the picket is abortion, which is practiced by Alan Clinics, he promised to curtail abortion surgery at the clinic.
But! The clinic not only did not stop abortions, but also placed an advertisement for abortion in the Kazan metro station, which is prohibited by law. Activists of the struggle for life movement immediately took action. Here is one of them: "An application has been submitted to the FAS and the answer has already been received about the commencement of the administrative investigation. There is an experience of interaction with the FAS, as a result of which the activity of one abortion is already suspended ... ". This refers to the abortion clinic of the city of Kazan on Chistopolskaya Street called "Medical Center for Surgical Cosmetology and Rehabilitation". This center also advertised abortion services in ways prohibited by law. After receiving a response from the FAS "Medical Center for Surgical Cosmetology and Rehabilitation", located along Chistopolskaya Street, it was closed "for repair". Medical center "Alan Clinic" faces a fine of up to 4 million rubles.
And, at the end of this article, we return to its main topic. I remember the well-known law of the market, which says that demand creates supply. There will be no demand for the services of the executioner - there will be no executioner.
And there is an alternative! Refusal of services of unprincipled doctors does not mean refusal of qualified medical care.