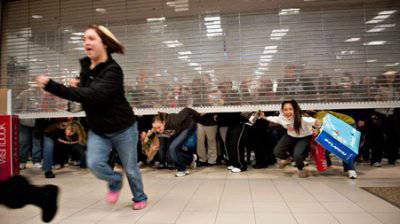 "And you know my modest demands: a piece of bread, a clean collar, what else does a person need?"
Arthur Conan Doyle about Sherlock Holmes
Stanislav Lem has a wonderful, perhaps even the best, his novel "Return from the Stars". The plot is simple - astronaut Al Bragg flies home, to his native Earth, and sees a strange society formed during the time he performed his mission. More precisely, it was for him, in the conditions of space, that just ten years went by. The earth has overcome more than a century of way. And what does Bragg see? A society without wars, without passions and even without suffering. No risk. Without meaning. But in this world there is everything for maximum comfort of a person, up to the "obedient" furniture, which reads the desires of the owner. And, of course, no one here seeks anywhere, it does not break - for example, earthlings long ago proved that flights to space are meaningless and costly. "Do not fly - and never will fly. Om-Nom-nom. One huge yum-yum, "says one of Bragg's former associates. I will not retell why all this happened - in this case the reason is not as important as the overwhelming result. At one time, that year in 1987, without knowing the content of the novel, I read a curious phrase. I cannot vouch for the accuracy of the quotation, but the meaning was: "The world of Lemov's 'Return ...' is a dystopia that depicts the dead end of civilization. This world is the antipode of communism. "
Then, at the dawn of Perestroika, everyone was amicably looking for the so-called "socialism with a human face", so the term "communism" still did not look like an abusive word in reviews of youth publications. So. The author of that article gave a completely correct definition - a dead end. But comfortable. Do not fly, do not create, do not risk. But chew. All work, including surgery, is performed by robots. And people just live - they eat, they travel, they make love, they bathe in the pools, they dance. Communism, however, was presented to us as an epoch of creation and constant advancement to new, beautiful goals. The meaning of communism was not at all in the fact that everyone would have three cars and one hundred pairs of shoes, but the fact that a person would be at the highest level of social and spiritual development. He will want to fly exactly! Moreover, this desire will become so natural that it is meaningless to discuss or explain. And the world painted by Lem is, just, the triumph of consumption, the triumph of the huge "yum-yum". But then - a novel, fantasy, fiction, and what we have in life?
... A fifteen-year-old schoolgirl made her parents hysterical - she urgently needed a new version of the iPad. "With such junk, like me, only fuckers go!", - the girl screamed hysterically, and with such a calculation that her neighbors could hear her in the dacha. But it would be okay if only teenagers behaved this way, constantly checking their personal style with the latest fashion trends. All the same thing is happening in the heads of older, sometimes even aged uncles and aunts. Yes, they do not howl and do not roll on the floor in the event of a new trend, but simply take a loan, tighten their belts more tightly (good, in fashion is slim) and - get a second job. A consumer society is a tricky model. We do not need an elementary mobile phone to call, namely - the last generation thing. We like not just a fashionable and beautiful skirt, but from a new collection of a certain brand. If you can not buy a "native" thing, then you can at least touch the legend! Fortunately, in underground passages and in the markets, you can buy any handbag with letters 'Louis Vuitton' for a couple of thousand. Rubles. The consumer society does not work according to the classical scheme of capitalism to which we are accustomed, studying the economy: "Demand creates supply." Nothing like this. It is an active, sometimes ingratiating, sometimes aggressive supply creates a response demand. A person must constantly be in nervous tension, afraid to fall behind the trends. And they change very quickly.
Relatives of my girlfriend do repairs about once every three years. They believe that "living in old stuff is not respecting yourself," so their whole existence turned out to be subordinated to the permanent search for new toilet bowls, super modern mixers, parquet floors, curtains, sofas, ottomans ... At the same time, people get into considerable debt, live long at home, suffer significant inconvenience. But once they see a new issue of a magazine dedicated to interior design, their eyes light up eagerly, and I want to change everything again, update, throw away the disgusting "old stuff". Well, it is very modern. The favorites of the season have time to become obsolete long before the thing is boring, annoying the owner himself. Moreover, for each category there are their own brands, their own brands - there is no possibility to buy a dress from Chanel, and does a fake insult the soul? And do not - there are lots of attractive and trendy models in cheap, but beautifully and stylishly furnished stores. Moreover, a person in the modern system needs a lot of excess. More precisely, we no longer perceive it as superfluous. It is read precisely as an urgent need.
The same luxury interior design magazines, in fact, are created so that people would like to remake their home in a modern style, according to the latest concepts. We are surrounded by massive advertising of the next gadget or, say, a new collection of bags. Basis - instinct, gregarious feeling, the desire to be at least as good. Vaska has a tablet and mine has a tablet. Although neither I nor Vaska, we do not know how to use them! Svetka has a Furla handbag and I have a Furla handbag. She has a fake and I have a fake. But we will not tell anyone, and seemingly no difference. Self-presentation in modern society is, so to speak, the most important of the arts. In a consumer society, you are what you can get. Favorite formula: "If you are so smart, then why are you so poor?". In the cult novel by Tom Wolfe "The Fires of Ambition", the main character - a typical American yuppie considers himself no less than the Lord of the Universe. Because he has everything and even a little more.
Excellent, fine, my applause, yes there is one sadness. I'm not saying that any successful yuppie, like the hero Tom Wolfe, can suddenly be at the very bottom of life. This is not the worst thing - you can get out of any pit, there would be a desire. Sadness is different and it is called depression. Of course, she was always, moreover, she amazed rich and blase handsome men, like Eugene of our Onegin. Spleen, blues and other "... the hunt for changing places." Then it was all treated by service, marriage, or, at worst, by joining the Carbonari detachment. Now depression is called the "scourge of the post-industrial era", "the sickness of a well-fed society" and even the "AIDS of the soul". It is easy to get infected, it is almost impossible to heal. By and large, the "unreasonable" depresnyak falls on a completely wealthy person who suddenly, for no apparent reason, finds himself in a dead end in life. As Boris Grebenshchikov sang, it is true, somewhat differently: "Their children are crazy about the fact that they have nothing more to want."
In the risk group - economically developed countries. People since childhood, aimed at a successful career, by the age of thirty or forty come to ... the realization of their own worthlessness and helplessness. They are increasingly asking themselves the most cruel question in the world: "Why?". They no longer understand what the point is in new appointments, in salary increases, in regular purchases. It simply ceases to please them and even - to cheer up. Yappi - these energetic, smart and efficient careerists, who know how to squeeze a million from any idea, suddenly begin to realize that all these career milestones are the road to nowhere. It is in the rich countries of the West that psychologists thrive on capital for the depressions of unhappy top managers, frustrated lawyers, and wretched bosses. The consumer society requires from a person not only work for the good of society and, moreover, not the realization of a childhood dream, but a certain brand-trend conformity.
This problem worries everyone and especially Americans. No wonder there are works from time to time, like the film (and the book of the same name) "Fight Club". Before us unfolds
история
a small but quite successful careerist, who, ultimately, begins a split consciousness. And his "second self" looks very symptomatic - a brutal, destructive destroyer. The authors want to show us that in the depths of a decent, respectable yappizma lies the devil of destruction, and destruction is the antithesis of creation. However, like most modern office work, devoid of constructive start.
It is simply the commission of certain actions, limited by law, contract and corporate ethics, for which the clerk receives a certain amount of money. The creative community proclaims the cult of Mondays, which, as is known, "begin on Saturday". Remember the Soviet 1960-e? This means the cult of interesting work that fascinates you completely. What is the Strugatsky brothers book? The fact that work is more interesting than rest. In a consuming society, the cult of Friday reigns - a day when you can finally spend, prokutit, waste honestly earned, not to say - the suffered money. Or so - all year to squirming on the hated, but monetary work, then to two weeks to lie on the expensive beach, two meters from some "stars" pop.
Modern society is also very familiar with the phenomenon of shopping-mania (and even - at its extreme stage - shopaholism). This is an unbridled passion for shopping, dependence on the very process of spending money. A shopaholic cannot calmly, without awe, pass by luminous display cases, past outlets. Sales with discounts act on him magically altogether - for a week of sales, the "sick" can leave all his money in the store, collect debts and then be surprised at his strange choice for a long time - most of the things acquired during the "discount fever" then end up in the garbage disposal. What's the matter? Why does a normal-looking woman buy herself a fourth red jacket and a fifth summer handbag? The fact is that the acquisition of any new thing increases a person's self-esteem. "I buy, therefore, I do not just exist, I am included in the social rhythm, I am not worse, but even better than many." Moreover, a person perceives a purchase as a symbol of the beginning of a new, interesting life, something like: "I'll definitely find my love in such and such a dress". However, all this turns out to be something like a soap bubble - after all, it is also incredibly beautiful, iridescent, light ... But in reality it is zilch.
It's the same with things - it turns out that the joy of owning them does not last very long, even if it was a long-planned, desired purchase, for which a person denied himself literally everything. Why does the consumer excitement, encouraged by society, turn into hard mania? Because a person needs more and more purchases in order to at least feel happy for a few hours or at least soothed. Fill the vacuum, increase self-esteem, feel the fragile illusion of novelty in your life - these are the inner, subconscious motives of a shopaholic. He needs not things, but sensations. Of course, he himself, for the time being, does not think that he is trying to fight with emptiness; he does not understand that all this looks like a mythological barrel of danaids, which cannot be filled. We need other methods and methods - from religion to reading good books. But to this man must come himself.
... Feudal society struggled with rampant consumption through regulatory acts. For example, the French monarch Louis XIII, known to all from the book "The Three Musketeers", issued edicts against luxury. The King of Prussia Frederick the Great forbade the importation of expensive foreign goods that ruin the wallets of his subjects. Russian Empress Catherine II signed a decree in 1782, demanding "not to use such things as
news
gives the price. " The meaning of all this: a nobleman should serve, and not spend money on the satisfaction of empty vanity. They also fought against material things in the USSR - the Soviet people were taught to think that consumption should be reasonable, and it was simply indecent and stupid to increase their significance with the help of "gear". The capitalist value system implies a completely different approach - the consumption and purchase of goods become a symbolic gesture, a "quality mark" of a person. Of course, no one forces us to do this by force. Tempting advertisements and glossy magazines are not laws that are binding.
Of course, it is very difficult - not to be included in the general pursuit of current trends, to work not where they pay more, but where your talents are revealed. It is very difficult to resist sophisticated and effective advertising. But no one except you can make a choice between the stars and the "huge yum-yum."