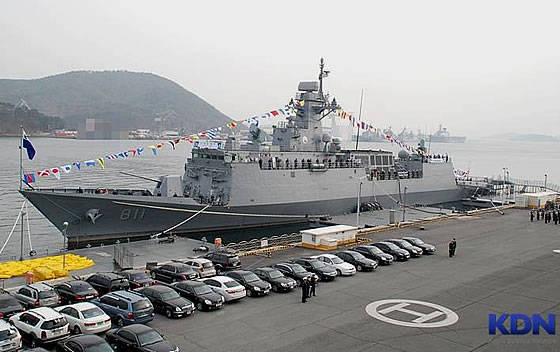 At the Hyundai Heavy Industries 18 shipyard in July, the second 2300-ton frigate of the FFX project, intended for the supply of the Korean Navy, was launched.
The launching ceremony was held at the company's Ulsan facility. The frigate was named Gienggy (Gyeonggi). As planned, it will be handed over to the Navy of Kazakhstan next year, and its combat use will begin in 2015, reports Renhap.
The head frigate series, the Incheon FFG-811, was handed over to the Korean Navy 18 this January during a ceremony held at the Jinhae naval base.
In the future, the FFX ships will replace the 9 of the Ulsan-class light frigates in the Navy of the Republic of Korea, delivered in 1980-1992, as well as the Dongha and Pohang class corvettes, which were adopted at the beginning of the 1980's yy
Hyundai Heavy Industries was selected as the contractor for the construction of the FFX main frigate in December 2008. The cost of the agreement was about 300 million dollars. At the end of 2010, a contract was signed with Hyundai for the construction of the second and third series of frigates. In 2011, the company STX Offshore and Shipbuilding was contracted to build the fourth and fifth Incheon class ships for the Navy.
By the end of 2015, the Republic of Korea Navy plans to build 6 or 7 frigates of the series. By 2020, the total number of FFX frigates should increase to 20 units. At the same time, 6 ships are planned to be built in the second batch and 7 - in the third.
The FFX frigate is a multipurpose combat ship equipped with advanced weapons systems that will allow it to be used for anti-aircraft, anti-submarine, anti-ship combat and reconnaissance in coastal zones. It has improved capabilities for providing air defense and anti-submarine combat, as well as increased firepower compared with Ulsan class frigates.
Displacement 114,3-meter frigate is 3250 tons. The ships are equipped with a combined power unit CODOG with two LM2500 turbines, two diesel engines and four sets of diesel generators. The maximum speed of the frigate is 30 knots (55,6 km / h), the crew is 120 people.
Frigate armed 127-mm gun mount Mk-45 Mod.4, PU Mk.49 GMLS with SAM RIM-116, ZAC "Phalanx" Blok.1B two quad units with anti medium-range missiles SSM-700K «High Seong" ( " Starfish ") and two 324-mm triple-tube torpedo tubes with K745 Blue Sharp torpedoes. Presumably, the frigate can also carry four cruise missiles "Cheon Ryong".
The equipment also includes a three-coordinate medium-range radar from LIG Nex 1, a fire control radar created in South Korea based on the Saos Ceros system, a TSB 3250 identification system of the friend-alien TSB 200 and GAS of the Thales company, an EBM SLQ system -XNUMX (V) Sonata.