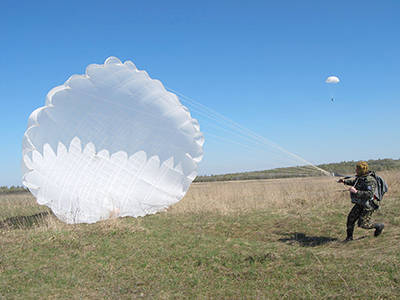 We are talking about the Ukrainian-American tactical exercises "Rapid Trident-2013", which recently took place in Yavoriv district of Lviv region - on the territory of Europe's largest military training ground of the International Center for Peacekeeping and Security of the Academy of Land Forces named after Hetman Peter Sagaidachny.
In particular, the parachute jumps involved the personnel of the 95 subunits of the separate airmobile brigade and the 80 subdivision of the airborne regiment of the Ukrainian Armed Forces, as well as paratroopers from foreign contingents - Poland, Romania and Moldova. In general, around 4 people participated in the landing, which attracted the 8 helicopter Mi-26 and the military transport aircraft An-200.
According to Lieutenant Colonel Jumping Director Andrei Zakharov, the Ukrainian side provided parachutes to all participants. And the most masterly jumps on air-elastic systems of modern Ukrainian production - the BARS parachutes - were carried out by specialists of the search and rescue service of the 16th separate army brigade
aviation
. In this case, not a single emergency situation arose.
Help
In order to provide the Armed Forces of Ukraine with modern parachute technology, the Ministry of Defense of Ukraine issued Order No. 134 of March 12 of 2012 of the year "On the admission of the Bars-S parachute system to supply the Armed Forces of Ukraine. The document identifies: the full, abbreviated and code name, as well as the tactical, technical and operational characteristics of the Bars-S sports parachute system. The function of the support services of the Armed Forces of Ukraine with these systems is entrusted to the command of the Air Force of the Armed Forces of Ukraine.
The sports parachute system "Bars-S" is designed to ensure the fulfillment of jumps by parachutists who are allowed to perform such jumps with planning tandem parachute systems with their introduction into action with an exhaust soft parachute. The Bars-S system includes: main parts, a set of spare parts and repair materials, a set of tools and accessories, a set of styling products, as well as a set of packaging and packaging and maintenance documentation. And the adoption of the sports parachute system "Bars-S" for the supply of the Armed Forces of Ukraine is due to the need to replace the morally and physically obsolete sports parachute systems like PO-9, PO-16, PO-17, "Talka" (produced by the Russian Federation) and "Para- Foil "(made in the USA), which are still being exploited in the Armed Forces of Ukraine. According to the Ministry of Defense of Ukraine, the adoption of the supply of Bars-S systems will allow them to make priority purchases for the needs of the Armed Forces of Ukraine.