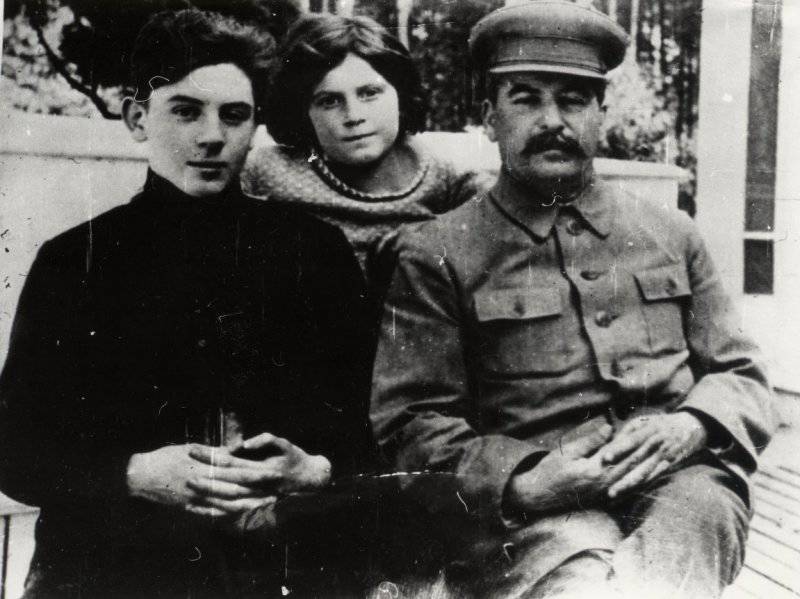 Joseph Stalin with his son Basil and his daughter Svetlana
Son of Joseph Stalin Vasily went to a regular school. But of course, everyone knew whose son it was, and it wasn't without a feeler. However, when the leader's son "lost the banks", as we see, a simple teacher could complain "himself" and receive apologies and human words of gratitude.
Now let us compare such cases from the life of the "bloody tyrant" with a modern, democratic and free Russian nomenklatura.
***
Teacher t. Martyshin.
Your letter about the arts of Basil Stalin received. Thanks for your letter.
I answer with a big delay due to work overload. I apologize.
Basil is a spoiled young man of average ability, savage (a type of Scythian!), Not always truthful, likes to blackmail weak "leaders", often sassy, ​​with a weak or — or rather, unorganized will.
He was spoiled by all kinds of "kums" and "gossips", which continually emphasize that he is "the son of Stalin".
I am glad that in your face there was at least one self-respecting teacher who acts with Vasily, as with everyone, and demands from the impudent obedience to the general regime at school. Vasily is spoiled by a director, like the people you mentioned, rags who have no place in school, and if the insolent Vasiliy didn't manage to kill himself yet, it's because there are some teachers in our country who don't let the whimsical barge go.
My advice: to demand a stricter from Vasily and not be afraid of false, blackmailing threats of capricious about "suicide". You will have my support in this.
Unfortunately, I myself have no opportunity to mess with Vasily. But I promise from time to time to take him by the collar.
Hi!
I. STALIN
8.VI.38