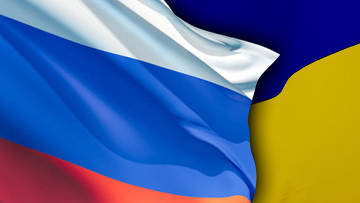 ... Here, not so long ago, one very significant thing happened, in fact, but for some reason a very unexpected event for the current Ukrainian authorities: they were surprised to learn that Russia, it turns out, is also a WTO member.
More than that.
As a member of this organization, the "entry" in which is still the subject of heated debate among the native Russian aspen, it turns out, has not only obligations towards the "civilized world" (to which, undoubtedly, "by birth" refers to second France "), but also certain rights prescribed in statutory documents.
And what really does not climb into any gate - can use them.
Moreover, sometimes even in a one-sided, as they say, order, without consulting anyone, including the "world community", which, from the point of view of the modern Ukrainian authoritative mentality, has only to do what stand, so to speak, to guard the economic interests of the young Ukrainian democracy.
I explain.
Here, not so long ago, the state of the Russian Federation sent a notice to the World Trade Organization (we emphasize precisely "notice") that the introduction of special duties on cars for cars that entered into force in March 2013 of the year is discriminatory for Russian manufacturers. And causes damage to Russian exports in the amount of 328 million US dollars, not counting 36 million dollars of taxes that are not received by the budget of the above-mentioned state.
Well, what can I say.
No, at first, Ukraine reacted quite calmly to this screencasting document: you never know who lost what, and where, and why it writes: these are the problems of the Moskal Indians who are not interested in sheriffs, as they say, simply by definition.
Delov something.
We will meet, talk, discuss, explain that "these hands have never been stolen", we will offer to meet to talk again, and if we don't agree, let them sue. No problem.
Everything has long been thought out and calculated, we have a sovereign right, so we use it sovereignly - the WTO, in the end, is a bureaucratic organization - until they figure it out until they send the necessary "notices": in short, or the donkey will die, or the padish. Turks too, for example, complain. They promise to impose special duties on the import of Ukrainian nuts, they have the right.
True, after the decision of the WTO Trade Council and the meeting of the special bilateral Turkish-Ukrainian commission on economic cooperation, which, undoubtedly, someday will take place sooner or later.
And the money is already - here they are, in the budget, dear. Moreover, even already spent. Excuse me…
... The answer of the "northern barbarians", however, was for Kiev, frankly, somewhat unexpected. The Russians behaved like genuine savages, who did not know the rules of the hostel in the civilized world, did not invite anyone to any negotiations, but simply - within the framework of the same "WTO rules" in which, it turns out, such garbage is provided for, response measures. Namely, about the unilateral introduction of special duties for the import of Ukrainian coal on 54%, chocolate (ten eurocents per kilogram of finished products) and glass (15%, respectively), and without any preliminary discussion. Salo, chemistry and metal have so far, however, decided not to touch: fat is due to Ukraine's lack of export opportunities (Polish and Belarusian themselves are used), and chemistry and metal are, apparently, purely humanitarian, for reasons.
Or - until the next time they decided to take care not to think that there was absolutely nothing to lose, or - something else.
But still, to put it mildly, it is unpleasant.
Moreover, as soon as Moscow these "uncivilized" and which, according to the Ukrainian Commissioner for European Integration Valery Pyatnitsky, will introduce the "pressure element" in the person of the above-mentioned special duties, you don't want to join them as well. participants of the Customs Union, they have a common border.
And this, for a moment, is a third of Ukrainian exports, actually.
And - nothing can be done.
Although no, I lie, you can: as a civilized country, in contrast to wild Russia, a country, Ukraine has every right to appeal first to the WTO Trade Council, and then try to discuss this, such an unexpected, problem of tricky ass and thread bolt as part of a special Ukraine Russian Economic Cooperation Commission.
Something like that.