Admiralty Shipyards OJSC (St. Petersburg) in its press release from July 15 of 2013 reported that it is resuming construction of the second submarine of the 677 Lada project - Kronstadt, having concluded a state contract for its completion for the Russian Navy.
The state contract signed by Deputy Minister of Defense of the Russian Federation Yury Borisov and Director General of Admiralty Shipyards OJSC Alexander Buzakov entered into force on July 9 2013.
The submarine "Kronstadt" was laid in July 2005 year. In the 2009 year, by decision of the Ministry of Defense of the Russian Federation, the construction of the order was suspended until the transfer to the pilot operation of the main order of the series - Submarine St. Petersburg.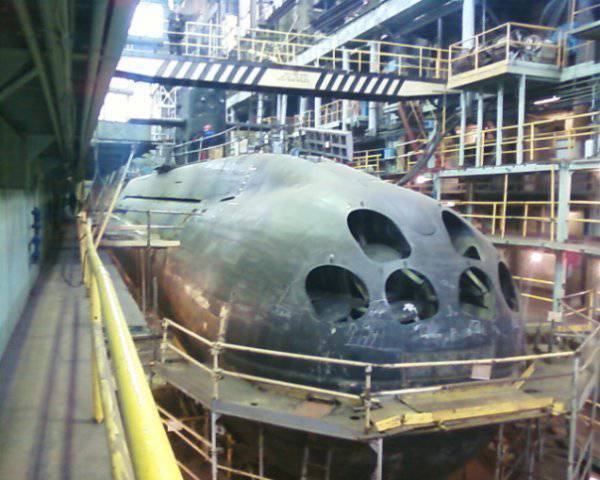 Being built submarine B-586 "Kronstadt" 677 project in the workshop "Admiralty Shipyards". St. Petersburg, presumably summer of year 2006
The new contract concluded with the Ministry of Defense of the Russian Federation provides for the construction of a ship on a revised technical project.
Designer of the submarine project "Harmony" - CDB ME "Rubin" - much has been done to improve the submarine and the creation of modernized ship complexes.
On the second order of the series, the upgraded models of equipment will be installed - ship technical equipment management system, electric propulsion system, navigation complex. During the construction of Kronstadt, the results of the trial operation of the head order will be taken into account.
To date, the submarines of the 677 project are the most modern non-nuclear submarines, which fully meet the needs of the time, both in terms of combat effectiveness and other tactical and technical characteristics.
In the future, the submarines of the Lada project are planned to be equipped with an anaerobic, air-independent installation (VNEU), which specialists of the TsDB MT Rubin are working on.
Currently, Admiralty Shipyards is actively preparing for the resumption of the construction of the submarine Kronstadt: the deadlines for the delivery of working design documentation are being agreed, contracts for the supply of component equipment are being concluded. The deadline for the order is 2017 year.
The first submarine of the series - "St. Petersburg" since 2010 is in trial operation as part of the Baltic
fleet
and is currently preparing to participate in the naval parade on Navy Day.