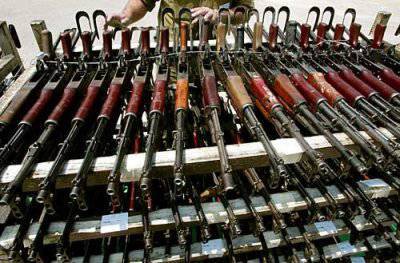 The State Export Control Service published information on the number of weapons transferred by Ukraine abroad in 2012.
The largest buyers of Ukrainian rifle
weapons
steel the United States, which received 90 thousand. rifles and carbines, as well as Germany - about 29 thousand. revolvers, pistols, rifles and carbines. Also 22 thousand rifles and carbines were sent to Sudan, 15 thousand - to Chad and 11 thousand - to Canada, reports Kommersant-Ukraine.
As the expert was explained by the expert of the Center for Army Research, Conversion and Disarmament, Sergei Zgurets, the USA and Germany are "the main buyers of rare small arms." It should be noted that these countries had previously actively bought small arms in Ukraine. For example, in the 2011 year, Germany acquired more than 53 thousand rifles and carbines, and the USA - over 143 thousand units of the same types of weapons.
At the same time, the main buyers of Ukrainian armored vehicles were the countries of Africa, Southeast Asia, and Iraq. In particular, in the framework of previously concluded contracts 99
tanks
T-72s were sent to Ethiopia (two years ago Ukraine signed a contract for the supply of 200 tanks to Ethiopia), 62 armored personnel carriers BTR-3E1 - to Thailand, and 48 units of various modifications BTR-4 and 11 units of modifications BTR-80 - to Iraq.
Sudan became a rather large buyer last year. In addition to small arms, X-NUMX T-10, 72 BTR-1 and 70 infantry combat vehicles BMP-14 were delivered to this country. Sudan also bought 1 11 mm self-propelled howitzer 122X2 Pink, 1 recoilless guns and 80 anti-tank grenade launchers and shotguns.
This state bought Ukrainian weapons earlier. For example, in 2011, 40 T-72 and 5 T-55 tanks were sent to Sudan. It should be emphasized that restrictions imposed by UN resolutions apply to the supply of arms to Sudan.
As explained in the State Export Control Service, contracts for the supply of arms to Sudan were concluded only with the legitimate government of this country. The first deputy chairman of the parliamentary committee on national security and defense, Anatoliy Kinakh, is convinced that Ukraine has fulfilled all the procedures provided for by international agreements.
"The state export control service strictly controls these contracts. I am convinced that they all comply with international obligations. Our control is very effective. It was built at the end of the 1990s, including with the help of specialists from the United States," Kinakh said.
In addition to small arms, artillery weapons and armored vehicles, in the year 2012, Ukraine also exported rocket weapons. The main buyers of these systems were the United States and Israel. In particular, the United States purchased 137 missiles for man-portable air defense systems (MANPADS) in our country, and Israel - 193 missiles for MANPADS and 120 guided anti-tank missiles.
"The United States purchases our Strela and Needle MANPADS to test protection against Soviet-made portable anti-aircraft missile systems that are used in Afghanistan. Israel does the same," said Sergey Zgurets.
According to the newspaper, Kinakh, weapons models developed and produced in independent Ukraine make up no more than 20% of total exports. "We still hold on to old Soviet stocks, as well as services and spare parts," Kinach said.
According to the State Service for Export Controls, no new purchasers of Ukrainian weapons appeared in 2012 in the year. According to the SIPRI-2012 annual Armament, Disarmament and International Security, from 2007 to 2011, Ukraine sold weapons worth more than $ 2,4 billion (2% of world arms exports). This ensured our country 12-place in the world ranking of arms exporters.