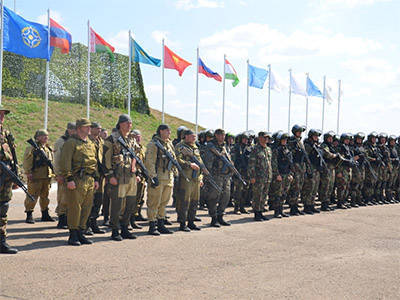 The anti-terrorist tactical and special exercises of special units of the internal affairs bodies (police) of the Collective Security Treaty (CSTO) member states "Cobalt-2013." Completed in the Kadamovsky training center of the North Caucasus Regional Command of the Interior Troops of the Russian Interior Ministry.
Representatives of special units from Armenia, Belarus, Kazakhstan, Kyrgyzstan, Tajikistan and Russia participated in the exercise. Along with the police units, military personnel of the special task unit of the North Caucasus Regional Command of the Interior Forces of the Ministry of Internal Affairs of Russia were involved in solving the training tasks.
Special Forces officers worked out a set of joint measures to curb the activities of an armed terrorist group.
As conceived by the organizers of the exercise, the operational combat groups of the allies jointly detained the leader of the extremist bandit underground and conducted a special operation to search for and localize the participants of the terrorist group who had taken refuge in the village.
CSTO Secretary General Nikolai Bordyuzha noted that the Cobalt-2013 exercise was held at a high level, and the units involved demonstrated the professionalism necessary to successfully counter the threat of terrorism.
"In the event of a specific combat situation, these units will be able to solve all the tasks assigned to them," he said.