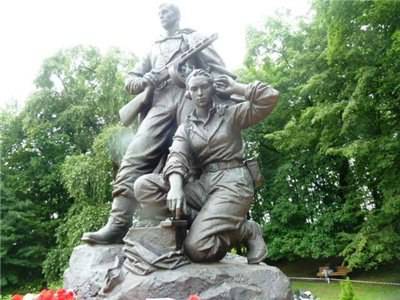 In Kaliningrad, a monument to reconnaissance soldiers was erected, built on popular funds — about two thousand citizens and dozens of organizations from the Kaliningrad region, Moscow and St. Petersburg, Novosibirsk, Voronezh, from Belarus and Poland became participants in an almost six-year campaign to raise funds for the first in Russia collective monument to the soldiers who died reconnaissance.
Veterans, acting as part of reconnaissance and sabotage formations in the East Prussia direction, became honorary guests of the ceremony. The last of the surviving members of the legendary reconnaissance group "Jack" Gennady Yushkevich arrived from Minsk. From Bryansk - Konstantin Panasenko, who served in the security group "Sunrise". Valentin Kalinin, who now lives in Moscow, was a radio operator as part of the special commando-reconnaissance group Vol. Veteran Anatoly Stepanovich Iglakov joined his comrades in combat feat.
After the opening and consecration of the monument, veterans were awarded the highest award of Russian intelligence - the Order of the carnation.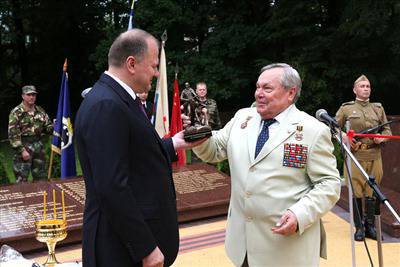 The head of the Kaliningrad representative office of the Union of Military Intelligence Veterans, Anatoly Gribanov, said that the participants of reconnaissance groups made an invaluable contribution to the preparation of an offensive operation in the East Prussian direction. "Without this intelligence, the losses of the Soviet troops could have been many times greater. This is the only monument in Russia and the world dedicated to the collective feat of Soviet intelligence officers in preparation for the East Prussian operation and to our colleagues who died in local wars and conflicts after the war, "the military intelligence veteran told KaliningradLive in the government of the Kaliningrad region.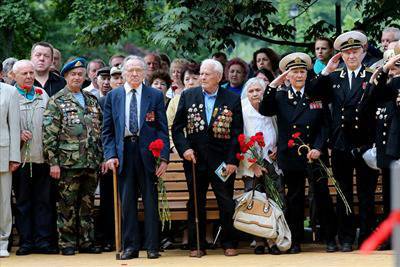 Fundraising for the construction of a memorial, he said, has become a truly popular affair. "Schoolchildren came and handed over, for example, five thousand rubles. Several clergymen transferred 9 thousand rubles. It became a nationwide affair. Many thanks to Governor Nikolai Tsukanov: according to his decision we received almost 3 million rubles, which were aimed at creating a sculpture, "said Gribanov.
"More than two and a half thousand intelligence officers acted on the territory of East Prussia in the last two years of the Great Patriotic War. Most died or went missing. But they all fulfilled their duty to the Motherland. I believe that everyone who has made even the smallest contribution to the creation of this monument has become a participant in a meaningful, truly popular, civil project. As long as the memory lives, the country lives, and we will live under a peaceful sky, "said Nikolai Tsukanov.