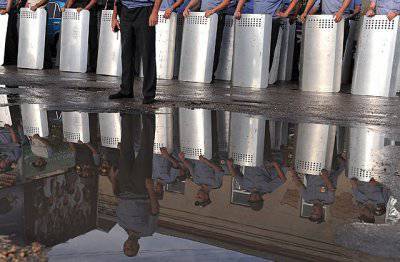 ... Alas, Russian society is not maturing fast enough. We emphasize again, this applies to the whole society, and its elite. A lot of those who want a "drama with a happy end", "chocolate". At least for myself. I want so much that my eyes are frozen.
The "needle and elephant" collision ("kill an elephant with a needle") is steadily gaining new relevance for us. Because the Russian Federation is a reduced elephant, the actual copy of the previous elephant called the USSR. And this elephant is much more vulnerable in relation to a needle injection. And if so, then why not prick something ...
The dominant leaders, in large part, no longer consider their population a society. Speaking of rebirth, he perceives with his inner instinct that there is already a cesspool in Russia: an unprincipled, priceless social brew! And the worst thing is that he is right in these (for his own slurred) captures.
The tops are facing a choice: either to change the cloaca to society. And then work, mobilizing society with one or other values ​​(national state, fifth empire), or accept the fact that there is a cesspool. And to use not social energies through values, but schooling impulses through reflexes. That is, to move finally from working with society to working with the pack.
Involving the schooling - out of respect, I will say "tribal" - the energy is not so difficult. But what is a tribe?
This is the pre-state stage of existence of the Russian people. To return to this stage is to lose the state. Here is a specific example. We decided to teach Georgians a lesson - so what? The Irkutsk Ministry of Internal Affairs carries out actions designed to identify (attention!) Immigrants from the North Caucasus region who are illegally staying in the territory of the Russian Federation.
This is the pre-state stayno-tribal reflex. Well, people brought to this state cannot distinguish Georgians from Chechens, and Chechens from Dagestanis! Moreover, Georgians are like strangers, Chechens are like "non-complementary" (although those who took our side, on the contrary, should be especially supported). And Dagestanis are those who saved the integrity of the Russian state in 1999. For a brutal being, these are all "chocks." The reflexes of this creature are by definition incompatible with statehood. That will be demonstrated.
Take another example. Said about the "indigenous people". This, I am convinced, is modulated by normal human feelings, good wishes and electoral recommendations. But with the ethno-political warm-up it all does not work. They would ask those who have been taking the rap for such statements in Karabakh, Sumgayit, Tbilisi, hot spots in Central Asia, and much more. When ethnopolitical warming up, words turn into linguistic bombs. The phrase "indigenous people", according to the UN regulation, is synonymous with the phrase "native population." These are Indians in North America, the Amazon tribes, etc. They have priority, because without it they will not withstand the onset of modern technical civilization on their territory and way of life. But that's not all!
Tomorrow you will be told that we have only "indigenous" people in the North, and they need to give gas and oil. There are others in Yakutia, and they need to give away diamonds. And so on. The Russians cannot use the words "indigenous people" without blowing up something far more dangerous than any hexogen.
And who used such a linguistic
weapon
how "xenophobia"? There is chauvinism - for me, this is a Derzhavo-compatible word, which means that everyone should be lined up in a row (Abkhaz, Ossetians, Chechens) - and all of them will be ruled by Russians. This is a broad Russian nationalism. When the national "stomach" is configured to digest different ethnic "food" in the interests of a single national (or imperial) organism.
And completely different - xenophobia. It is not "when the stomach wants to digest everything." This is when it turns out from any food. When he rejects everything. They said "xenophobia" - and this Russian energy was caught in a semantic trap for her murderous. And then - Kondopoga. Then - Georgian excesses.
They will say: "It was necessary to teach a lesson." Of course! The whole question is how. Punish - and encourage, "run over" - and spend evenings of Georgian-Russian friendship. The stick and gingerbread, it is known! Selectivity as the basis of control action. And here, instead, they bang on themselves! You see, if we want to take back at least Abkhazia and Ossetia, we should not inflate Caucasus-phobia to a level where the average cop no longer understands where the Abkhaz are and where the Georgians are, where the Ossetians are, and where the Chechens are. If we start it, we lose the Caucasus. If we lose the Caucasus, how can we keep the Volga?
A.P. What is animal and pack reflex? This is politics without ideology. But the demand for ideology is huge. Those who have launched all these nomenclature-police pieces are horrified by what is happening. They are not enemies of territory, not enemies of the Pipe, which exists only with the unity of spaces. They feel that politics without ideology is a collapse. Why are groups that are able to formulate an ideology and offer it to one person, the president, reference groups, why are they silent? Why do not you offer an ideology?
S.K. Because there is a war. And one of its directions is the further disintegration of the Russian state. This item was removed from the agenda in 1999 year. And now he's back on the agenda. And at the highest transnational elite level. This is not a marginal question!
He is on the agenda alone. And it is voiced by local bastards who speculate on very understandable, very sick things. On some aspects of the current Russian hell. But the bastards are well aware that with their speculations they will exacerbate the current Russian hell a hundredfold. This is the most "Russian party" ... How consistently it liquidates its people!
I understand perfectly well that the rift between the bet on the schooling reflex and the bet on the value (imperial or other) consolidation passes through the cabinets in the Kremlin itself. What is a politically destructive class that deliberately leads the country to regress in order to retain power, as it was in the late USSR. I know that some Russian "ethnocrates" are not even wolves in sheep's skins, but sheep in wolfskins, wolves-sheep who despise their own people, ready to sell it to anyone, at any bargain price. They want to play on animal impulses in a dehumanized quasi-flock.
This can only be contrasted with values ​​around which we could collect the counter-regressive Russian world. Not bestial, but human. Either a nation or an imperial ideocratic supranational hyperethnos.
A.P. Of course the second. The national program is over. She collapsed, she is not. She failed in Kondopoga, in this meaninglessness. The imperial vector becomes the only vector of salvation. For two hours, we have described the hematoma with you. The only lotion to it is the Empire. If not Empire, then nothing.
S.K. It has been said more than once (and now it has been written) that I hide the selfish interest of the Caucasus behind my passions over the empire, I make an empire "under the new Caucasian" Stalin. "And I did everything possible to avoid being substituted for this dirt. other things (political expediency, first of all) I understood how the Russian nerve was hurt and how. That is why I told all these anti-imperial elites, proud of their national patriotism: "Build a national state! I will take any place in it, and even if I don't have any place in it, I will be calm, knowing that the world is stable, and the Russian factor in this world is restored to its rights. "
I endured all this while there was hope for a national modern. But these pseudo-nationalist patriots hiding behind the backs of their dubious agents-failed the modernization of Russia! And that means the creation of the Russian nation.
Where is the new industry?
Where is the absolute priority of the right?
Where is the new quality of education and culture?
Where are the new channels of social mobility for this very Russian boy, for whom they have been trying so painfully?
Where is the unity of the nation as a language, culture and what the French call "reverence for France"?
Now, realizing that all is failed, they jump from the national field to the ethnic. They are quite sure that this fly-over will get away with them. But it is not.
Because before such a jump, they could still be tolerated. To consider the zealots of the Russian good different from you. And after this, they must be unequivocally qualified as enemies of their own - Russian - people.
Because they will not collect any ethnos. They'll put everything in a spray. Because, always and today, the Russian people, in order to maintain their spaces, their world, can only choose the path of an expansive self-sustaining existence. If he wants to dominate, he will apply the right technology. If he wants to die, he will be sick and vomited by everyone - first Caucasians, then Tatars, then Yakuts, then himself.
We are entering a new phase in the political struggle. Even more tragic than the previous ones. In the previous phases, it was possible to make concessions. Because the bid was your project, not
historical
being of your country. And historical being is much more important. In this phase, concessions are impossible. Because the rate is "being or non-being." And the fight will be waged - respectively.
Fatum empire looms over the country. Not with fat (they say, one wants to be great), but as an imperative of survival (if not an empire, then nothing). The time when it was still possible to build a national modern with relatively mild means wasted and irretrievably wasted.
Orange-Russianism ... The analytics of such an initiative should not neglect the irrational, that is, passion. You can't fry fried eggs in a cold frying pan. Let's try to understand what is the "truth of Russian passion". I mean the "Russianists", collected under the "orange" banners. It is a very sad truth. That THIS russism is - for the first time in millennia-old history - "petty." That is, it is based on the partial borrowing of attitudes peculiar only to small nations. And on borrowing precisely the negative attitudes inherent in these peoples.
Positive installations (special consolidation, for example) are not borrowed. Because of this, in the Russianist passion in question, imagine, shame dominates. "Rusists" (purifiers, diminutives, "new white" etc) - this is never recognized. But in every cry of their sick soul this is seen and only that.
They are ashamed of being Russian.
At the same time, they understand that they are Russian. They also understand that they cannot escape from Russianness. But they would really like to run away from her.
Why is it so shameful to reducers-cleaners for their Russianness?
"Because," they say, "our Motherland (Russia-Mother) adopted Jewish communism, drove it on its backs, allowed itself to be fooled by disgusting aliens. They are delightful foreigners (that's how we were fooled!). "These are the children of the disgusting Mother. The children of such a Mother must be fooled! Especially since this Mother, before sitting on the back of the Jewish Communists, also humbly drove a lot of people - Germans, others different. How embarrassing for such a Mother!" And for the people who generated it! How ashamed to belong to this people! But in go and belong! "And by redeeming this affiliation? Only by participating in the murder of such a nasty Mother! And in the death of the people born by her. In his final defilement, in his spraying, destruction. Let him punish ANY scourge to the child of such Mother. even American nuclear. "
They will say that such a monologue is impossible. But, firstly, it is a typical monologue of any Jewish anti-Semite, Caucasians-Caucasophobia, and so on. How can there be no Russian Russophobes? Open or secret. Do all nations have it, but Russians don't? It does not happen!
Thirdly ... Photos on the cover of an elite American magazine 50-s of the twentieth century. In the photo - Russian emigrants. Under it is the inscription: "They want us to declare war immediately." It was about a nuclear war, during which it was supposed to strike at all the major industrial cities of the USSR. Such nuclear strikes would be the end of the Russian people.
To destroy the current government, to destroy the Imperials, to launch centrifugal tendencies, to throw the people under the rink of genocide and ethnocide - and thereby to lose their Russianness ... That is the passion - the Russianist fire, on which the orange fried eggs should be roasted.
Already, the congress of some radical Russian nationalists is in Kiev! Why not immediately to Langley? ..
Russian can not be a small nation. They are absolutely not ready for this. And if there is a real alternative between being in the form of a small nation or non-being, they, no matter how terrible, will choose non-being. Why impose such an alternative?
Russian not only do not want, but can not be a small nation. In addition, they - and everyone understands this - live in a very specific territory, which does not imply the possibility of distinguishing "a purely Russian zone" on it. Because this zone will be "perforated". That is, not adapted to build the state. Go ahead. This territory is also a subject of powerful external claims. Siberia will want the Chinese. What oppose this Russian, gathered in a small state? They just give up Siberia. It means that in a small Russian state Siberia is not supposed. And what Russian, gathered in such a state, oppose the claims of Islam? It means that in the small Russian state the Volga region is not supposed to, and many more. What is supposed to be?
And how should a small purely Russian state deal with the pretensions of the mass of small nations, from time immemorial living on the same territory as the Russians? Tatars will sit in their "hole", and Udmurt in his? Oh oh!
This is all the basics, repeatedly stated by those who look at the strange tricks of the "Russian Party" and ask: "Guys, are you out of your mind?"
"Guys" are grinning. All this they understand! They do not want to rid the Russians of the cross of the imperial statehood, but of the cross of statehood as such. What is the fate of Russian as a stateless people - is clear. Ridding Russians of statehood, the "Russian party" relieves them of life. And that means - is the party of the Russian death.
And now the question on the backfill.
If there are powerful external forces whose task is to ensure the Russian death, then how can they not lick their lips at the presence of the "party of Russian death"? Moreover, to impose death on the Russians from the outside is a counterproductive matter: it is here that the Russians will get it. But to slip death from the inside ... As history has shown in general and the history of perestroika in particular, this is far from a promising undertaking.
The USSR was incredibly logical and effective as a polity. Why? Because it was a supranational and supra-confessional idea. And on it, as on the ceiling, all nations and confessions "hung". In essence, this is the imperial model. But this empire (in contrast to the previous Orthodox), firstly, equalized confessions (and already within the framework of this equalization, it was possible to resolve confessional priorities as necessary). And, secondly, it gave an impetus to modernization, because the ideology "sacralized progress." Meanwhile, confessions will never do this.
What did they want to change the USSR? On the national state. So said the "demiurgi" of these changes, hiding behind the backs of various "geeks-zapadnik" there. Well, there, Gaidar of some ... Ali is worse. What is a classic nation state? Well, for example, France? The following was said: "We'll make Russian France. We'll do supermodernization. Put the separated suburbs under us. All these Central Asian, Caucasian chocks and others. But Kurginyan is stopping us. He chooses to return to the empire. .
These are typical 1990 conversations of the year. Understanding that Westerners criminally want the collapse of the USSR, I became a soil publicist and analyst. But when he became, he immediately faced the categorical unwillingness of the poetry men to save the USSR. It was said: "And what the hell do we need this for? We chock ourselves again around our necks? Let them revolt!" And in a whisper was added: "Yes, our chocks and these lead ... They organize them!". It was possible to consider these words as schizophrenic delusions. But I will never forget the eyes of the first secretaries of the allied republics, who whispered in horror: "The Moscow KGB is raising us with nationalists." And also the eyes of the nationalists themselves, who, thinly smiling, asked me: "And who told you that Moscow itself does not want to leave Transcaucasia?".
Just do not tell. What has been said will require proof. Evidence - sources. Therefore, we have to refer to the well-known. For example, the fact that the soil Russian writer Valentin Rasputin, being a people's deputy (and, if my memory serves me, a member of the Presidential Council of the USSR), said publicly: "The RSFSR should secede from the USSR."
Why was this particularly dangerous? Because relying on the Russian asset (the Russian part of the political class), it was still possible to suppress the outskirts. But from the moment when this Russian asset itself became criminally split off from the empire, there was already nothing to do. It turned out that the enemies of the USSR are the Westernizers, and ... and the pochvenniki, the so-called "Russian party".
Why do I call it criminal? Because during the collapse of the USSR, the Russian people suffered primarily. He got nothing and lost everything. He washed with blood. They began to lord seceded republic. He was driven from places of permanent residence.
What did this diminutive "Russian party" do for its people? What did she give him, apart from humiliation? She plunged him into blood and humiliation. She hastened his extinction. Is it possible to call her "Russian party"? You can - in the sense in which I described. If the imperious intentions are exhausted by the desire to suck the blood and to relieve the "national animal" in their heads, then this explains everything. These orgiastic possibilities are preserved and strengthened. The animal dies and degrades. It can no longer become a tool of not only global, but also macro-regional domination. What for? "Enough for our age!" ...
"I will say a terrible thing: only Russian passivity saved the Russians from the Balkan scenario in 1991. What begins after registration (I do not frighten, but simply state - inevitably super-blooded) secondary tribal community will be super-Balkan. "
(One of the means to combat the above)
"Somewhere in the forest, a very high-quality, truly elite center on 300-400 young journalists is being created. The ideology is being developed, because we understand that the media cannot be controlled without ideology, on every minute directives. Then, at one moment, the old 300 people are gently replaced by these new 300 people, and the next day a message goes to society. And maybe it will hear it. If not, you need to shoot yourself. If you still hear - you can extend the historical life of the country ... "
(In other words, propaganda of saving ideas is a pledge of salvation!)
Excerpts from the dialogue Prokhanov A.A. with S. Kurginyan, as well as from the articles of S. Kurginyan.