The course of army reform unexpectedly reflected not only on the number of exercises held, but also on the weight of soldiers serving in conscription. Interesting information about this was shared by representatives of the Military Medical Service ZVO. We are talking about the fact that today the average soldier-conscript is gaining weight in the first 6 months of service, not 3-3,5 kilograms, as it was before, but about five kilograms. Wherein
fellow workers
from the same parts gain in weight about the same.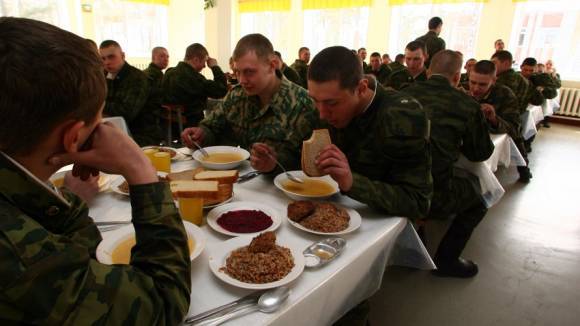 If you believe all the same representatives of the Military Medical Service ZVO, then the soldier's ration in Russia is in first place in terms of calories among all the armies of the world. The fighter of the Russian army per day accounts for about 4400 thousand calories. This amount of energy that a soldier receives from food can only be burned if he engages in regular exercise or training activities, which will be of particular intensity.
Representatives of the outsourcing service, which is engaged in providing military units with food and preparing food, say that if the soldiers began to gain enough weight, it can mean not only that the food has become more high-calorie and tasty, but also that the loads for modern fighters in the army are few. It is difficult to argue with such a judgment, because the 5-kilogram weight gain for a fighter during the first six months of service is a hint that the fighter obviously stayed for a long time.
If we talk about weight strips for recruits, then we need to remind you that the Russian army is not called up for people of military age who, when they grow 1,5, weigh up to 44 kilograms, as well as those who, when growing up to 170, weigh over 107 kg.
Officers tend to see a negative point in the trend of increasing the average weight of a Russian army soldier. According to them, if weight gain for the "hlyupika" can play a good role, then an excessive increase in mass for an ordinary soldier will reduce his physical activity, leading to impaired physiological processes. One way out of this situation is to return those physical training hours that have been replaced with combat training. By itself, combat training is great, but there are parts where it takes place in the tick mode.